13 April 2015
Wonderland150 - somewhere near you?
Every June, the residents of Hampstead Garden Suburb in London put together an amazing festival called The St Jude's Proms. Local residents donate their time and expertise for free. And on Midsummer's Day, 21 June, at 7 pm, they will be staging the London premiere of
"Wonderland
" at St Jude's church.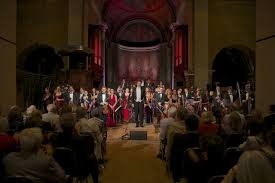 The piece is a combination of words and music - the words scripted by Louis de Bernieres (author of "Captain Correlli's Mandolin") with narration by Maureen Lipman, and music by several successful composers from the fields of chamber music, film scores and rock, who have donated short pieces for violin and piano.
It won't only be performed in North London; the "Wonderland150" project is being rolled out across Europe during 2015/16 to celebrate the 150th anniversary of the publication of "Alice in Wonderland" - and so do check to see if it will be on in your area, too.
I don't live too far away from St Jude's, so I've been looking at some of the other good things on the
festival's website.
I was pleased to see that the Brodsky Quartet, one of my favourite string quartets, will be performing on 22 June.
It is all in a good cause, too, for after covering expenses, surplus profits go to help
Toynbee Hall,
supporting disadvantaged young people, and also the North London Hospice.