03 April 2015
Little Known Disney Alices.
If I lived in the US I'd have wanted to do a biography of Walt Disney years ago, when many who knew him well were still alive. Sadly, I didn't get that chance - and now I never will, because many of those who worked with him have died off now. Still, when we were in California last November we spent more than a full day in the
Walt Disney Family Museum.
This museum, in San Francisco, is almost like a real-life biography of Disney; a biography that you can walk through. There are enough interactive exhibits, films and things to read to fill several hours, and a shop which sell sits own unique merchandise, quite different from the merchandise in the Disney Parks.
The museum, which you can see below,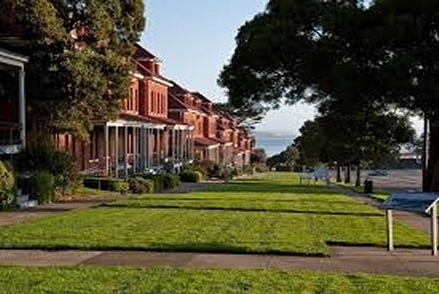 is in the Presidio Park, very near the ocean and Golden Gate Bridge. (Please forgive this rather blurry photo. My own photos of the Presidio were taken under very dark skies in the pouring rain, since we managed to hit the period when California's latest drought ended!)
As I wandered through the museum, I thought how interested Disney must have been in "Alice in Wonderland." His 1951 film of that name is well known all over the world, but I was surprised to find that it might have been very different in style. Here are details from a few of the preliminary images for a very
different
Disney Alice cartoon. The drawings are by David Hall, who was illustrating a script by Al Perkins, but Disney felt that these drawings were not "cartoony" enough - and he also didn't like the somewhat grotesque tone of the collaboration. (By the way, Tim Burton's 2010 version of Alice in Wonderland is said to have drawn inspiration from this earlier "Alice" concept. There are a few more pictures on
this blog.)
Still, I liked this jaunty Cheshire Cat showing Alice the way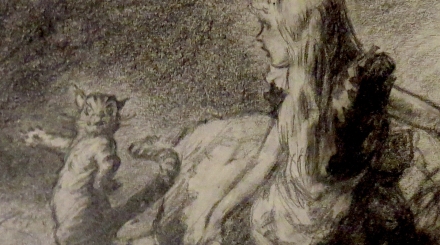 And here is Alice knocking at the door; but I am not sure what I think of the skulls.
There is something rather magnificent about this Fish Footman though. He is seen from below as he stalks away from Alice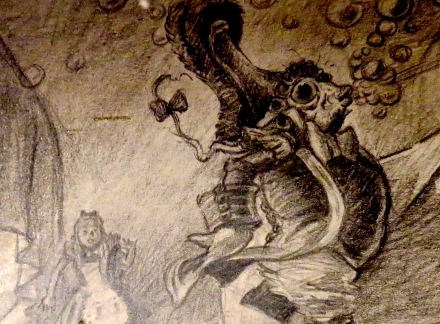 In fact, Disney had been thinking about Lewis Carroll's work for many years by this time. Even though he hadn't been able to raise the money for a feature in the studio's early days, he did make a Mickey Mouse version of "Looking Glass" called "Thru the Mirror" in 1936.
And before even this, at the very start of his career, when he was running a company called Laugh-O-Grams, Disney had decided to make a film called "Alice's Cartoonland" which combined live action and animation, and featured a talented little girl called Virginia Davis. To me, she seems as gifted as the young Shirley Temple (in fact, the film was made in 1912, well before Shirley's time). Alice's cartoonland adventure became so popular that it gave rise to a whole series.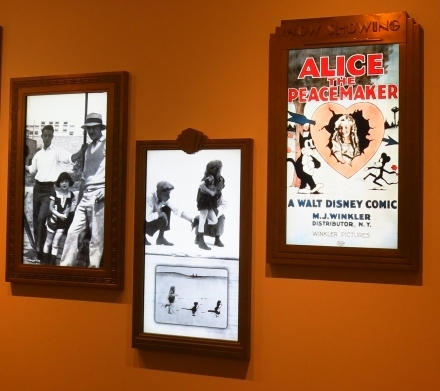 "Alice's Spooky Adventure" clearly isn't THAT spooky, as you can see from the poster!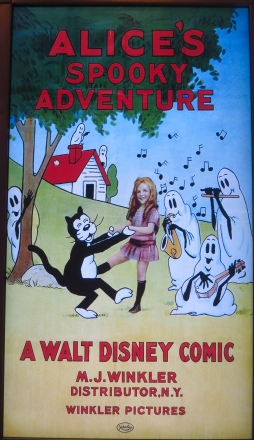 And if you want a trip in time to a hundred years ago, take a look at this:
There is also this delightful edition of "Alice" featuring Tenniel's illustrations
For some reason I really coveted this book. I liked the homage it pays to the original versions which Carroll designed and specified himself, but I also like its soft cover, lovely dusky red colour and the nice assymmetrical placement of the Duchess motif.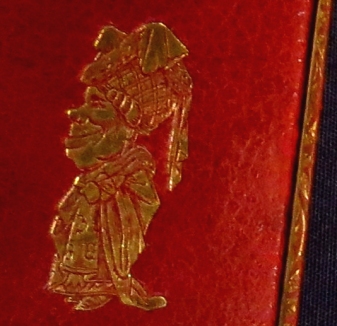 For the first time, I've realised that she looks rather like the
late unlamented Robert Maxwell,
Do you agree?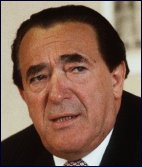 The Disney Family Museum has good reviews, and its address is 104 Montgomery St, San Francisco, CA 94129, United States. The telephone number is (+1) 415-345-6800