Archives
You are currently viewing archive for August 2013
21 August 2013
I went to Kew Gardens yesterday for a birthday picnic.Weather was beautiful, and Kew was its usual lovely self. On the way to our picnic spot, we cut through the Rose Garden, near the Palm House, and spotted a very unusual tea party.
Modelled on the Mad Hatters Tea Party, it is a tea party featuring edible plants that might make up a British tea. (Well, by quite a stretch of the imagination - I personally don't eat chilis for tea. But never mind). A watering system beneath the table enables the plants to keep growing, in some cases they appear to grow out of the plates themselves. Here's one of the gardeners planting some pansies in a plate.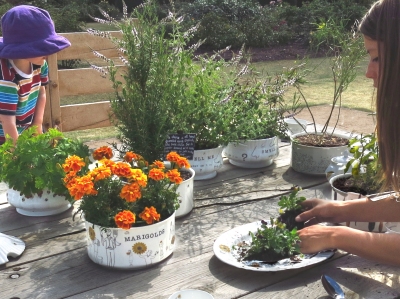 There are specially designed cups, plates and bowls scattered across the table - screwed down, in case anyone feels like helping themselves... like this little person in his purple hat.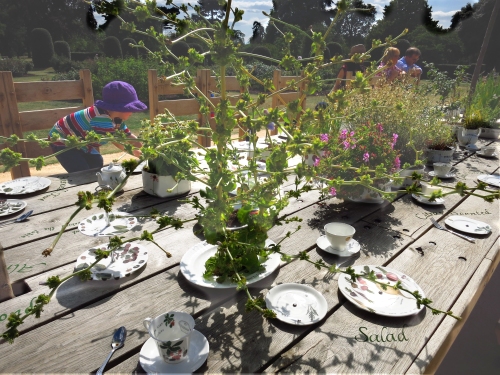 The table is a nice, solid construction, made of oak by craftsmen, and the crockery (all sourced from old white bone china) has images ranging from rather cartoony sketches to botanical illustrations to reproduction of paintings. Mostly, they refer in some way to plants. In the foreground here, for instance, is a plate showing the political reformer, the 2nd Earl Grey - who also gave his name to the famous blend of tea.
But there is also an acknowledgment of the inspiration behind the art installation - the work of our hero, of course - as you see here!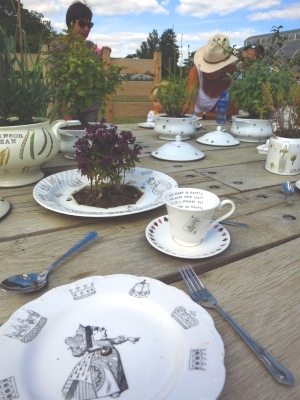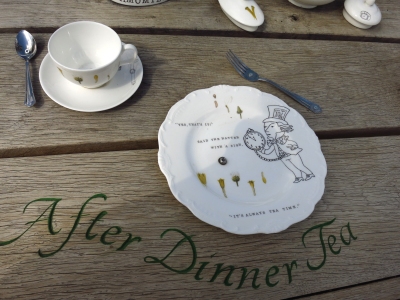 The artist who created the installation, Kirsti Davies, has written much more about it
here
- take a look.
15 August 2013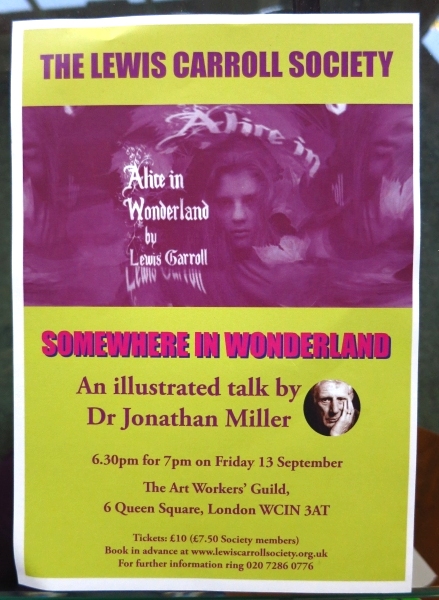 Alice fans will know
Dr. Jonathan Miller
as the creator of the classic 1966 BBC "Alice In Wonderland" featuring a whole spectrum of celebraties and actors, including Sir John Geilgud, Michael Redgrave, Peter Sellers, Peter Cook and more. The film is quite magical, in a slightly creepy way, but in my view (and the view of many others) ruined by Alice, an unknown teenage actress, Anne-Marie Malik, who looked good in the part but was directed by Miller to be offputtingly posh and emotionless.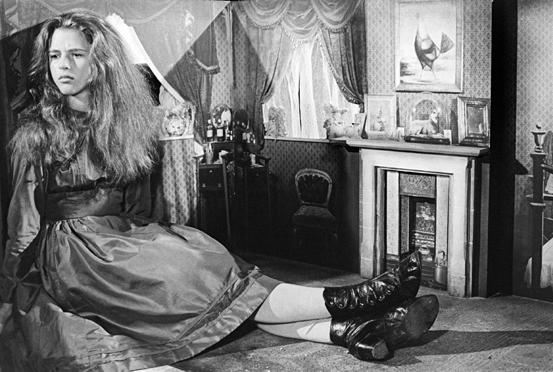 I can see what he was trying to do, but in this case, it ruined the film. Or I think so. Anyway, I shan't be so rude as to quite put it that way but I certainly intend to go to this talk. Dr. Miller is one of the most fascinating and creative people of his generation and on the occasions I've heard him speak, he's been very well worth listening to. Not sure he actually knows a great deal about Lewis Carroll but he knows a huge amount about film theatre and opera directing, and he is also a medical doctor and an expert in the history of medicine - so one of the few people I'd describe as a real polymath.
The meeting is organised by the Lewis Carroll Society and it will take place at 6.30 at 6 Queen Square, WC1N 3AR. There's already great interest in tickets so if you think you might want one (they are £7.50 for members and £10 for non members) then
hop along to their website fast
and book one.
09 August 2013
Thanks to Vanessa, who sent me a link to this extraordinary anti drugs film made in 1971 by the US Department of Health Education. It is visually fascinating, and I am surprised it is not better known.
Mind you, I have to say it makes tripping look rather fun, which I don't suppose was the intention. :D
02 August 2013
Alice pops up everywhere...
Opera Holland Park is doing "Alice's Adventures in Wonderland" a new family opera composed by Will Todd, to take place in the magical surroundings of Holland Park's gardens during summer 2013, with a live orchestra and a full cast of characters from the book. Go
here
for more details!
And the Iris Theatre at St. Paul's Church, Covent Garden ("The Actor's Church") has a new production of.... yes, "Alice." My sister in law saw their last production, and said it was very good - and she's quite hard to please. This actor, playing Alice, has such a nice face but I can't find her name.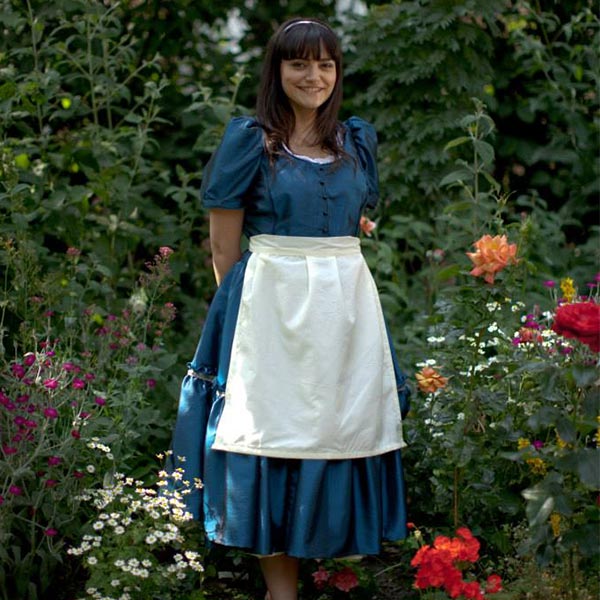 There are lots more photos of the preview on the company's
Facebook page.
Go
here
for more details and click the home page to book.
The characters from "Alice" feature prominently in the History of
Foyles Bookstore
which uses welll known cartoonists to tell a history of the famous bookshop outside the shop.
Outside London, up in Shropshire, the excellent Blists HIll museum (part of the group of Ironbridge Gorge collection of industrial museums) is repeating its very successful Alice Day on 25th August. It looks like a lot of fun, if these comic characters are anything to go by.
I'm very sorry indeed that I won't be able to go, but I have another prearranged appointment then which it is not possible to change. Members of the Lewis Carroll Society are going in a group, and if past outings are anything to go by, this will be really good. If you've been wondering whether to join the Society, let this be your incentive.
And from MUCH further away, from Japan, in fact, come more delightful images from Yoshi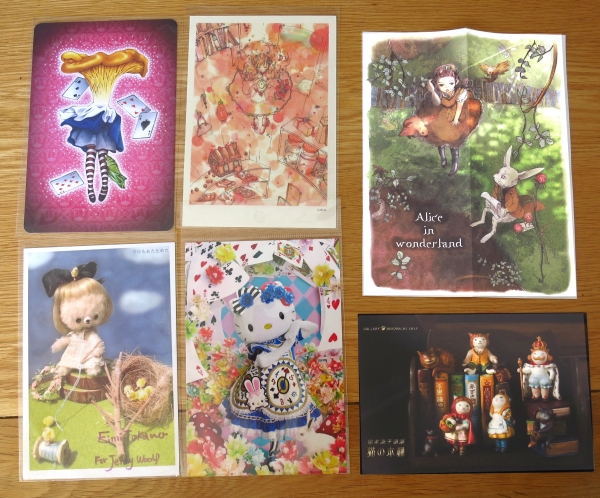 Sidebar