Archives
You are currently viewing archive for October 2010
26 October 2010
Gave a talk to the Daresbury Lewis Carroll society last weekend, and afterwards I was approached by a local lady whose family own land very near the birthplace and had done so for generations. She picked up on a point I made, that Carroll's childhood had been very remote and cut off from the world. Based on her own family's history and her knowledge of the area, she added that the Dodgsons would have been isolated even from the surrounding farmers, who were almost their only near neighbours, because they were not part of the farming community themselves. Given the rigid social structures of the day, it is entirely possible that the little Dodgsons were not even allowed to play with farmers' children, so it's just as well there were ten of them!
The following day, Keith and Liz took me to see Lewis Carroll's birthplace in Morphany Lane, about a mile outside Daresbury village.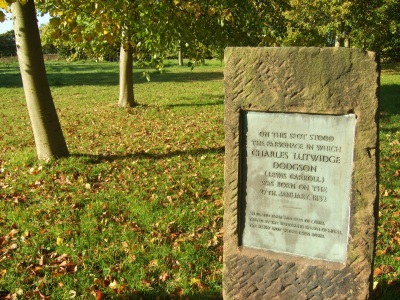 I hadn't been for several years and thought it was much improved. The foundations of the parsonage where he spent his first eleven years are marked out, and have now been surrounded by a nice wrought iron fence showing ears of corn – a reference to the
"…island farm midst seas of corn, that happy spot where I was born."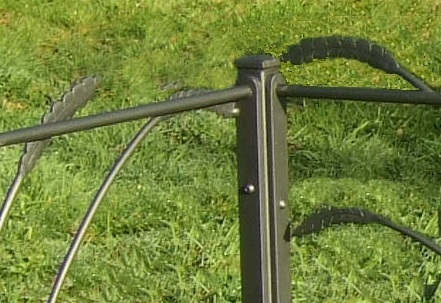 And the entrance to the house is marked by an arch which echoes the archway that led into the original house. This ironwork gives a much better impression of the now vanished parsonage, which burned down in the 1880s, some years after the Dodgsons left.
I was, as before, struck by how tiny the floor plan of the house was. It must have been a tremendous squash with ten children, plus servants. I am not aware of any information about how it was organised, but I imagine the young Charles would have had to share a bedroom with several other siblings – when they moved to Croft he was given his own room.
Here is the view from the front of the house.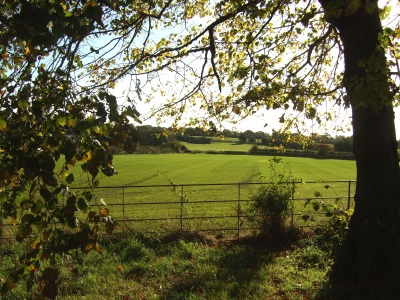 Here's another attractive wrought iron feature: the well cover, featuring a Dormouse. The family had a private water supply, which may have helped protect them from the cholera which was rampant during CLD's childhood.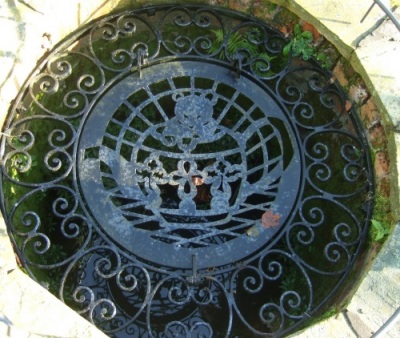 We then went on to the nearby
Davenport's farm shop,
which has a great tea room, and a little garden out the back.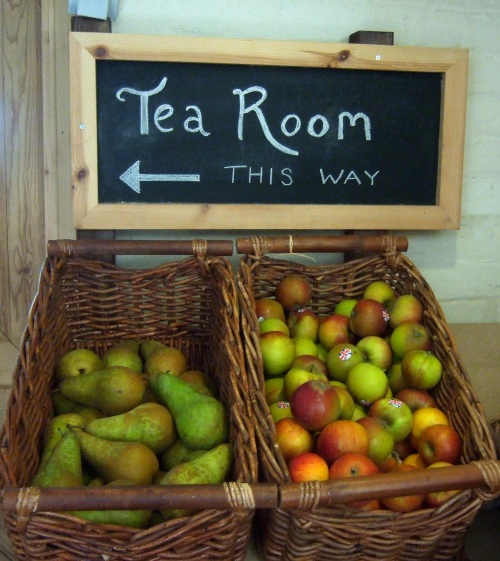 It was too cold to go into the garden. Actually, I was tempted by the sunny, cottagey interior of the main tearoom, and slightly disappointed to find that the Alice in Wonderland tea room was at the back of the shop. Still, it overlooked the garden, and not everyone is quite as keen on sitting in the sun as me. As well as the lacy teacloths and old fashioned chairs, etc. it was decorated with ches sets, paintings, photos, a clock in the shape of a pocket-watch and with Alice collectables over the door.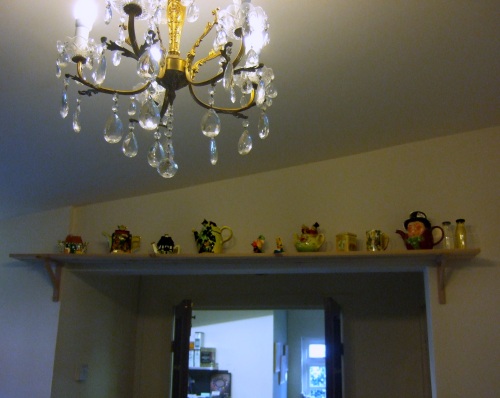 I took a picture just after it had opened in the morning, and wish now that I had photographed us having tea there, and also that I'd got a shot of some of the unusual and interesting cakes. But I did snap a couple of pages from the menu which shows that the café makes a feature of its teas.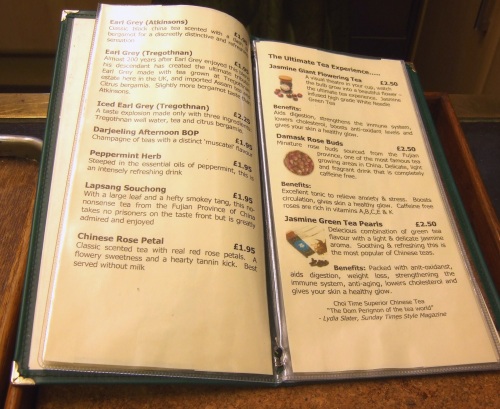 And I bought some home made bread and a bunch of earthy carrots from the fruit on sale outside - there were also some excellent looking apples, but I'm already swamped with them!.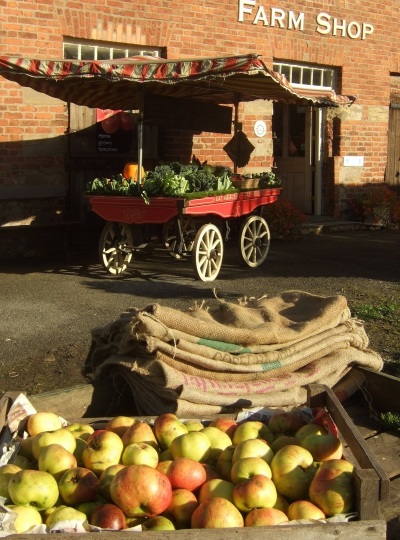 The Davenport's website has a very interesting history of the business. One of the owners, Belinda is a longtime fan. She and other local people had been rather keen on the idea of creating a Lewis Carroll attraction in Walton Hall.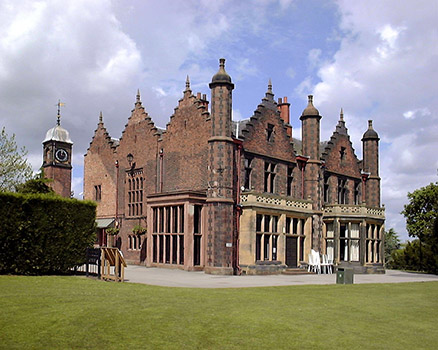 This is a neo Elizabethan mansion, one of the few places where the Dodgson family used to pay social visits during Carroll's youth. It was one of the places he photographed when he revisited Daresbury on a photographic tour in around 1860, so it was clearly important to him. The local council, which owns it, has been trying to sell it to a local developer, and last I heard there was
some controversy about its future.
It became obvious to me that not enough is being done to promote Daresbury's links with Carroll, and some imaginative thinking is certainly needed. Daresbury's conference venue, the Daresbury Park hotel, http://www.devere.co.uk/our-locations/daresbury-park.html is modern but extremely corporate and has covered up what many people told me was a lovely tiled Alice mural – presumably it doesn't fit with the "image" they wish to convey.
The village pub, the Ring O'Bells, is more Alice-themed, and a nice welcoming place.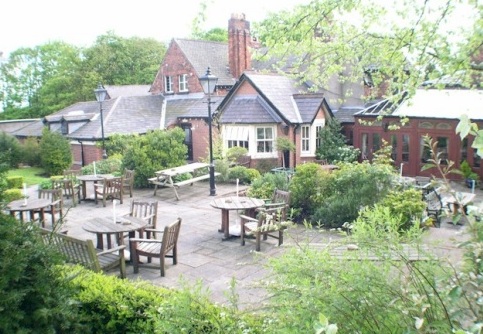 It doesn't have any public meeting rooms, though. Perhaps when Daresbury church gets its long awaited extension, things will come together more.
The church was rebuilt after Carroll's time although the ancient tower will still be as he recalls it. I looked in just before a family church service was about to start. The church was packed, and the bellringers were hard at work inside the tower. With the golden autumnal leaves of the surrounding trees, it was all so … well… so English.
We then went on to Little Moreton Hall, where Liz is a National Trust volunteer. It's a jewel of a black-and-white building, and of course Liz gave us the best tour that anyone had that day. I don't know if Carroll ever visited Little Moreton Hall – probably not, since it might have been a farm in his day. My old schoolfriend Penny White, who lives in Chester, managed to make it there too, which made it even more fun for me.
Here's a view of its lichen-covered roof, taken from one of the top windows.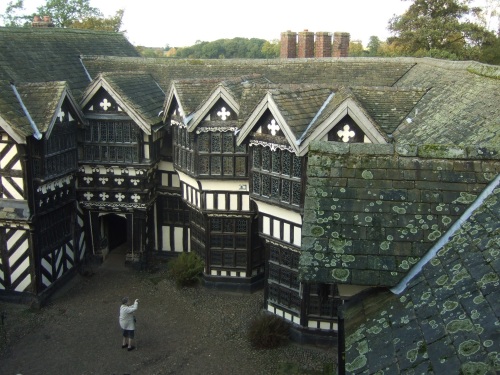 Back in Daresbury, Keith pointed out a rather undistinguished modern bungalow near the parsonage site. When we got back to his house, he showed me what it had replaced – a fabulous black and white hall, very similar in style to Little Moreton, although smaller. It too had been used as a farm, and had become quite run down when it was demolished sometime in the 1960s.
By the time I caught the train back to London, I had plenty to think about, and felt I'd had a really good trip. And we did enjoy the carrots!
17 October 2010
I'll be talking to the Daresbury Lewis Carroll Society in Cheshire on 23rd October - next Saturday. The meeting starts at Daresbury Park hotel (in Daresbury) at 2.00 pm, and it's free. I hope that maybe some folk from the Northern end of England will make it there. :)


14 October 2010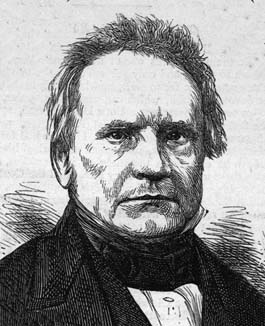 Was clearing out some old files and came across the following story about Charles Babbage, inventor of the calculating machine. Lewis Carroll of course met both Tennyson and Babbage - I wonder which one he felt more at home with? I suspect Babbage, as Tennyson sounds as if he might have been a rather difficult person to get along with.
"The English mathematician Charles Babbage, who conceived programmable
computation, wrote to the young poet Tennyson. "In your otherwise
beautiful poem," he said, "one verse reads,
Every moment dies a man,
Every moment one is born.
" ... If this were true," he went on, "the population of the world
would be at a standstill. In truth, the rate of birth is slightly in
excess of that of death. I would suggest [that the next edition of
your poem should read]:"
Every moment dies a man,
Every moment 1 1/16 is born.
"Strictly speaking," Babbage added, "the actual figure is so long I
cannot get it into a line, but I believe the figure 1 1/16 will be
sufficiently accurate for poetry."
The picture by the way shows Babbage.
10 October 2010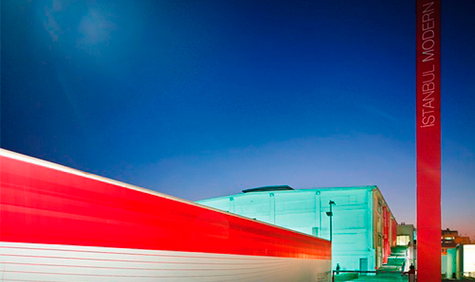 All sounds very nerdy but I subscribe to Google Alerts, which flags every new reference to the book. It's saying now that Amazon.com (the US site) only has one copy of "The Mystery of Lewis Carroll" left in stock. (They've ordered more.) It also shows it's currently #3 in books by and about Lewis Carroll, and #24 in British 19th Cent. Literature & Fiction.
Mostly I've stopped looking at these rankings, because they are constantly changing, but one can develop a nerdy fascination with how the book is going up and down.
The main problem at present is how to get "LC in his Own Account" onto Amazon.com. It's listed on the UK site as being available internationally, but not sure how foreign customers are supposed to know this if it doesn't come up on their country's site. Seems that Amazon could be missing a trick here.
The picture above is to prove I'm NOT NOT NOT a nerd. It's Wallpaper* magazine's illustration for its "Istancool" feature. I once went to an event at Wallpaper* and it was fun but the people were almost too cool to speak.
07 October 2010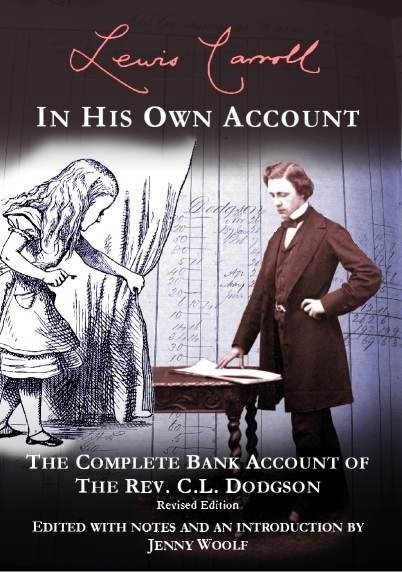 As I've said elsewhere on this site, Tony and I transcribed, printed and published Lewis Carroll's private bank account in 2005. With the unstinted help of
Edward Wakeling
, who is always so willing to assist those with an interest in Lewis Carroll, I tracked down many of the people mentioned in the account. Some of them were mentioned in the letters and diaries, and some were not.
Working slowly through the mass of figures and names, a picture of a real human being emerged. A man who paid his washerwoman and entertained friends well, who contributed to things he felt strongly about, a man who cared about his faith and above all, who was deeply and constantly involved with his family. And, let it be said, a man who by no means wrote everything that happened in his life, into his diary! It was this research which gave me the idea of writing a biography which would above all show Lewis Carroll as a real person.
We published a small edition of the account book because we didn't think that a mass of figures would appeal to the general public. In fact we did miscalculate and the book sold out more quickly than we expected.
For a couple of years after we sold out, secondhand copies appeared occasionally on Amazon. When they all disappeared, and when one priced at some utterly outrageous figure also got sold, and we still continued to get orders from wholesalers, we decided it was time for a small reprint.- and
here it is.
I decided to update the original, and was amazed how much more information has trickled in - I'd thought it would only be a matter of altering a few lines! In the end, after days more work, we decided to call this a "Revised edition" because that is what it is.
Print prices have gone up meanwhile, so the price is a couple of pounds higher than the 2005 original, but since our aim was always to get the information out there rather than make a profit, we have tried to keep the price reasonable for such a quantity of privately funded work.
Looking back, I suppose I should have tried to get funding, since the research involved considerable mileage between London and Manchester, and overnight accommodation on several occasions. But when we started, we never anticipated that it could grow the way it did.
And at least this way the project is all ours.!
Sidebar