07 October 2010
Lewis Carroll In His Own Account - Arrived from the Printer at Last!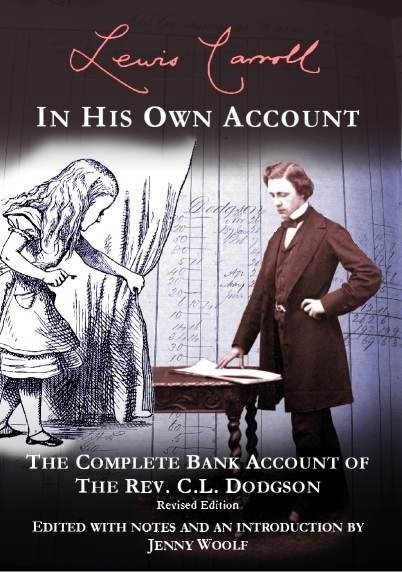 As Iíve said elsewhere on this site, Tony and I transcribed, printed and published Lewis Carroll's private bank account in 2005. With the unstinted help of
Edward Wakeling
, who is always so willing to assist those with an interest in Lewis Carroll, I tracked down many of the people mentioned in the account. Some of them were mentioned in the letters and diaries, and some were not.
Working slowly through the mass of figures and names, a picture of a real human being emerged. A man who paid his washerwoman and entertained friends well, who contributed to things he felt strongly about, a man who cared about his faith and above all, who was deeply and constantly involved with his family. And, let it be said, a man who by no means wrote everything that happened in his life, into his diary! It was this research which gave me the idea of writing a biography which would above all show Lewis Carroll as a real person.
We published a small edition of the account book because we didn't think that a mass of figures would appeal to the general public. In fact we did miscalculate and the book sold out more quickly than we expected.
For a couple of years after we sold out, secondhand copies appeared occasionally on Amazon. When they all disappeared, and when one priced at some utterly outrageous figure also got sold, and we still continued to get orders from wholesalers, we decided it was time for a small reprint.- and
here it is.
I decided to update the original, and was amazed how much more information has trickled in - I'd thought it would only be a matter of altering a few lines! In the end, after days more work, we decided to call this a "Revised edition" because that is what it is.
Print prices have gone up meanwhile, so the price is a couple of pounds higher than the 2005 original, but since our aim was always to get the information out there rather than make a profit, we have tried to keep the price reasonable for such a quantity of privately funded work.
Looking back, I suppose I should have tried to get funding, since the research involved considerable mileage between London and Manchester, and overnight accommodation on several occasions. But when we started, we never anticipated that it could grow the way it did.
And at least this way the project is all ours.!