Archives
You are currently viewing archive for January 2010
31 January 2010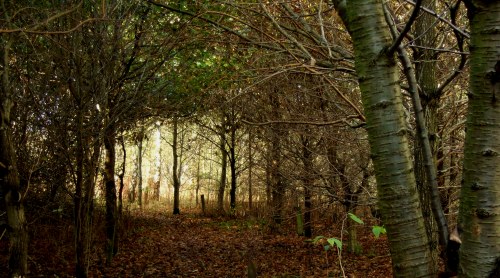 Kristian Scheiblecker, whose music I mentioned below, has sent a link to his
new website
. I specially like "Solitude"
30 January 2010
Met up with Yoshi Momma yesterday - he was passing through London and it was a chance to meet in person, having corresponded for some time. Yoshi has the best "Alice in Wonderland" collection in Japan (a country where interest in "Alice" is high). He brought along (among other things) some interesting photos for me.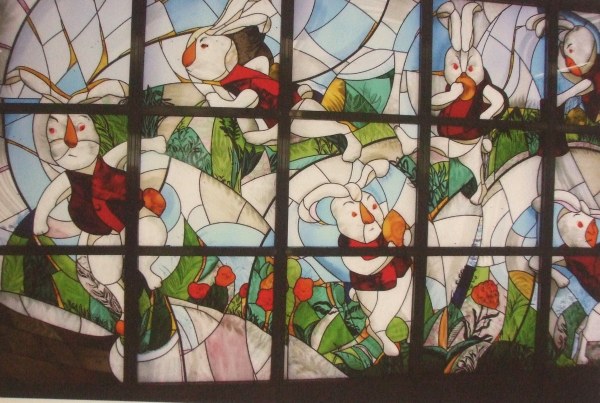 I liked this one showing White Rabbit stained glass at a Tokyo railway station, which probably echoes the feelings of harassed commuters hurrying along and worrying that they will be late.
28 January 2010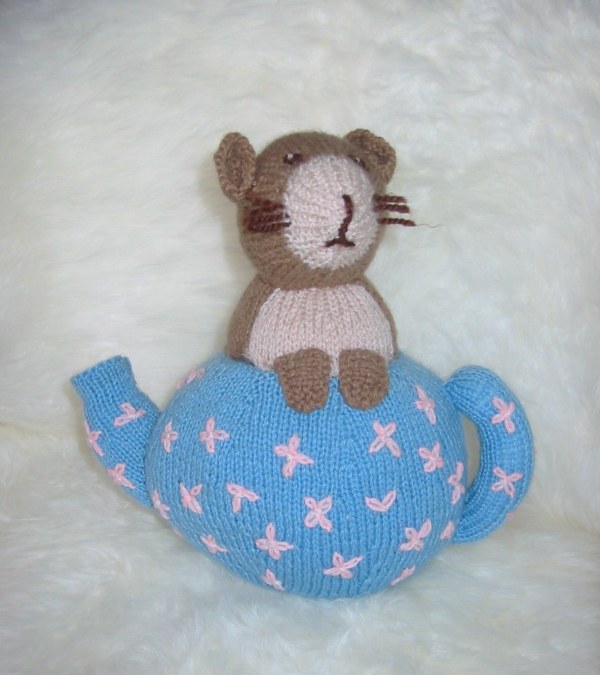 There's a lady somewhere in England who knits characters from "Alice." I did fall for this rather solemn Dormouse. I took a picture of him before giving him to Arthur. If he was photographed now, he'd look a lot more squashed.
Clone Blog
So often blogs are only enabled to accept comments from other Google accounts, which means I can't comment on them using this url. So I've begun a kind of a clone blog on Blogger,
here.
That way, I can link back from many of the Blogger comments boxes which are only enabled to take Google account comments.
22 January 2010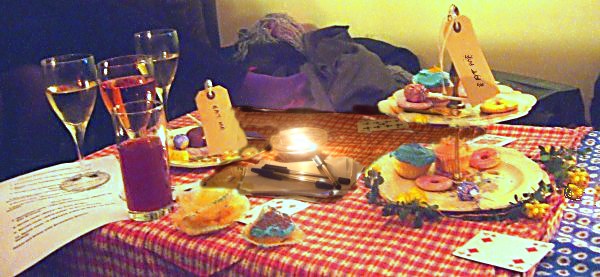 Things have been pretty busy here but I made the time to go to hear Vanessa and Jackie's brilliant stories being read yesterday night at "
Are You Sitting Comfortably?"
at the
Toynbee Studios.
The event was run by White Rabbit, so of course there was a white rabbit on display (and sorry for the blurry pics - it was rather dark)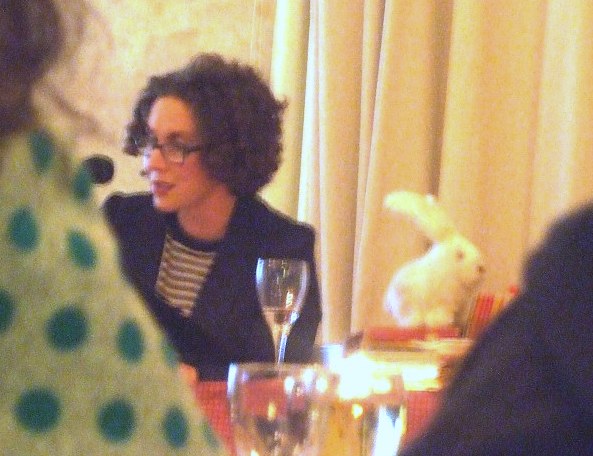 The Toynbee's bar is a great space to hang out, and all the low tables were decorated with scattered playing cards and pretty cake stands on which were colourfully iced fairy-cakes, party-ring biscuits (remember them?) lollies, chocolate teacakes. My picture, showing the remains of the feast, is no masterpiece of the photographer's art, but you'll guess that the label on the cake-stand said "Eat Me"
To add a bit of mystery, the background projections showed Roswell, aliens, sweet little girls, saucy young ladies and other things that I forget, and the background music was sixties pop.
Jackie and Vanessa have been friends forever,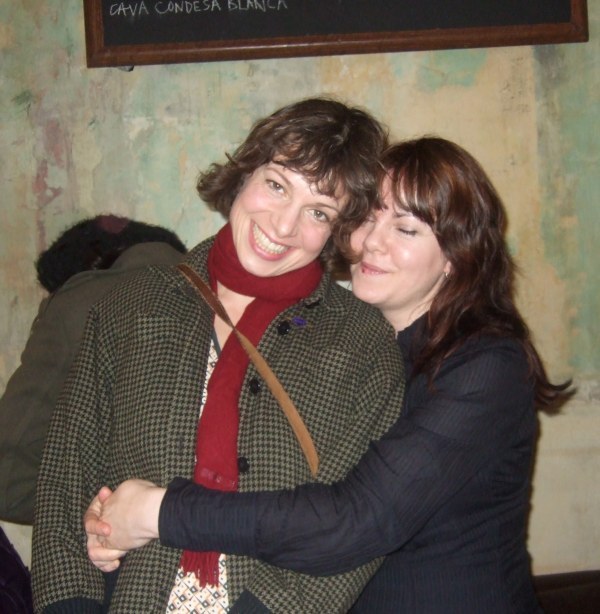 so they were pleased to find that not only had both their stories been accepted for the same event, but the stories were next to each other in the running order too.
I was impressed by Toynbee, too. The main building is large and old with leaded windows and high rooms, charming and inviting, in dramatic contrast with the banal neo-brutalism which now surrounds it.
19 January 2010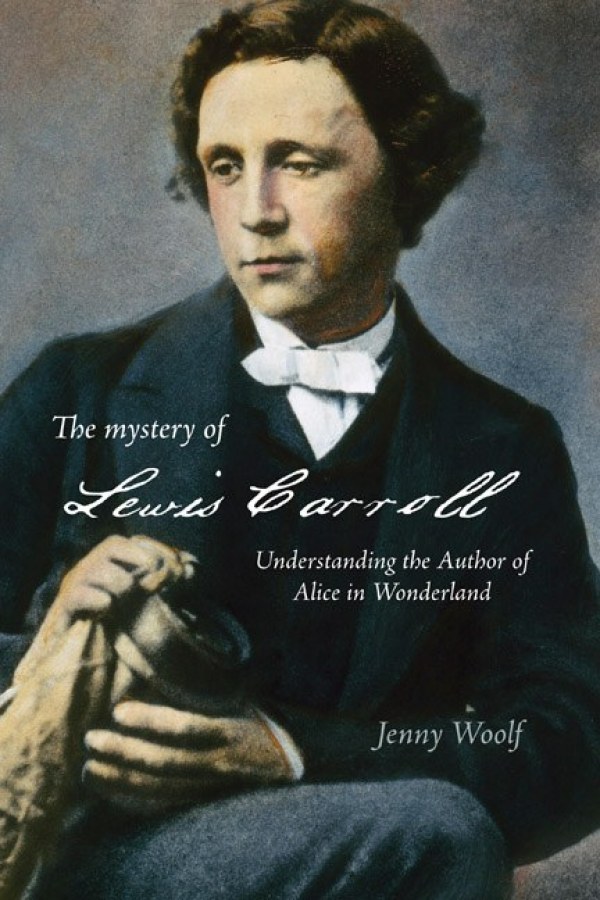 Here's the cover of the UK edition, published by Haus. Nice cover, and a different sub title to the American one. I haven't yet seen a finished copy but their books generally look good so I am hopeful this will too.
15 January 2010
St. Martins publicity department said today that Gosh TV wants me to answer some questions on the book. Happy to oblige, I said, even though I don't know what Gosh TV is - yet. I am sure I will soon.

"Gosh" is an expression that went out in Britain years ago, meaning "wow". I still catch myself using it sometimes. I used it today, when Kath said that she'd had a totally unsolicited letter from Camden Council's parking department, saying that they'd decided they had made a mistake with the parking ticket they gave her a while ago - so they were refunding her fine.

WHAT????????

GOSH!!!!!!!!!!

These are the people who put parking tickets on ambulances on emergency calls! Or on cars parked one inch outside of the white lines.

I think I just saw a pig flying past the window.

12 January 2010
My book was mentioned in USA TODAY -
here!
The article is about the sudden interest in "Alice" - of which Tim Burton's movie is one (major) example.
I'm so impressed with
Melanie Benjamin's
beautiful site that I'm getting this one revamped as well. (Melanie's book is another one mentioned in the story). My site won't look like Melanie's because it's a different kind of book but I love the designer's other work so I am sure it will be good. Watch this space.
02 January 2010
Thanks again to the
fab LCSNA blog
for news of this exciting offer: a copy of
Alice in Wonderland with Your Name Here.
It's like those kids books you used to buy with Your Kid's Name as the main character. I'm sure The Simpsons will have parodied these books, and if they haven't, then perhaps they should....
So if you have $59 to waste, you can (in theory) give your friend a book which begins "Lucrezia Borgia was beginning to get very tired of sitting by her sister on the bank, and of having nothing to do" Now, I wonder how Lucrezia would have dealt with the Queen of Hearts.
But dang! unfortunately the books do not offer illustrations of the characters you choose.
01 January 2010
Went to the sales in the West End of London. Yes, it was raining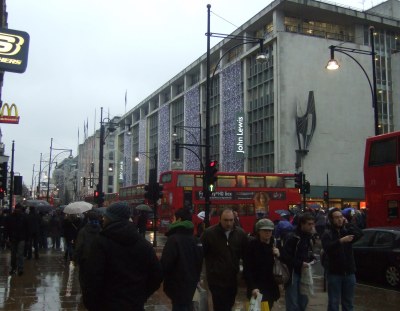 Among the bargains on offer were two Christmas tree ornaments - Alice and the Queen of Hearts. Here they are seen together in a box of bargains at Foyles famous bookshop in Charing Cross Road with "reduced" labels attached. Poor Alice.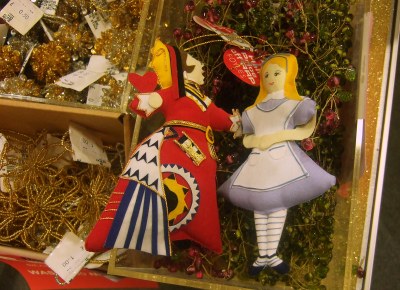 Sidebar