20 November 2013
Ray Bradbury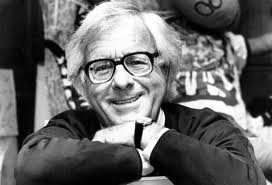 Lewis Carroll is one of my favourite writers, Ray Bradbury is another. Thought you'd like to see
this clip of him from around 1978,
talking of his admiration for "Close Encounters of the Third Kind" and about working with Walt Disney on EPCOT, which at that time Disney hoped to be a community of the future. Bradbury always seems to be having a good time. I'm sure he lived in a little world of his own, which is partly why I love his work.
The image is from "Here and Now" - read their piece on Ray
here
. Ray died in June 2012. I wonder what he thought of how the world had panned out. Maybe there are some interviews with him in his old age. I'll look around and find out.