11 January 2011
Toy Theatre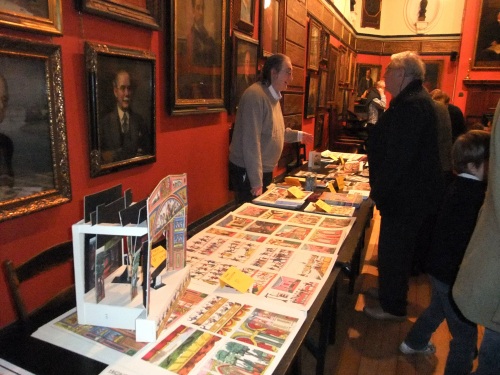 At the 2010 LCS Party at the
Art Workers Guild
, I picked up a leaflet for
Joe Gladwin's
performance of "Cinderella" on the toy theatre, in aid of the
Pollock's Toy Museum Trust
. (and above is a picture of the little stall they had there, selling all kinds of things to interest people who are interested in old toys)
So of course I booked tickets.
I expect Lewis Carroll would have done the same. He was a huge fan of toy theatres and in fact wrote plays for the little theatre which he helped to make in order to entertain his younger brothers and sisters in the rectory in
Croft on Tees.
It is probably true to say that his passion for this tiny theatre predisposed him to love the grown-up theatre, later in his life.
We loved our outing. Our party included adults and children (9 and 5) and we were all amazed at how charming and entertaining a toy theatre performance can be, even in today's world of electronic entertainment. Of course a lot depends on the operator, and Joe Gladwin is a real puppet theatre pro (take a look at his
website
). He operated the music, scene changes, all the different voices with enormous skill, keeping the audience gripped the whole time.
The performance took place in a darkened room with only a row of candles before the stage, although the theatre itself was illuminated by electricity. Cinderella's coach and the castle seemed truly magical, as did the Fairy Godmother. Here's a blurry picture of her giving her prologue - sadly, the light from my digital camera screen was extremely noticeable in the darkened auditorium so I decided not to spoil everyone's fun by taking too many photos.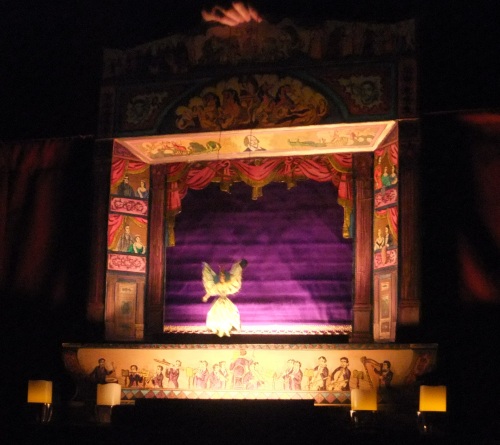 There was also a "slap up tea" promised, and this in fact turned out to be wonderful, with lots of home made cakes and, of course, cucumber sandwiches - surely indispensable in an English slap-up tea!
We discovered that some of the audience members were also interested in old magic lanterns. Vanessa of
London Dreamtime
was asking around, and she clearly has some kind of an idea for a future project to do with model theatres, magic lanterns and perhaps Pearly Kings and Queens.
Oh, and here is a picture of the theatre from the side, showing the grooves in which the scenery and the cut-out actors move. Incredibly difficult, unless you're someone with the skills of Joe Gladwin - or, presumably, Lewis Carroll.