31 May 2009
The Lady of the Lilacs by Arthur Hughes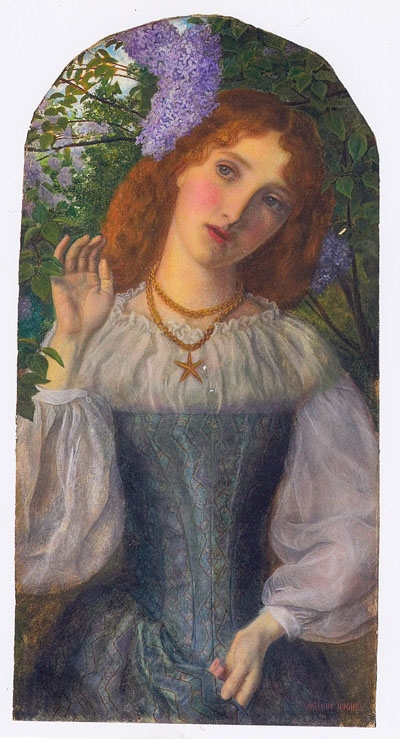 I am delighted to finally have a picture of The Lady of the Lilacs, by Arthur Hughes. This was one of Carroll's favourite pictures and his nephew remembers the pleasure with which Carroll showed it to him, pointing out the beautiful tints of colour in the hair and elsewhere.
The background to the painting is that Carroll's friend, the writer George MacDonald, had shown Carroll some drawings by Hughes, and Carroll had liked them very much. It may be that one of the drawings was of the Lady of the Lilacs because apparently MacDonald mentioned the matter to Hughes, and it seems from what Carroll said in his diary that Hughes painted it specially for him.
I think Carroll may have also been inspired by this image in at least one of the original pictures he drew for the manuscript of "Alice's Adventures Under Ground" - here's a
link to the BL's Turn the Pages:
check out page 36.
The picture was sent to me by Toronto-based Karen Bennet, a science fiction expert who loves that fun and fascinating city, and who is also interested in Carroll. (Science fiction fans will find Karen's site well worth checking out
so take a look here)
And why Toronto? Well, that is where the picture is - in the Art Gallery of Ontario. In the
bank account
there is a note about it, showing that on 27 October 1863 he paid Arthur Hughes £26.5s.0d in Victorian money. So the painting was quite pricey.
I think that the Lady of the Lilacs may be a Catholic saint. Carroll wasn't a Catholic but he would have liked the combination of spirituality and beauty. I also think that her formal gestures - the way her hand is raised as if in blessing, and the particular way she is holding her skirt - may have some significance. I wish I knew more about it.