02 October 2008
Alice in Liverpool ... and Daresbury
I've been like the White Rabbit - late all the time - and I clean forgot to write about the Liverpool Academy of Arts' Alice exhibition. It's over now, but there are some good pictures on the
site
Here's one of Alice looking as though she has already started to eat and drink some of the potions - something about the camera angle makes her look twice the size of the King and Queen of Hearts.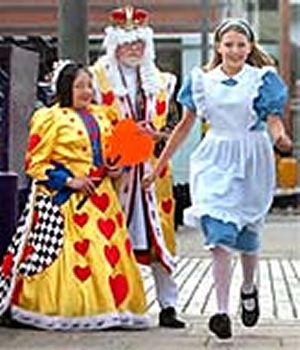 This picture is taken from the Daresbury Chronicle, an excellent publication put out by the Daresbury Lewis Carroll Society. This is a lively society and is run by Keith Wright. The best way of contacting Keith is to send a message via the LCS website
here
- scroll down to the bottom of the page.