24 September 2016
New Stuff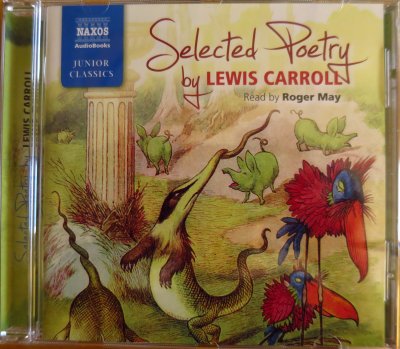 A few new things have come my way lately. The picture above shows a recording I can definitely recommend. There are so few recordings of some of Carroll's comic poems, particularly the juvenile works which date from as early as 1845, when he was thirteen. These include "Brother and Sister" and "My Fairy" which satirize his home and family. I was pleased to that Naxos has released a CD of some really excellent performances, including these gems as well as better known works like "Hunting of the Snark". They're very well read by Roger May, who has done at least eighty radio plays, so it is not surprising that his tone and timing are so good. You can buy or download the CD on Amazon and read more about it
here.
To be honest, I'd have liked to have seen the option on Amazon to hear tracks before downloading or buying the CD, but in fact there's an "Audible" sampler so you can hear how well May reads. And if you like his work, I see from his
biog page
that he's also read "Frankenstein" - unabridged!
Next, how about this amazing video? Artist Gene Kogan
has run clips from the Disney "Alice" through software which shows it in the style of various well known artists. It was made using computer code developed by Justin Johnson,which was based on work last year by computing researchers at the University of Tuebingen, in Baden-Wuerttenberg, in Germany. I don't think I can say anything about it that beats watching it, and I think you'll agree it's well freaky.
Why is a Raven Like a Writing Desk? from Gene Kogan on Vimeo.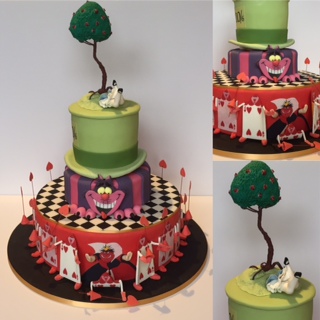 Finally, a London graphic designer,
Anthony Pike
, created this for his daughter's birthday party. The basis of the cakes is vanilla and lemon sponge with buttercream icing, and he took 8 days to make and assemble the whole thing. Mr. P describes baking as his "paid hobby" and says he is an amateur (though this looks pretty professional to me) and when I asked what he would charge to make one for anyone interested, he said, £450, and it would keep for a week after delivery. Here's a link to his
Facebook page
, in case you are an affluent person who feels like having an Alice teaparty. All his cakes are bespoke, so it doesn't have to be Disney's cartoon Alice, I suppose - he might even be able to do Johnny Depp - though I can't promise.....