19 December 2015
Hunting of the Snark, - BBC Radio 4, 2.15 on Christmas Day.
Really so excited to have heard an advance recording of a brand new version of Carroll's HUNTING OF THE SNARK - the best one I have encountered. It captures so much of the comical, sinister ambiguity of the original, and I'm so pleased the BBC can still commission stuff like this. It will air for the first time on Christmas Day 2015 at 2.15 PM. I hope you get the chance to listen to it on the day, but if not, then it'll be on iPlayer afterwards.
Here's the link
....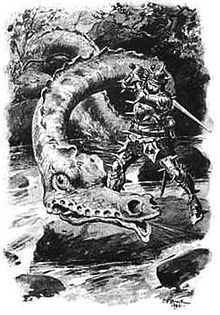 The picture at the top is one of Henry Holliday's illustrations, and the one at the bottom is the Lambton Worm, which is popularly supposed to be the model for the Jabberwock. I myself always think the Snark must have looked like that, though.