04 May 2015
The Alice Look - Japanese fashion.
"The Alice Look" opened at the V & A on the 2nd May. (I wonder why it wasn't the 4th May - Alice's birthday?) I popped in for a quick look and saw there was a real life example of the Japanese "Alice" look on display, though unfortunately not much space in the exhibition to devote to this most intriguing branch of fashion.
The "Alice" look is popular in Japan as part of a larger trend of lolita style, which includes punk, goth, oji (boy) wa (traditional Japanese clothing) all adapted in an extreme Victorian way.
In some parts of Tokyo you'll see many young women dressed this way and there are some fascinating displays in department stores and boutiques. It must be a lot of fun to dress up like this.
My friend Yoshi recently sent me a great book, illustrated by a variety of illustrators, showing the Alice Look in illustration. It was supervised by Eitaro Takei. I've done my best to open out the book and photograph some of the striking illustrations.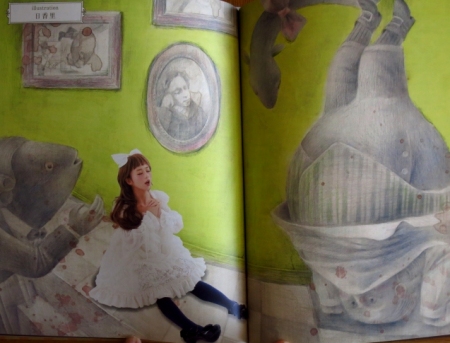 Here are some pictures I snapped around the vicinity of Takashita Street, meeting place for Tokyo's youth.