26 February 2015
A Day With Mark Burstein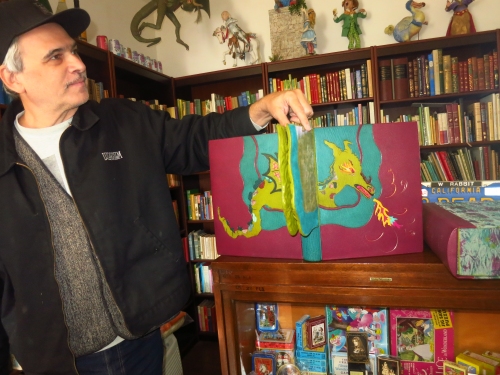 A couple of months ago I went to California to visit Mark Burstein, who has a mind-blowing collection of "Alice" books and memorabilia, one of the best in the world. He is a vital part of the LCSNA (Lewis Carroll Society of North America) and he and his family live on a farm north of San Francisco. It was kind of touch and go if we would be able to visit, since he had jury service during our time in California. But luckily Justice held off for a day, and so one sunny morning we got in the car and drove across the Golden Gate Bridge into Marin county...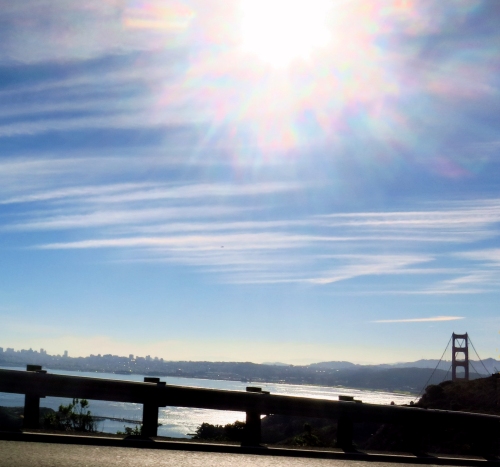 And after a while, going down ever smaller roads, we arrived at the dazzling white tower where Mark keeps his collection.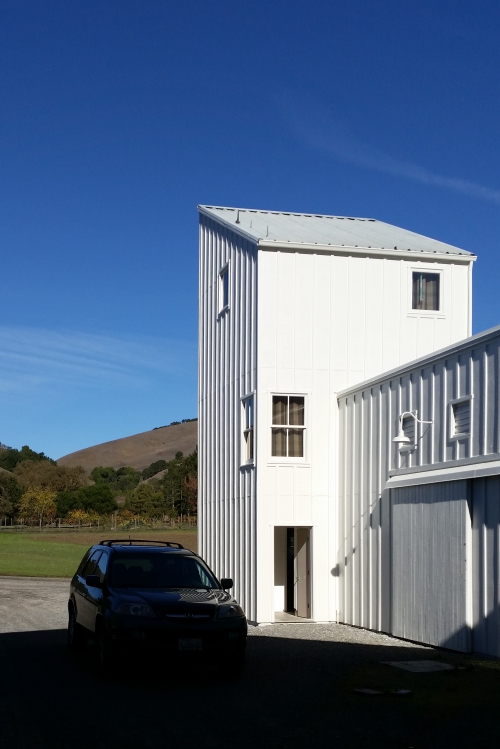 I can't start to tell you what amazing things are there.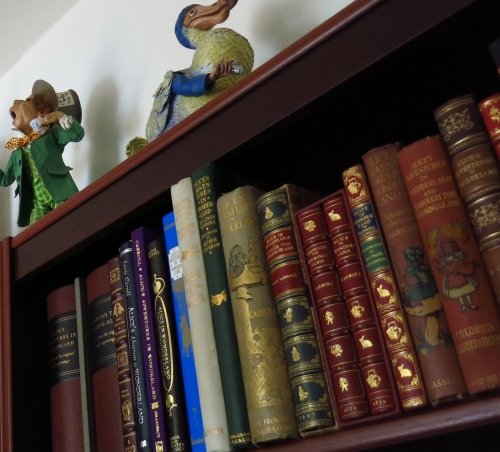 Mark's collection is built upon the one given to him by his father, Sandor. It contains one of only 2,700 very expensive books of Salvador Dali prints of "Alice in Wonderland" - I was excited, as I've not had the chance to examine these before. But I must confess I was equally impressed by other volumes. Look at these bindings. That luminous mother-of-pearl effect on this "Looking Glass"...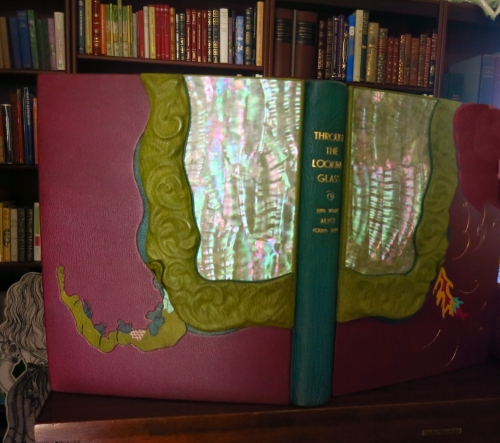 And this is the companion edition of "Wonderland, " both published by Cheshire Cat Press and illustrated with George Walker's distinctive prints.
The collection contains one of the rare press kits which were issued or the Tim Burton movie of "Alice in Wonderland." It is an elaborate piece of work, which is unlocked with a huge key. Can you see it there on the top of the pile? Very few of these were made, and so it's quite an acquisition.
Talking of acquisitions, one of the many interesting things about Mark is that he doesn't look to the internet to find his treasures. He prefers,he says, the "traditional way." Which means the hard way - by asking about, by looking around. Not so easy, but far more fun, of course.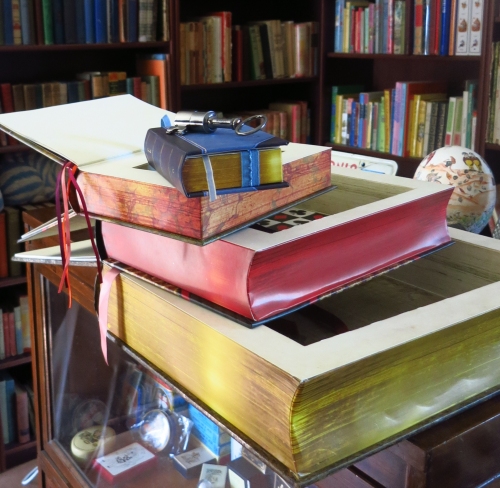 There are "Alice" books here in many different languages; I was specially interested in some of the Russian illustrations which are typically stylish and emotionally powerful
But of course there aren't just books. What about the white rabbits, clustered around the staircase....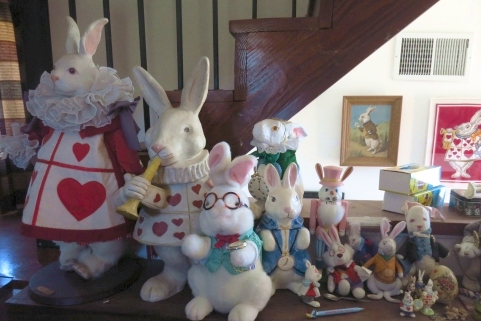 And all kinds of toys and games and artworks, including this collage featuring Lewis Carroll. If you stand the shiny cylinder in one place, it reflects back an image of Carroll himself.
I spent a long time looking through his collection of material about Lewis Carroll and his life, of course. In fact, that was so interesting to me that I was considering turning up the next day, too, with a sleeping bag and a couple of packs of sandwiches, so I could stick around and read everything that caught my eye.
But no, I'm joking - about the sandwiches, anyhow. We didn't need sandwiches, because we had a great lunch, and met his attractive family, who were so hospitable, creative and friendly.
Then we went for an outing to the
Charles L. Schulz Museum in Santa Rosa, CA,
home of "Peanuts." Schulz was a "local boy" in this area, and he was also a big fan of "Alice." If you know "Peanuts" you'll remember Snoopy's Cheshire Beagle Trick and so many other references to Alice in the comic strips.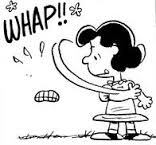 The museum was running an
"Alice" show, "Peanuts in Wonderland," featuring some of Mark's collection
in clever VIctorian style display cabinets - one of which has a tiny door in the side, which looks to be leading into the garden. Unfortunately my camera started malfunctioning, so I didn't get any usable shots. But, if you live within reach, the show is on till 26 April, so I hope you can make it.
Finally, it was time to head back to Mark's place. We dropped him off, gave a last look to the magic tower, and set off back into San Francisco in the evening sun.
What an amazing day it was - one I'll really remember. And, if you think I sound like a bit of a fan.. well, you know something -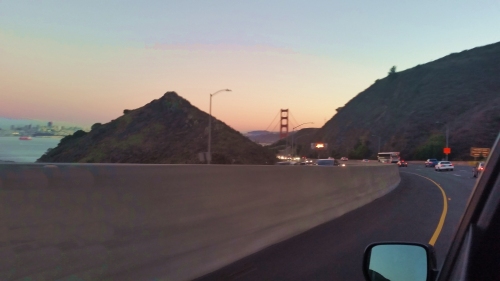 I am!!