Archives
You are currently viewing archive for November 2016
29 November 2016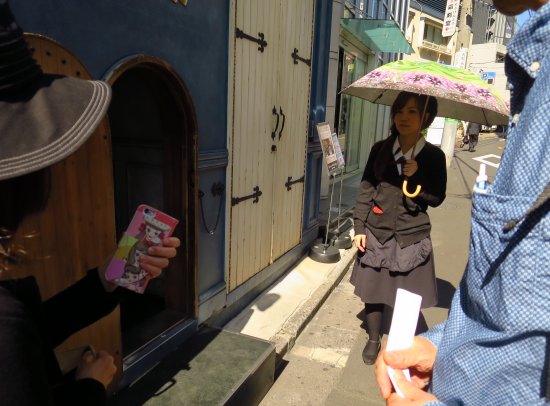 So who is this lady with the sunshade, and what is she doing?
You'd be forgiven for not knowing. But she is supervising the door into one of the most unusual shops in Tokyo. It is called "Alice on Wednesday."
When I first visited Tokyo, in 2014, I didn't manage to get into "Alice on Wednesday." It had only opened two days before my visit, and the initial demand from customers was so high that anyone who wanted to go had to reserve tickets on the internet before turning up.
I have just returned from a second trip to Japan, and this time I did get into "Alice on Wednesday." Obviously, the internet tickets aren't necessary now that the novelty has worn off, but, two years on, the shop has done very well and now seems to have become one of the fixtures of Tokyo life. It's in the attractive Harajuku area of the city, down a side street, and when we arrived there were only about ten people waiting, so we joined the queue...
It's a very tall, thin shop, and you have to enter through that rather tiny door you can see on the right, and begin by climbing all the stairs to the top floor. It's not unlike going
up
the rabbit hole, in fact, for there are all kinds of curious things on the way. I didn't notice cupboards with jars of marmalade in, but there were toadstools towering above your head...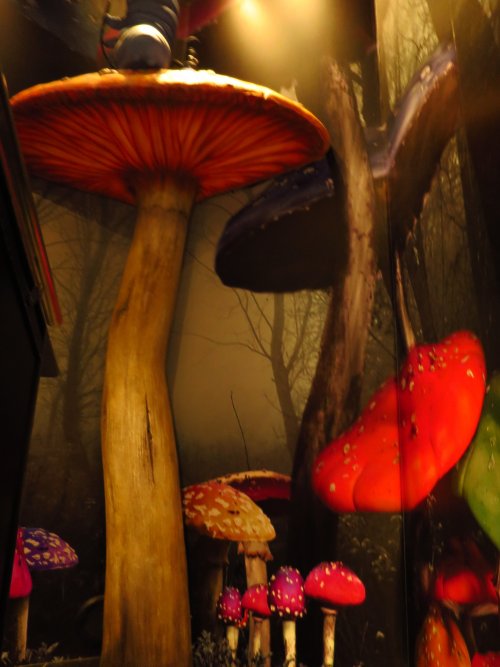 and strange illuminated pictures on the walls...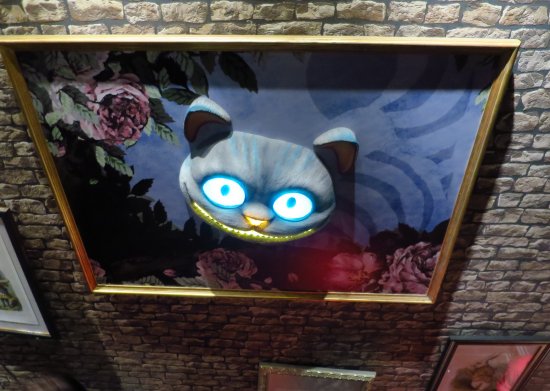 When you reach the top floor, it has quite an "attic" feeling. It's very small and Victorian in style, and most of the daylight filters through a stained glass window...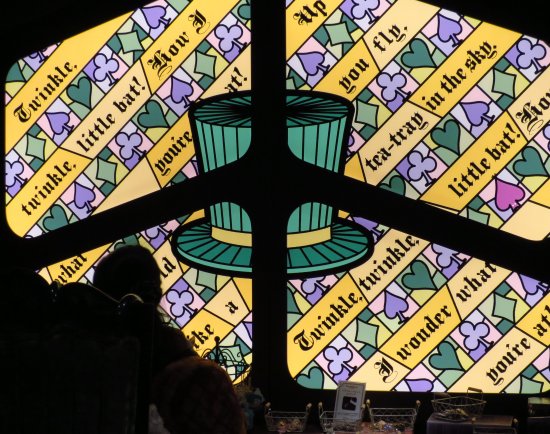 whereas the lampshade, as you see, is a large top hat.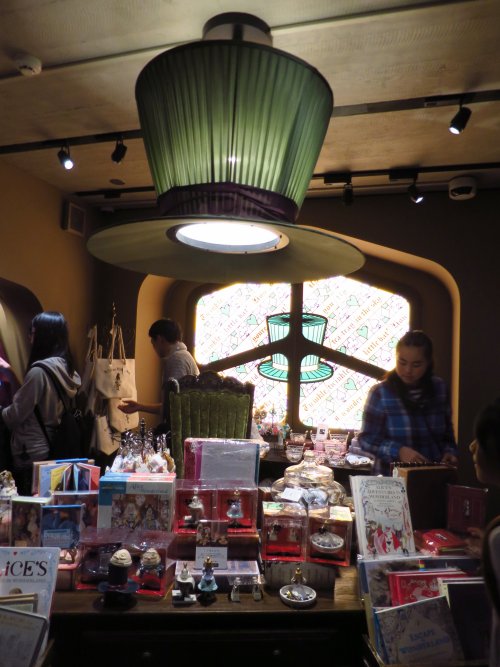 There really seems everything that an "Alice" collector might want. I don't collect myself but even I bought myself a cool little Mad Hatter handbag mirror.
Most of the mechandise is specially designed for the shop, and is not just a collection of things you can get elsewhere.
The website, here
, is only in Japanese, but this gives an idea of the kind of items they normally sell.
If I hadn't been watching the weight of my luggage, I would probably have bought a mug - I like the one to the left, with the door and a handle like a key.
And I always fall for fancily packed eatables or drinkables. These are mostly to be found on the bottom floor, where you pay.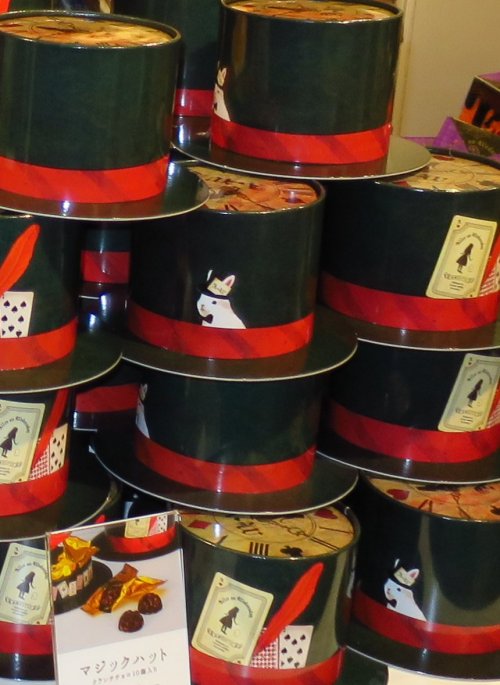 These rather luridly coloured bottles look as if they really might alter your perceptions a bit.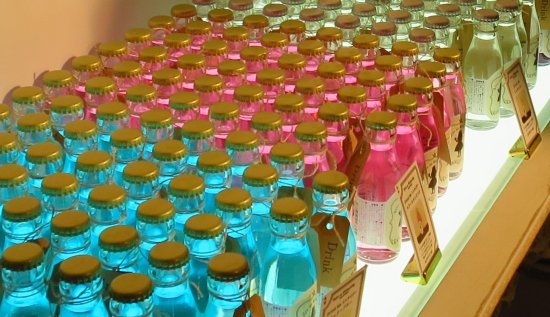 And the biscuits are most beautifully lettered.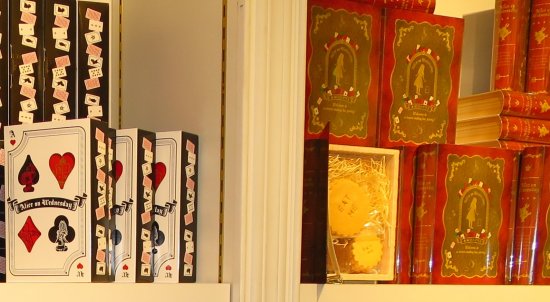 I haven't seen a rabbit-hole cake before, but the ones here seemed to be selling well.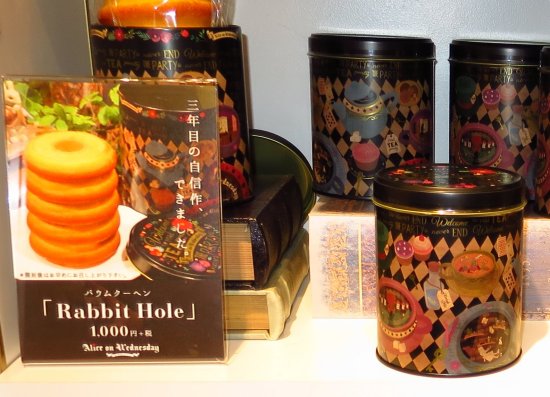 "Alice" is popular and well known in Japan, but it's interesting that here in England nobody has had the idea of producing a shop as creative and original as this. I wonder if the Japanese company will set up a branch in Oxford?
....maybe, one Wednesday, they will.
18 November 2016
It's so sad to hear of the death of David Delamare. I have remembered his wonderful video "Beware the Jabberwock" ever since I first saw it. Here it is below.
If you want to read a tribute to David,
go here
.
15 November 2016
It's interesting to see how popular Alice is in Japan, and how everyone knows her. Perhaps there is something about Alice and her world that strikes a special chord with Japanese people. It would take a social psychologist to figure out why, though, so I won't offer any opinions myself!
My good friend Yoshi in Tokyo has just sent me a very interesting book, which was issued by Takarazuka University on the theme of Illustrating "Through the Looking Glass."
It's a well produced book with full colour and metallic printing. Taking a tip from Tenniel, perhaps, the front shows Alice going through the Looking Glass, and the back shows her coming out of it.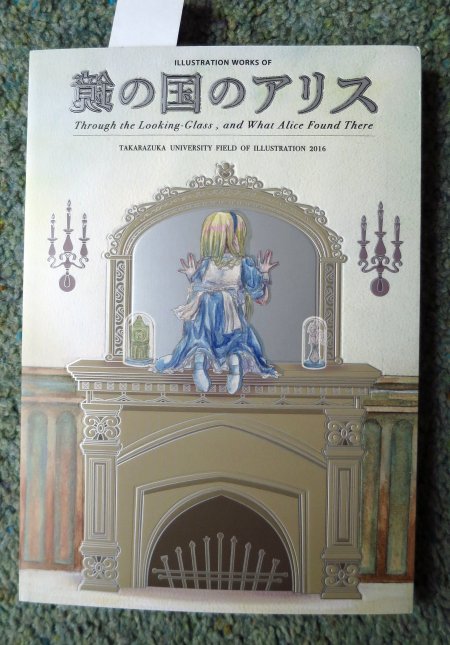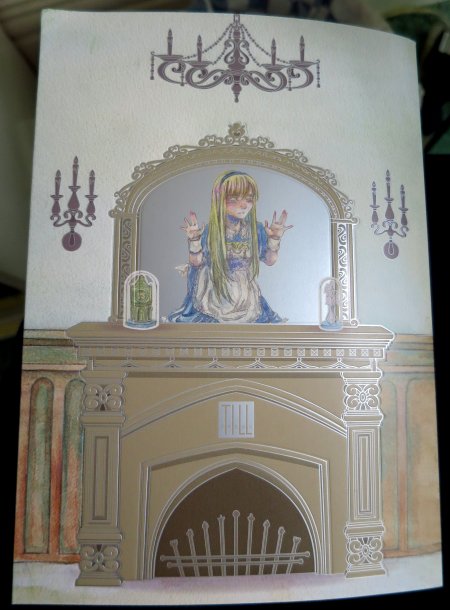 There are far too many illustrations to show, and I'm sorry that they're not very well photographed - it's one of those books that doesn't easily lie flat. But I hope these give you a flavour of how much variety there is.
The photographs below each image show the artist. Again, sorry they're blurred, I really tried, but short of holding the book flat with a large sheet of glass (which I don't have), I just can't get everything in focus at once!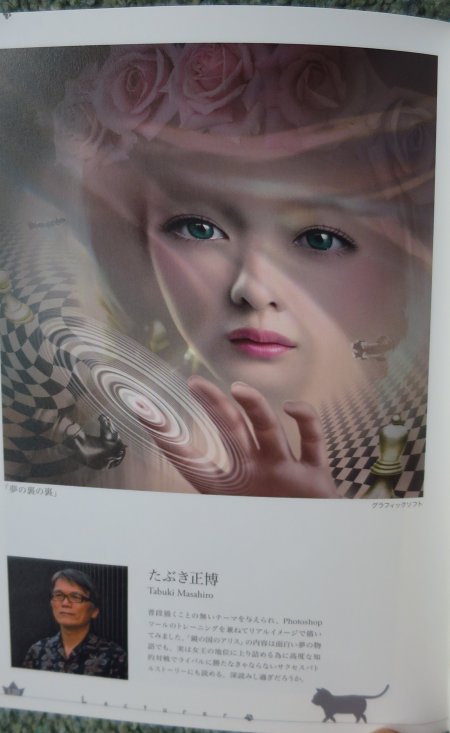 Izumi Kyoko's Humpty Dumpty has echoes of 18th century English caricatures.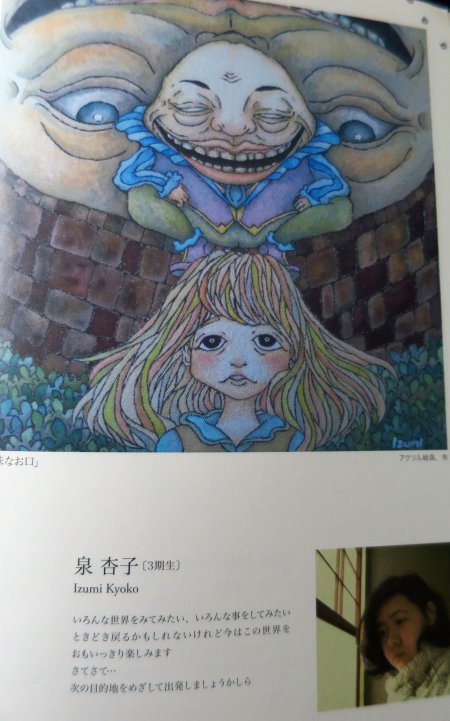 This has a formal graphic quality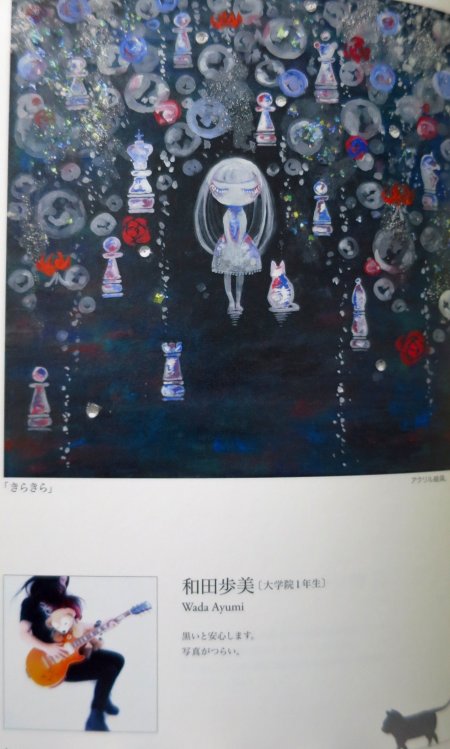 And this is more the kind of Alice I'm used to seeing in Japan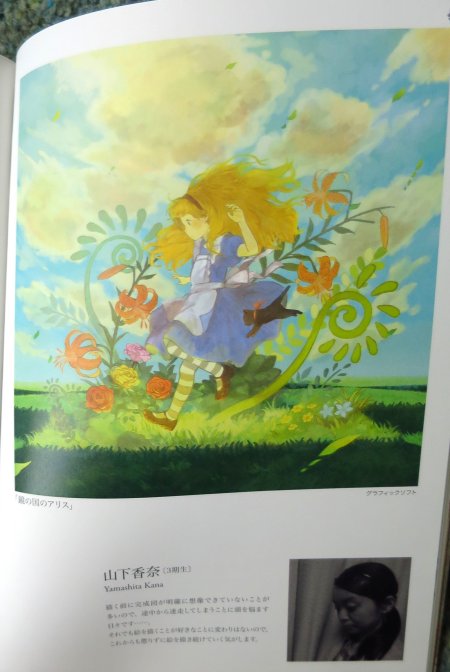 Fujishiro Misaki's illustration, below, has something of the film poster about it - not sure who the hero is, or the solemn lady on the left - but quite a few manga and graphic series do cast Alice as a romantic heroine.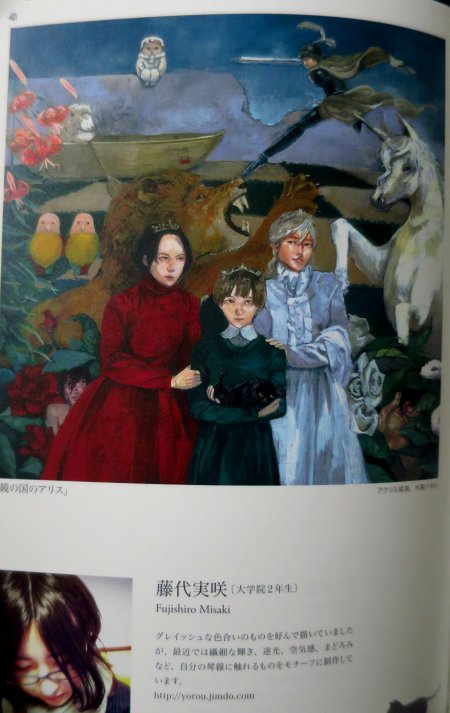 If I had to choose a favourite, I would perhaps go for the three dimensional work below, mostly sewn and knitted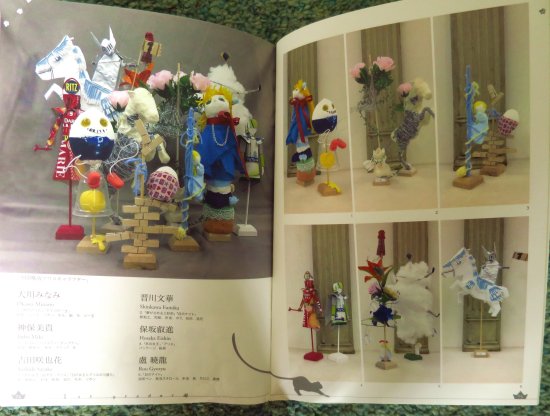 Here is a close up of some of the 3-D work - creepy, isn't it?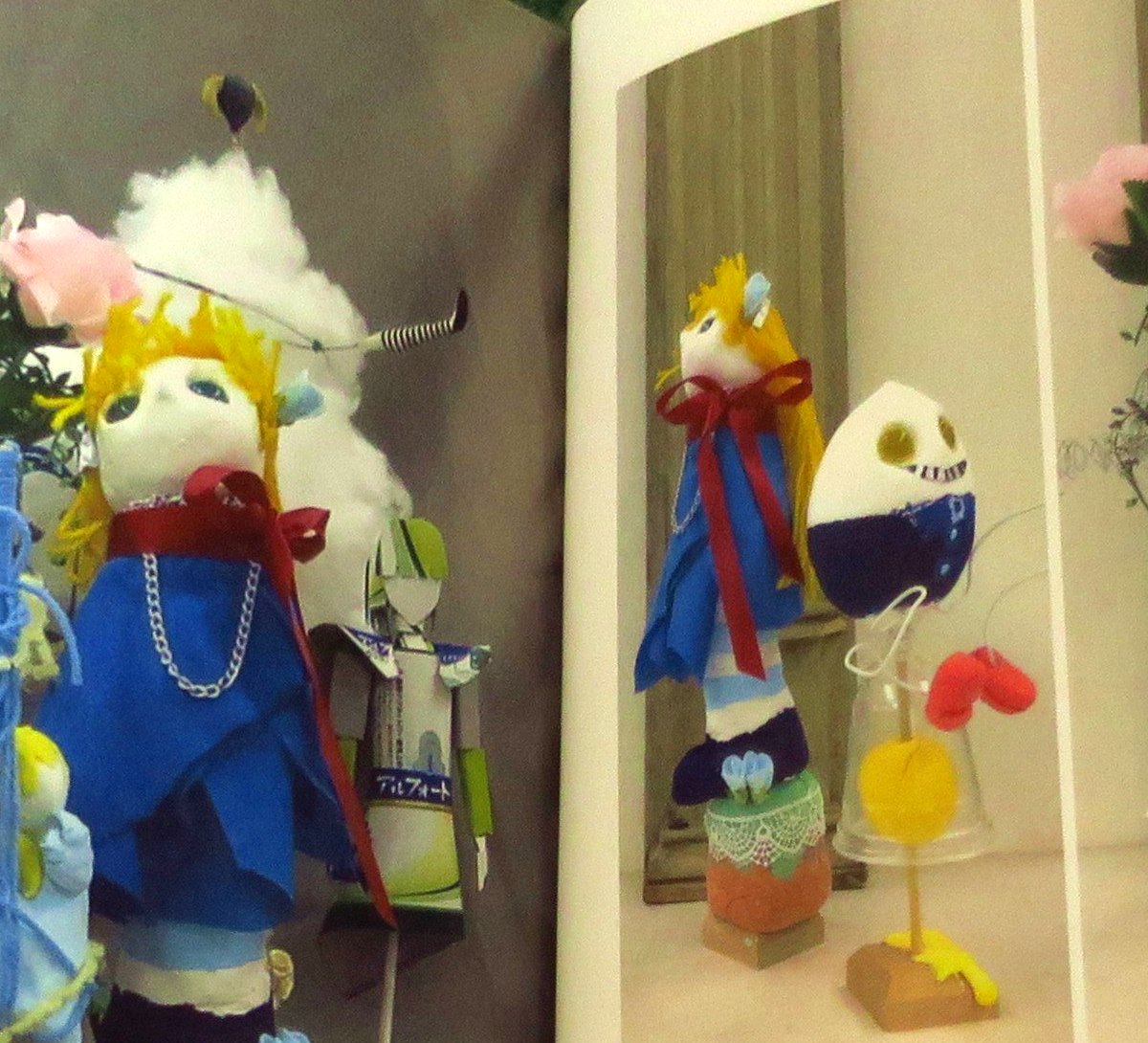 I did like Ikeda Momoka's work, which focuses on animals - specially the cat looking at the chessmen. Her other illustrations are also cheerful and intriguing.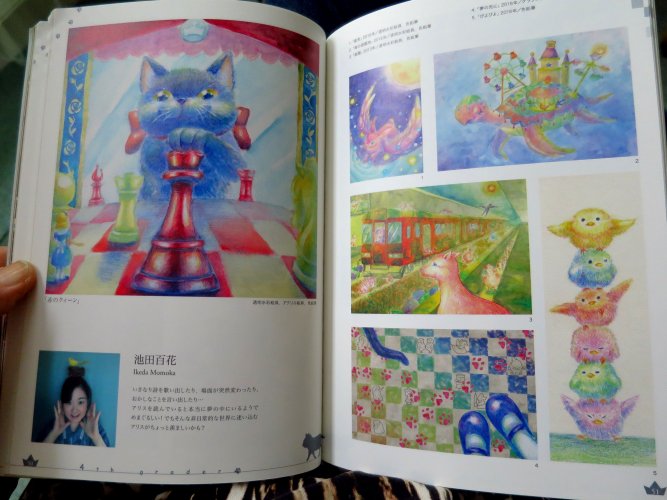 Here's a closer look at another of her takes on cats and chessmen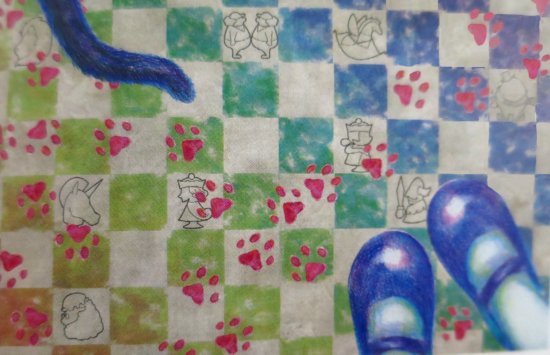 I really liked looking through this book and seeing all the different interpretations of the same story.
07 November 2016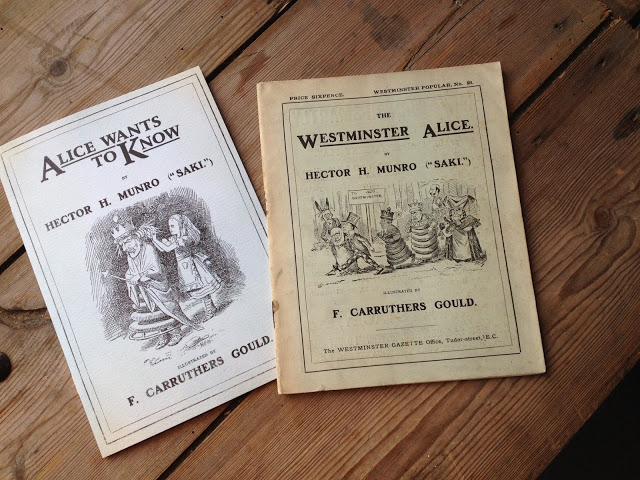 Hector Hugh Munro, or "Saki" as he was known, was a famous short story writer who satirised society and politicians in the early 20th century. One of his successes was "The Westminster Alice," published in instalments in "The Westminster Gazette"and attacking politicians of the day in the style of "Alice." Now Penrith-based Withnail Books has rediscovered a follow-up instalment which was published in 1902, some months after "The Westminster Alice" parody appeared. Entitled "Alice Wants to Know" it has never been reprinted till now.
Withnail Books has now reissued it in an edition of only 45 copies - so it is quite a collector's item (and quite reasonable, too, at only £7.50). More information on their website,
here
- take a look at the excellent illustration on the right.
Sidebar