Archives
You are currently viewing archive for October 2015
25 October 2015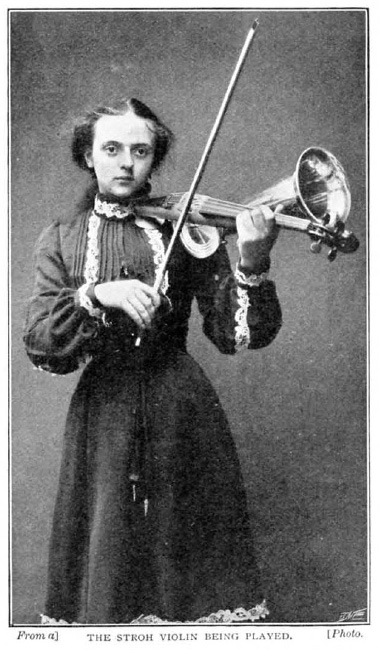 I don't suppose Lewis Carroll knew this solemn young lady, but I'm delighted and honoured that the poet, novelist and medical doctor, David Wheldon, has just dedicated a fascinating short story to me which refers to the instrument she's holding - a Stroh violin. The story is called THE SERJEANT'S DAUGHTER and it deals - basically - with what happens after a trial. As the story progresses, the narrative seems to disintegrate and re-form itself into a completely different story, which has echoes of both Carroll and Kafka. It features a young woman - the Serjeant's daughter of the title - who plays a Stroh violin.
Graham Greene considered David Wheldon's first novel, THE VIADUCT, to be "remarkable," and he and the other judge of the 1982 Triple First Award, William Trevor, gave it first place, with a prize of £5000. It was published by The Bodley Head, Penguin Books and the Book Club Associates in London, and by George Braziller in New York His next book, THE COURSE OF INSTRUCTION, was published in hardback by The Bodley Head (as was his next, A VOCATION) and in paperback by Black Swan. AT THE QUAY was published by Barrie and Jenkins. If you go to
his website
you can learn more.
And, I have just heard that David has put the story online,
here
, together with a link to his short story titles,
here.
So what does a Stroh violin sound like? Well, I don't know. But here is a cover version of one of Adele's songs, played on something that looks rather like it, although the player, Stephanie Valentin, doesn't remind me much of the Serjeant's Daughter of the story, and probably doesn't sound much like her either.
And this is a non-electric version, which might sound more like the one in the story.
18 October 2015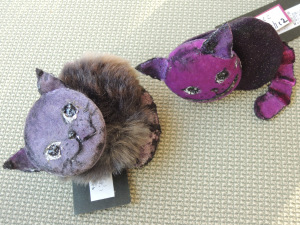 As part of Alice150, there's an exhibition of Alice related art work and crafts in Tokyo with contributions from 24 artists. Lots of fun work here - I liked these Cheshire cats (
click the link
and you will see more.) ... but hurry, it's only on until 27 October!
It's at Irias, 2-9-12-1F-B Yanaka,
Taito-ku, Tokyo 110-0001 Japan
05 October 2015
This year, like last year, my friend Yoshi in Japan kindly sent me a beautiful calendar "Alice in Calendarland" illustrated by Takako Hirai, a famous Japanese illustrator.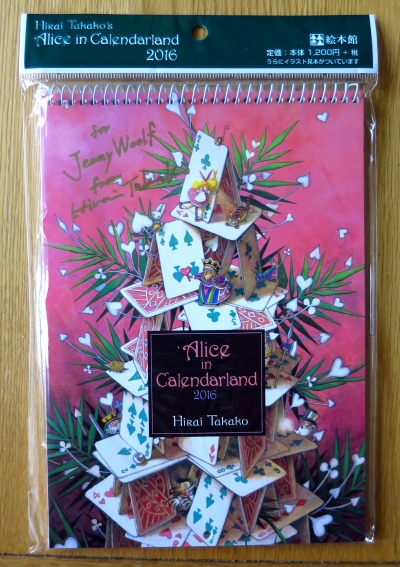 She signed it for me on the top left corner.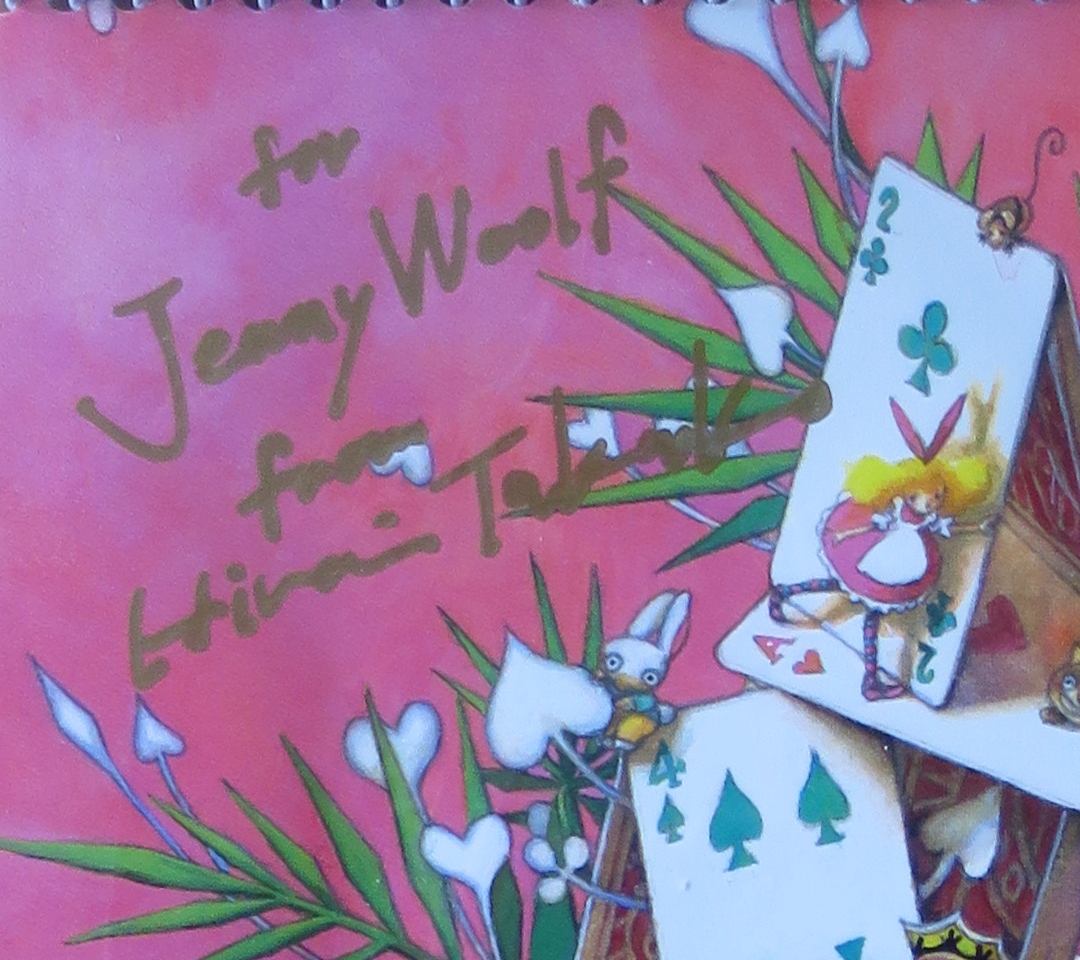 Here's the back of the calendar, showing the images for each month.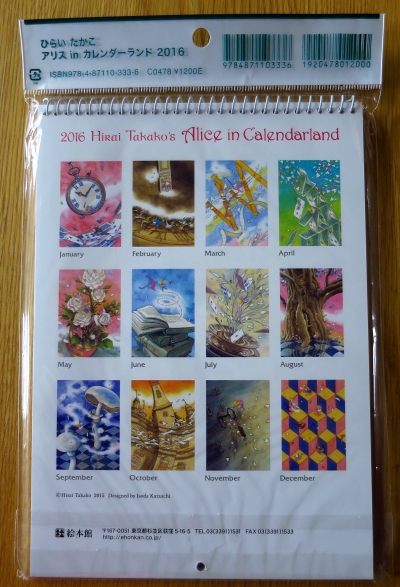 They're available in postcards, and Yoshi also sent three of the cards, for May, June and September.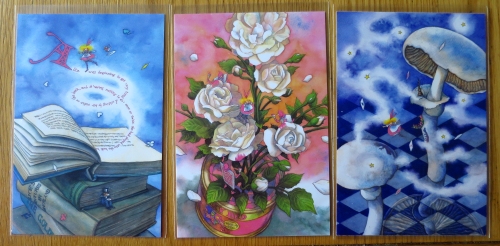 I'm very pleased to have this calendar and the cards.
02 October 2015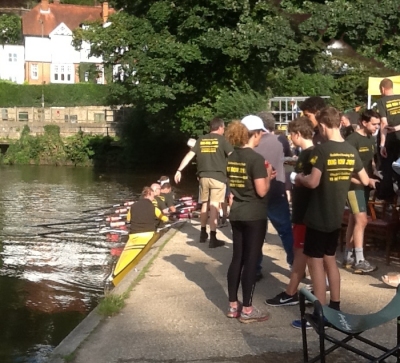 Carroll is always associated with boats on a river, and he is also of course
strongly linked with Guildford, in Surrey. So it was nice to hear that on Sunday 20th
September last, Gulldford Rowing Club had a 'Big Row' along the
River Wey between Guildford and Weybridge, where it joins the River Thames.
The event was to raise money and awareness of the Club's plan to rebuild its
facilities to modern and accessible standards, and rowers were
drawn from all sections of the Club - young, old,male, female and disabled.
The Club established links with the Lewis Carroll Society
several years ago when they started to name their boats after characters from Lewis
Carroll books. Carroll, of course, lived at "The Chestnuts" nearby.
The fleet includess many boats named after Lewis Carroll's characters: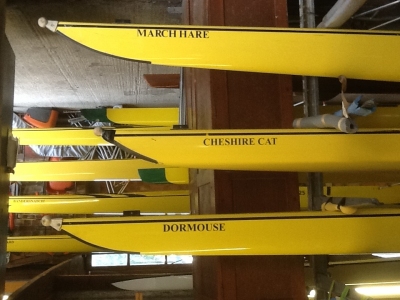 They include Jabberwock, Mock Turtle, Cheshire Cat, Mad Hatter, Queen of Hearts,
Knave of Hears, Tweedledee, Tweedledum, March Hare, Gryphon, Dormouse,
Alice in Wonderland, Bandersnatch and Eat Me!
The LCS treasurer went along, had tea and cake and reports that a good time was had by all!
Sidebar