Archives
You are currently viewing archive for May 2015
31 May 2015
This is the cover of a new Alice in Wonderland reading on Audible - click
here
to hear a sample - and it also includes an excerpt from "The Life and Letters of Lewis Carroll," the biography written by Carroll's nephew, Stuart Collingwood. They'll also have a free download of an essay by me!
The CD is launched on 31 May and it's read by Alison Larking, comedienne and author of The English American, a novel about an American girl adopted by an English couple. She's an
​​​Audiofile​​ Earphones award​
-​winning narrator of more than 100 audio books, so I'm pleased that she will be reading my contribution!
29 May 2015
If you are in Massachussetts... This Sunday at the Edith Wharton House.

Hallo, hallo, hallo!

I am delighted to invite and any other children you might like to spend the afternoon to a Mad Hatter's Tea Party in the gardens at Edith Wharton's home The Mount this coming Sunday to celebrate the release of the 150th anniversary audiobook edition of Alice in Wonderland and Through the Looking Glass narrated by Alison Larkin!

There will be prizes. Prizes! And children's activities and croquet on the lawn. Come in costume or just come! Details below. (You can get a FREE copy with a one month TRIAL subscription to Audible or you can just buy it as an immediate download for yourself or email it as a gift, by clicking here.)

Here are the official details!

Yours, The Mad Hatter p.s. Why IS a raven like a writing desk?

Celebrate the release of the 150th anniversary audiobook edition of Alice in Wonderland and Through the Looking Glass, narrated by Alison Larkin with a cup of tea, scrumptious sweets, childrenís activities, and a reading! The Mountís formal gardens will come alive with the spirit of Lewis Carrollís childhood classic Ė party guests can play croquet on the grass terraces and eat petit fours in the pergola. Costumes are encouraged!
At 4:00 pm, award-winning audiobook narrator Alison Larkin will give a reading of the famous Mad Hatterís Tea Party scene. To pre-order a copy of this delightful new recording click here!

Whartonís own battered copy of Alice in Wonderland is housed in The Mountís Library.

Advance reservations are strongly encouraged. For more information or to purchase tickets, please call 413-551-5100 or visit EdithWharton.org.

Presented in partnership with Berkshire Family Focus.
www.alisonlarkin.com.


16 May 2015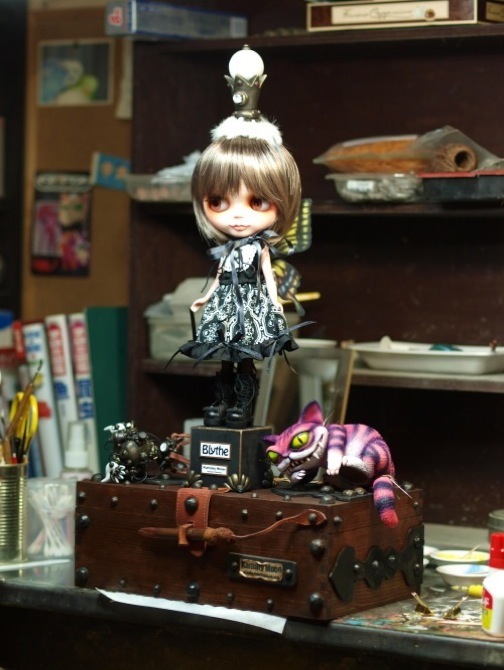 I posted a couple of cards from Yoshi on
the Facebook page
and promised to give a little bit more info about them.
My favourite of the cards is the Cheshire Cat
which was created by Mitsuji Kamata, born 1958. He's a steampunk fan who makes three-dimensional sculptures and dolls. Click
here
and
here
to see some of his work, and one of his "Alice" dolls is shown at the top of the post.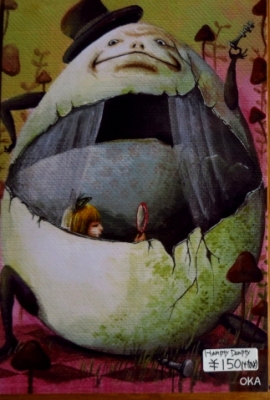 I also like Humpty Dumpty, above. The artist's name is OKA, and all I can find out about her is that she was born in 1983. But if this image is anything to go by, she was influenced by Heironymus Bosch! Look a little closer at Alice viewing herself inside Humpty...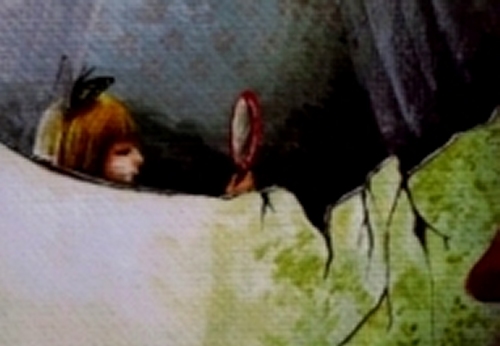 The illustrator of the following image,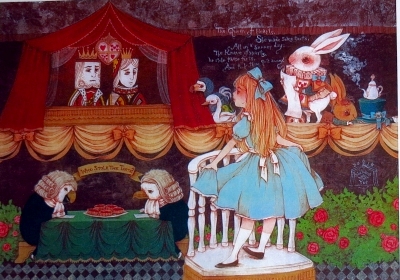 showing Alice, the White Rabbit, the King and Queen of Hearts, is Yui Nakano, She was born in 1988 and graduated from Kobe Design University in 2011. Her work appears in Alice's Adventures in Wonderland Visual Fan Book - the fashion book supervised by Eitaro Takei, which you can read about in the previous post.
Finally, this is by Yui Nakano
and you can see more of her work
here
04 May 2015
"The Alice Look" opened at the V & A on the 2nd May. (I wonder why it wasn't the 4th May - Alice's birthday?) I popped in for a quick look and saw there was a real life example of the Japanese "Alice" look on display, though unfortunately not much space in the exhibition to devote to this most intriguing branch of fashion.
The "Alice" look is popular in Japan as part of a larger trend of lolita style, which includes punk, goth, oji (boy) wa (traditional Japanese clothing) all adapted in an extreme Victorian way.
In some parts of Tokyo you'll see many young women dressed this way and there are some fascinating displays in department stores and boutiques. It must be a lot of fun to dress up like this.
My friend Yoshi recently sent me a great book, illustrated by a variety of illustrators, showing the Alice Look in illustration. It was supervised by Eitaro Takei. I've done my best to open out the book and photograph some of the striking illustrations.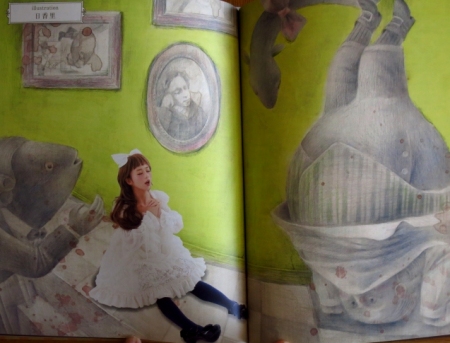 Here are some pictures I snapped around the vicinity of Takashita Street, meeting place for Tokyo's youth.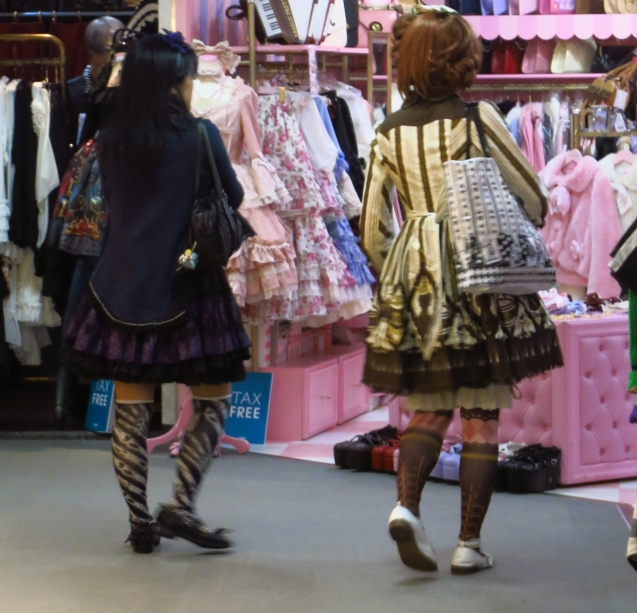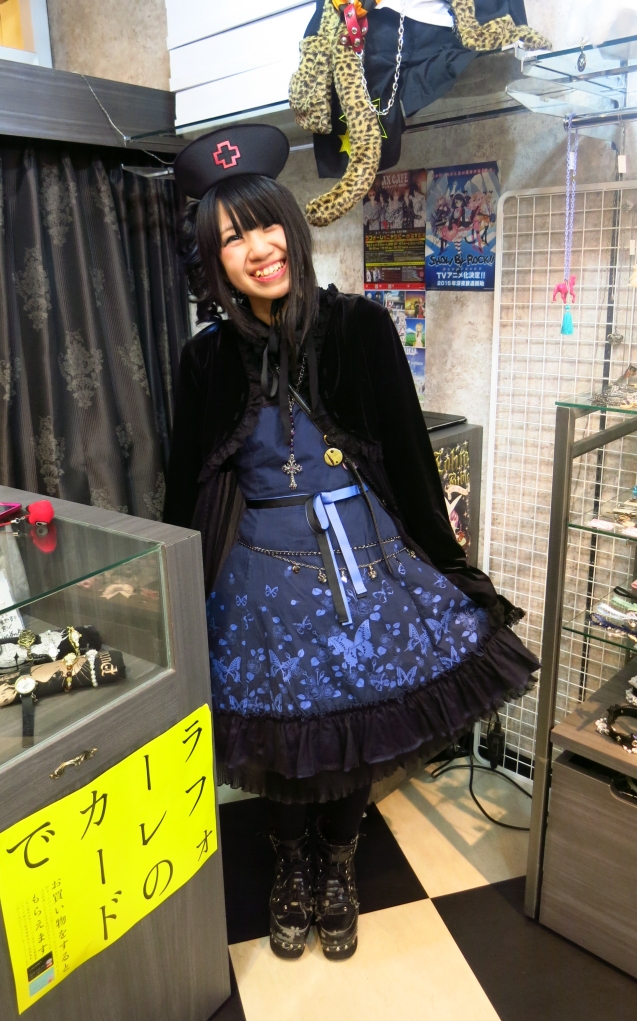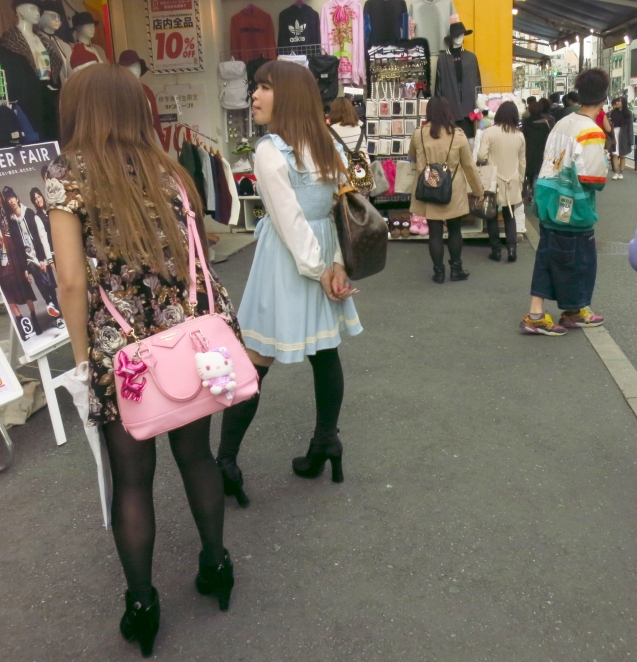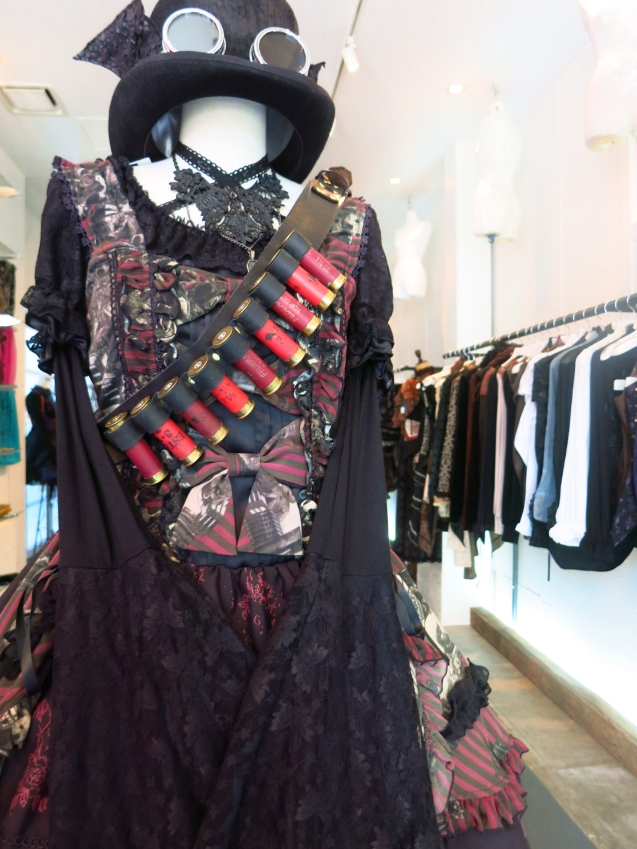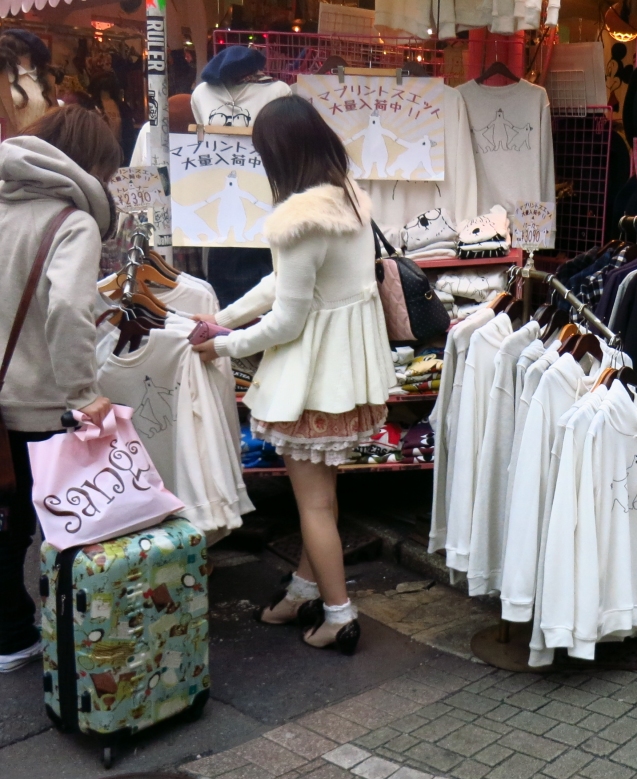 Sidebar