05 July 2014
Ellen Terry and the Watts Gallery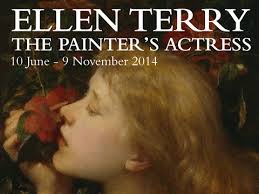 Recently went along to the newly refurbished Watts Gallery in Surrey. It is generally concerned
with aspects of Victorian art
,and its inspiration is G F Watts, a well known Victorian painter. Lewis Carroll knew Watts, although I don't think he thought much of him, since when he was 46, Watts married the famous actress Ellen Terry who was just sixteen, in what proved to be a disastrous union. Watts even made Terry - one of the theatrical geniuses of her day - give up the stage, as he didn't want her to work.
Ellen Terry was a good friend of Carroll's; in fact, it's fair to say that he was a true fan of hers and revelled in being admitted to her circle of friends. He had known her and her family socially since she was very young, and it was rumoured that he was in love with her when she grew up, although there is no evidence of this. He did try to justify her behaviour in running away from Watts less than a year after their marriage, and subsequently living unmarried with a man and having two children with him - behaviour that really was social suicide at the time. Even Terry's own family refused to see her until she married and "made an honest woman of herself" some years later.
Times change. It's hard to imagine the way things were then. But anyway the Watts Gallery is a great place. It was once the centre of a kind of "artists village" and until quite recently it had a charmingly "forgotten" atmosphere, but it has now been very attractively and carefully modernised, thanks to the National Lottery. I visited it a few weeks ago and admired several ceramic plaques set in a wall commemorating donors and other people who had helped make the refurbishment happen.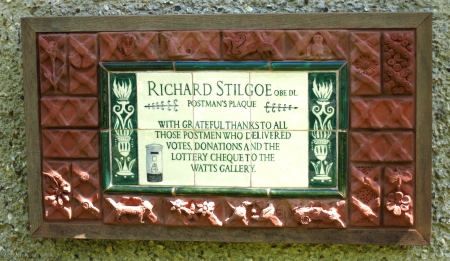 I shall be returning to see the Ellen Terry exhibition which will be running at the gallery till November 9th this year. The image at the top of this entry shows part of a portrait Watts painted of her, which the gallery has used for its exhibition poster.