27 July 2010
LEWIS CARROLL AND GUILDFORD
Lewis Carroll took a lease on a house in the Surrey town of Guildford, and his six unmarried sisters went to live there after their father died and they had to move out of Croft Rectory. Guildford is proud of its connection, and there are
various Lewis Carroll events running there between now and 9 October.
Although it is now a big, sprawling town which has been rather over developed, the historic core of Guildford, which Carroll would have known, is very well preserved. Carroll's house was near the ancient ruined castle, and there are beautiful views over the surrounding countryside.
Surrey's countryside is exceptionally beautiful and Carrol loved having long walks there. We often go cycling and walking there too. You can see Carroll's grave in the churchyard of St. Mary's; I wasn't there for the group's visit but like this picture, showing it overgrown with wild forget-me-not flowers,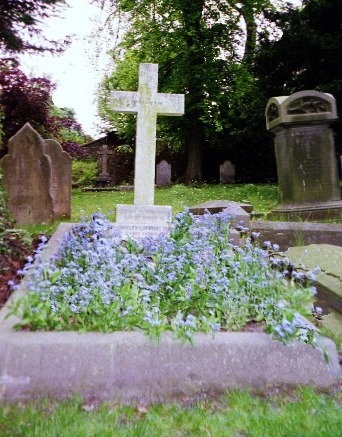 The conference was in the University of Surrey campus, high above the town. I had to miss some of it but there were some very interesting events. For me the highlights were a talk about Carroll and the afterlife, plus a variety of other talks on Carroll's relationships with people in Guildford, and our visit to the nearby unusual looking and quirky village of Albury notable for the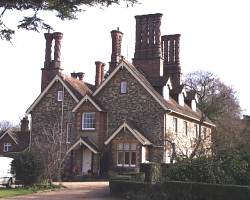 huge Pugin chimneys on many of the houses.
And there's an interesting mansion called Albury House. Some of "Four Weddings and a Funeral" was filmed there, and it used to be divided into apartments. I think it still is, and I have to say that it seemed absolutely beautiful to me - I got chatting to someone who owns an apartment there. In the past, the house has featured in Channel 4's
Country House Rescue
I also enjoyed a visit to the
Surrey History Centre in Woking
. There's a very good collection of material about Carroll's family there, although it is probably mostly of interest to scholars.. We also had an insight into the work of conserving some of the huge quantities of documents and maps they deal with.
We also went to Guildford Museum, which is in a rambling old house very near where Carroll lived. I am sure he passed it often, and probably admired it. Would he have been surprised to know that one day it would contain some of his childhood playthings? I suppose so, and he surely would have been astonished and perhaps a little dismayed to know that the surplice he wore when helping at church services, would also be on display.
The surplice is part of the temporary exhibition. It is made of linen and has been hand made, probably by one of his sisters. It is very crumpled, but the lady at Guildford Museum explained that they didn't want to risk ironing it. Carroll seems to have been pretty neat and tidy so I expect he would have got it done by his laundress, Mrs. Gray.