17 December 2009
Lewis Carroll Society Party, Art Workers Guild, December 2009
Last Saturday was the annual Lewis Carroll Society party at the
Art Workers Guild.
They're usually good fun. It's nice to see other members - some of them people you usually only see by email or facebook - and a good mixture of people. Here are Kylie-Elvis Schmoulianov and Terry King.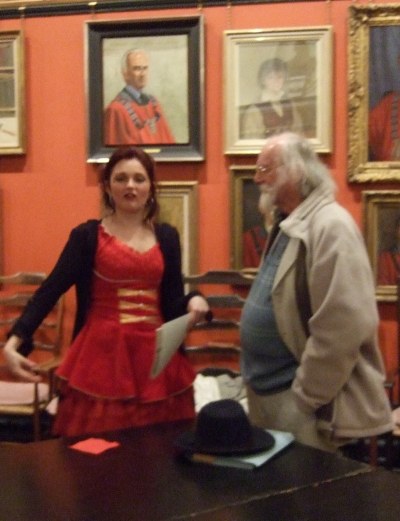 Sarah Jardine-Willoughby always creates the most amazing food. In another life she would have been head cook in a huge mansion. There were a couple of enormous salmon and several different sorts of cake. T took a rather blurred photograph.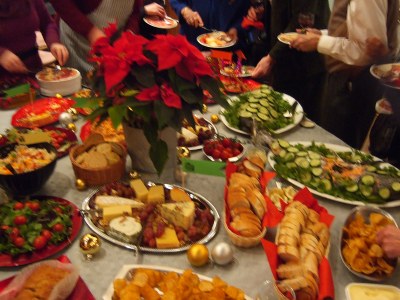 This year, a couple of Swedish guys called Kristian Scheiblecker and Pontus Nilsson came specially to perform some songs based on Carroll's so-called "serious poems". They have been classically trained but the music was more like early Leonard Cohen to my ear. You could certainly imagine Kristian sitting there in his Victorian cottage in Sweden and composing the music in the dark winter nights.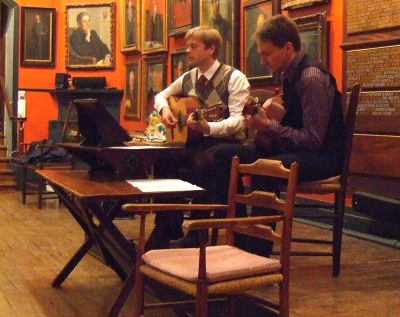 To my surprise I found that Carroll's poems made terrific lyrics. Read purely as poetry, they are mostly rather banal. I was particularly impressed with "Only A Woman's Hair" which makes a most touching ballad.
"...and, as I touch that lock, strange visions throng
Upon my soul with dreamy grace-
Of woman's hair, the theme of poet's song
In every time and place. -
A child's bright tresses, by the breezes kissed
To sweet disorder as she flies,
Veiling, beneath a cloud of golden mist,
Flushed cheek and laughing eyes- -
Or fringing, like a shadow, raven-black,
The glory of a queen-like face-
Or from a gipsy's sunny brow tossed back
In wild and wanton grace...
...The eyes that loved it once no longer wake:
So lay it by with reverent care-
Touching it tenderly for sorrow's sake-
It is a woman's hair."
Often there is a quiz, usually of inscrutable difficulty, and generally won by Selwyn Goodacre. This year, there wasn't one, perhaps because the singers came.
There is always a raffle, which usually has at least as many prizes as tickets. Mostly they have an "Alice in Wonderland" theme and I was rather pleased to win a copy of Horace Wyatt's parody "Malice in Kulturland", published in 1914. Roger Allen was eventually asking "Is there anyone who HASN'T won a prize? Okay, well, your ticket number is near enough..."
The venue, as usual, was the Art Workers Guild, which is a fascinating place. Founded in 1884, it moved into its 18th century premises in 1913. The main hall, lined with pictures of past and present craftspeople, has beautifully made ladderback chairs. In fact, everywhere you look are items which have been contributed by members - all of them distinguished, and all of them elected. I liked some large art glass and copper Arts & Crafts lampshades.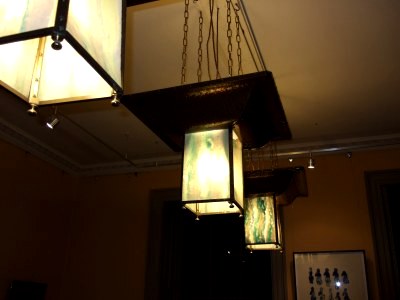 The house has only been modernized where necessary, so it has an air of antiquity and genuine age which is becoming increasingly hard to find as people rush to rip out old interiors in order to create "modern spaces" . The loos, taps and washbasins appear to be the original 1913 models, still working as well as ever. Although I'm not sure that they all ever worked THAT well...