08 October 2009
Arisu in Wonderland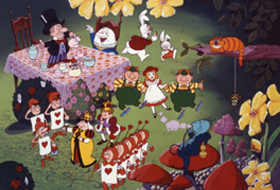 Have been talking with
Will Brooker
who has written a very interesting book called
"Alice's Adventures - Lewis Carroll in Popular Culture"
Before reading it, I thought the idea of Alice and Carroll in popular culture had sounded a bit dry. Actually it's very readable and well researched, and sensible, too. He suggested looking into the Alice in Wonderland phenomonen in Japan, (where she is known as "Arisu"
I've never visited Japan, but here's a still (above) from "Fushigi no Kuni no Alice" above - an anime version - and here's a link to Japanese Alice in Wonderland
animated in Lego blocks
Oh, and
here's Disney's poster for the Burton film
.
So...do you know anything about Japanese Alice in Wonderland? If so please drop me a line via the
contact form