21 July 2009
The Bizarre Max Fleischer & Alice in Wonderland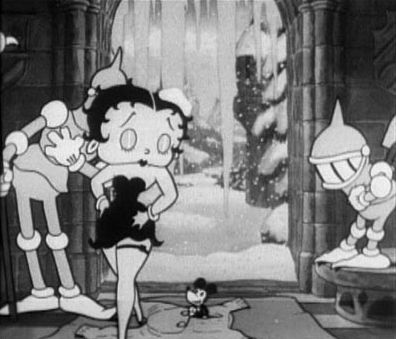 I'm looking for a clip of the Max Fleischer studios animation of "The Walrus and the Carpenter" which was in the 1933 Paramount production of "Alice in Wonderland." The only animated bit of the movie and I wish they'd got Fleischer to animate it all! Nothing to be found on that reliable old favourite Youtube, but I got sidetracked onto more Fleischer movies, notably some of the Betty Boops. My favourites are two with Cab Calloway,
Minnie the Moocher
, in which Betty runs away from home and is treated to a performance by a ghost dancing like Calloway, and my all-time favourite,
"Snow White.".
(image above, as Betty enters the castle of her wicked stepmother).
In this the hateful queen gives an echo of Wonderland by shouting "Off with her head!" but the high spot is Cab, alias a creature, singing "St James Infirmary."
I don't know of any animated short makers these days who use the medium of drawn animation as creatively as this, making films full of fantasy and illusion and delusion and energy and emotion. One or more of those elements is always missing.....