29 April 2016
Alice Hats at Guildford!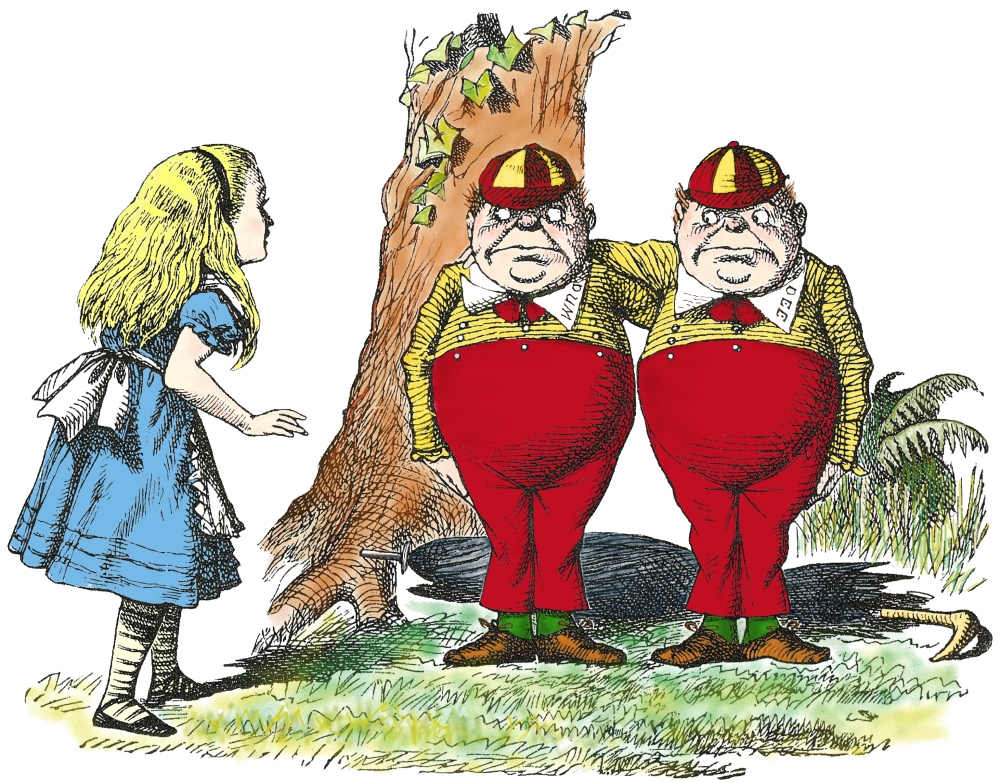 The Mad Hatter's topper is instantly recognisable, but what about the other characters' hats? The Tweedles, above, wore the kind of hats which were popular leisure wear with young men - the kind of thing to wear with white flannels when out on a boat on the river, for instance. (Perhaps Dodgson himself wore one on his boating trips.) Later, the caps were adopted for schoolboys such as William Brown (Just William - click
on this link
to see him wearing one).
Get Your Thinking Caps On" is an inspired-by-Alice competition being run by Guildford Borough Council, whose heritage services department is staging an Alice Day on August 7th this year. It is free, and takes place in the grounds of Guildford Castle on Sunday 7 August, from 11am -4pm.
"After more than 150 years wearing the same old thing isnít it time they deserved something new to wear?" they ask. "And some of the characters donít have hats. Donít they deserve one?"
Contestants can choose from one of the following characters and give them something new to wear.
1: Alice. Spruce up a brand new hair band for Alice to wear to a special tea party
2: The Hatter. Make the Hatter happy with a decorative new topper
3: The White Rabbit. He is always late and doesnít have a hat. Design a hat to help the White Rabbit be more punctual
4: The Dormouse. He keeps falling asleep, and doesnít have a hat. Create a hat design to help the Dormouse stay awake
There are three age groups:
7years and younger (specify age)
8-10 years and
11-13 years
Children should send their design in to the address on the entry form (c
lick here to get one, and for more informationn.
) They can send a painting, drawing, or collage, and they're asked to include some information about the materials that might be used to make the head band or hat Ė and of course any special powers it has and how these work.
All the designs will be entered in a competition. The winners and their guests will be invited to a special tea party in Guildford Castle on 7 August, and they'll also be presented with a certificate by the Mayor of Guildford.
The closing date for entries 18 July 2016, and there is plenty of time!
Personally I like this best of the many crazy hats I have seen lately, it is light hearted and fun and I like its simplicity. Do you think it was done with straws?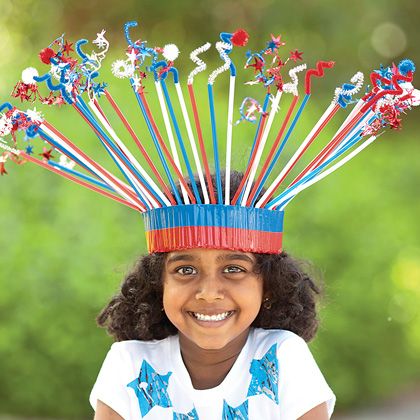 (It is from familyfun.go.com, and the artwork at the top of this post is by Blue Stevens Ėbased on original illustrations by John Tenniel )