06 August 2015
Surrey History Centre - Useful New Research Tools
After Lewis Carroll's father died in the late 1860s, he took a house for his six sisters to live in at Guildford, in Surrey. He went there for many of his holidays and considered it to be his home away from Oxford.
After the sisters died, many Dodgson family documents and personal possessions were left to what is now the Surrey History Centre. This Dodgson Family Collection, as it is known. is a very good place to start any research into Carroll.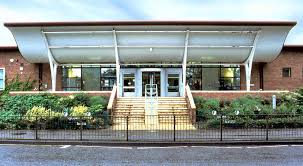 After years in rather unsatisfactory accommodation, it is now well housed in the Centre's modern and well designed building in Woking, not far from Guildford.
As part of Alice 150, the centre's website has had some useful new additions. The
"People" web page for Lewis Carroll
now features more images, links to other collections and sources held locally, nationally and internationally.
A new sub-page has been created called
"Anniversaries of Alice", which chronicles Carroll, Alice, and the impact of the book
across the decades.
The latter page was created by Surrey Heritage and Prof Will Brooker at Kingston University. It is illustrated using many items from the Dodgson Family Collection and Lewis Carroll collections, and it can be updated on a regular basis. You can book
at www.surreycc.gov.uk/heritageevents, in person at Surrey History Centre or in any Surrey Library, or phone 01483 518737.