24 June 2015
No Alice at Bugsworth Basin?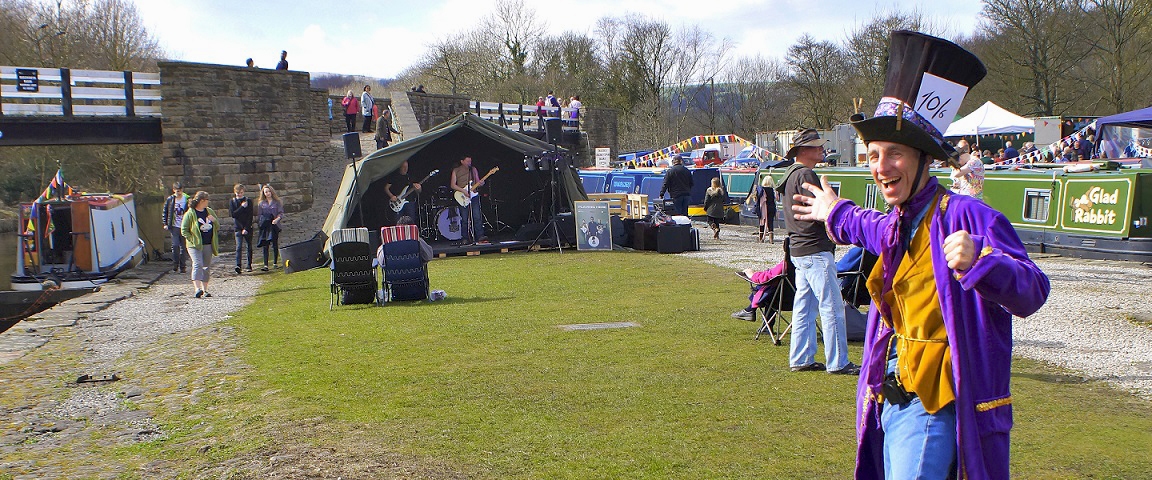 I'd never heard of Bugsworth Basin - had you? But I had an email from them recently, and found out that that the Bugsworth Basin Trust, in Derbyshire's Peak District is a canal basin that was once an intersection with the old Victorian Peak Forest Tramway, which transported limestone from local quarries.
Click here for their website
. It's an attractive area, and I was intrigued by the name. I discovered the local village used to be "Buxworth," (perhaps something to do with the town of Buxton, not far away) but "Bugsworth" is undoubtedly more memorable.
Anyway, if you are wondering what connection all this has with Alice, well, it seems it would have been worth being in Bugsworth over the Easter weekend. They had a Mad Hatters tea party, in a marquee decorated by local children and their carers
- over a hundred kids, who clambered through a rabbit hole, here seen guarded by the White Rabbit and Cheshire Cat. Interesting, isn't it, that the Cheshire Cat is now associated with Disney's colours of purple and pink?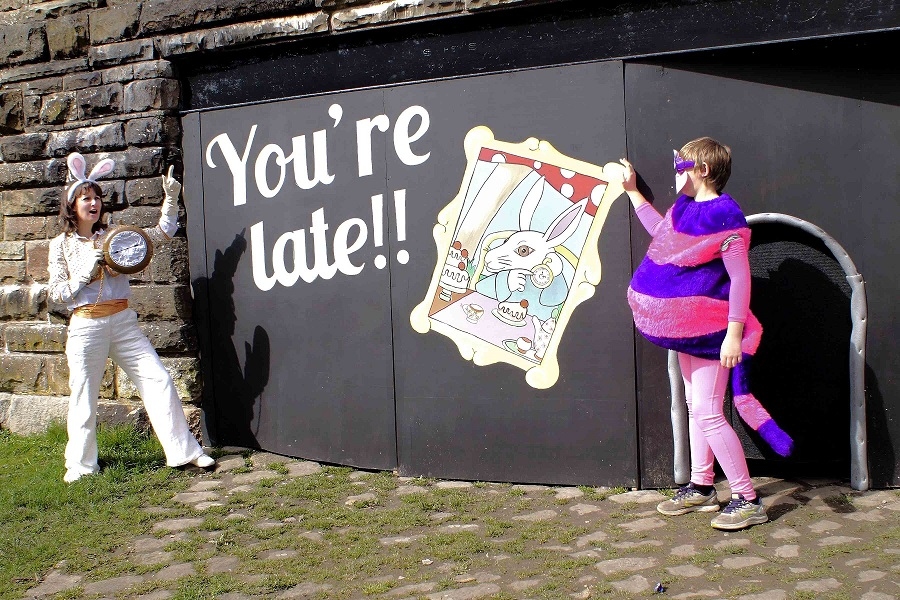 I was very taken by this cake, depicting carrots in the earth - just the sort of cake a white rabbit might like ...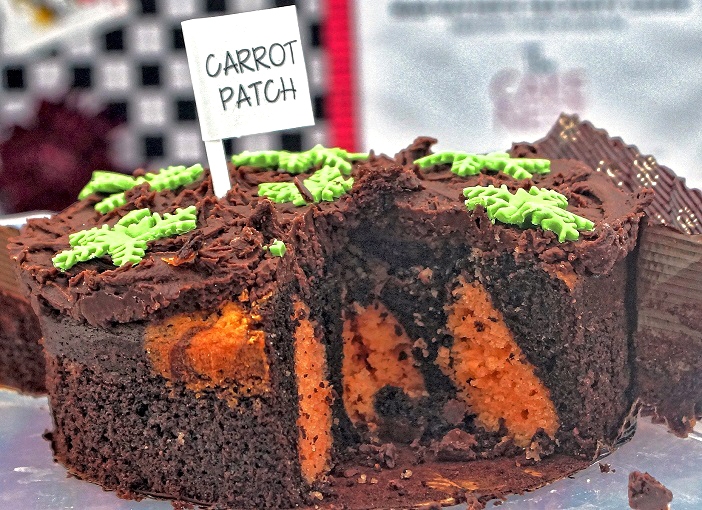 And impressed by the high quality of the art work. These are just a couple of examples.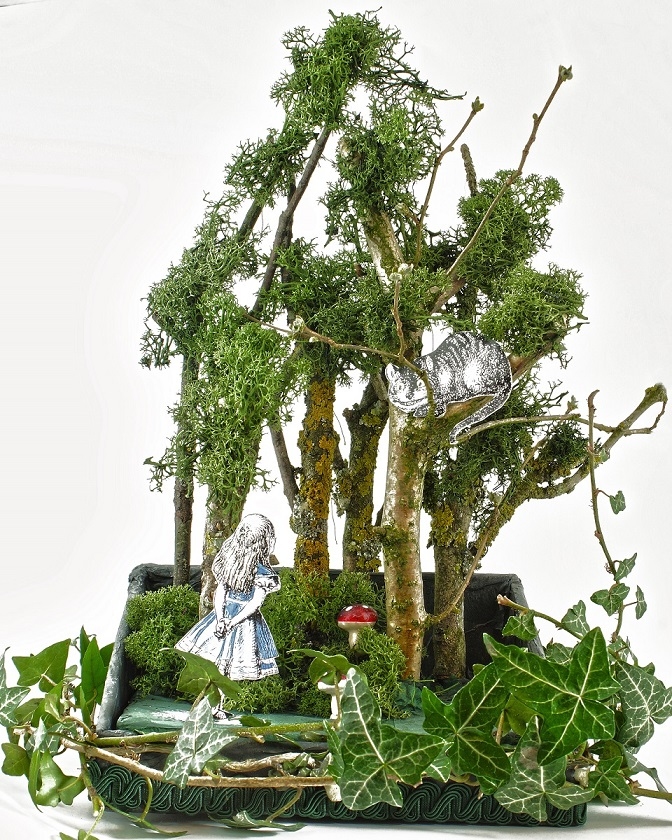 Not to mention the face painting - a bit scary, this one....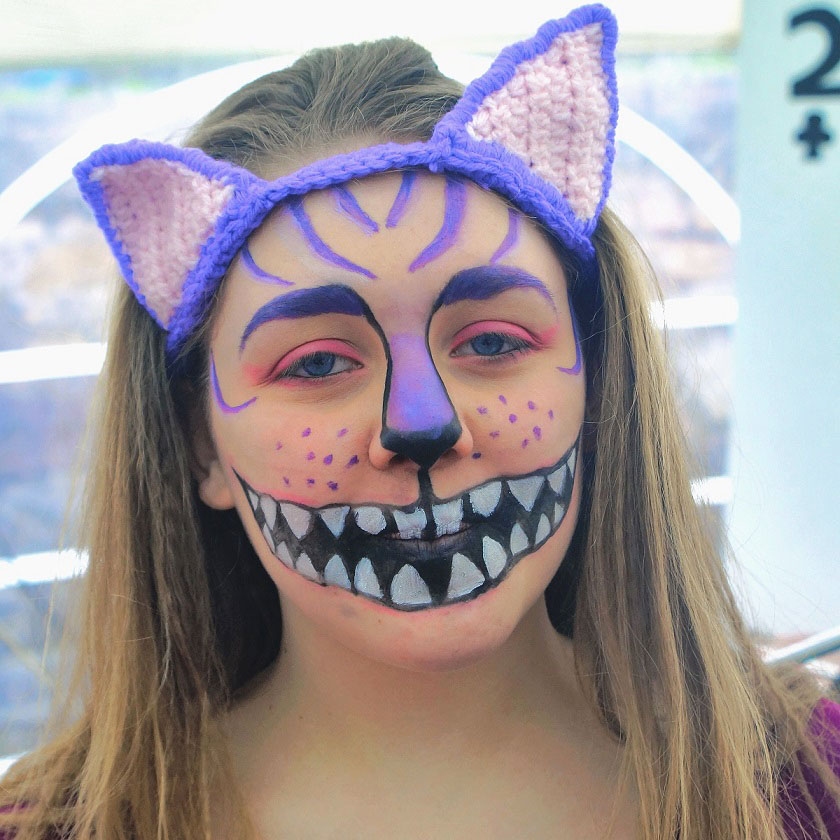 Having been involved in a few community events myself, I have a rough idea of what is involved, and I can't even begin to think of the amount of organisation that this treat must have taken, so well done to all the volunteers and local businesses involved in Bugsworth Community Gala for an incredible joint effort. I dare say Lewis Carroll would have been impressed. He used to help his dad, the rector, with parties for the local children. In those days they involved lantern slides, currant buns and party pieces. No doubt they had just as much of a good time, though.
The only thing that seemed to be missing from the event was Alice herself. Really? Well, she wasn't in any of the photos I saw. I'll ask the organisers, but on reflection, I quite like the idea of a Mad Tea Party without Alice. It feels easier to get involved without the girl in blue getting all the limelight....