17 March 2019
I've decided to get a new website designed to reflect my new work, so please expect some major changes in the coming months. Right now, I'm in the thick of researching and writing Durrell. I have been to both Mauritius
and Jersey.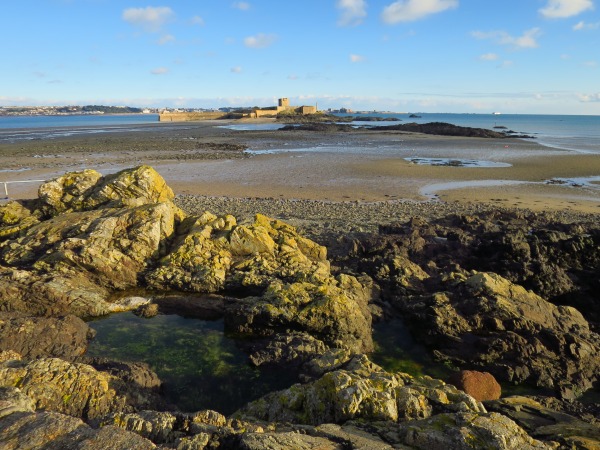 More soon!
12 February 2019
I was surprised to receive this from Yoshi! Usually he sends me Lewis Carroll material, but this is a copy of "My Family and Other Animals" in Japanese! Thank you Yoshi!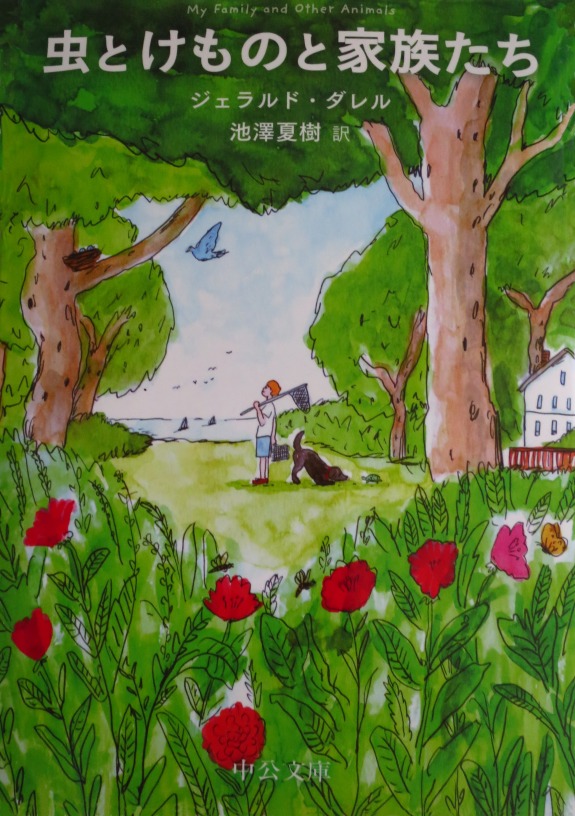 19 January 2019
There's been a problem with my blog, and I haven't been able to upload photos for a while. Now it's fixed and I can put up these "Alice" postcards, sent by my friend Yoshi from Japan. They're in a set called "Alice Tea Party" by the artist Tomomi Hasegawa. I like them all but my favourite picture is the first, where Alice is surrounded by butterflies. All the pictures are done in a typical modern Japanese style, with Alice looking serious and thoughtful.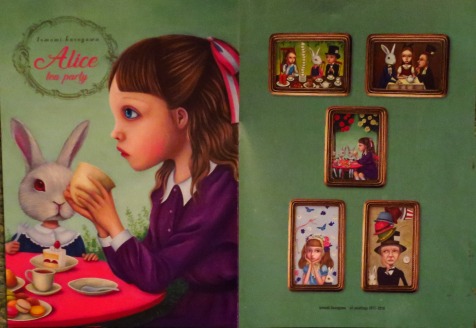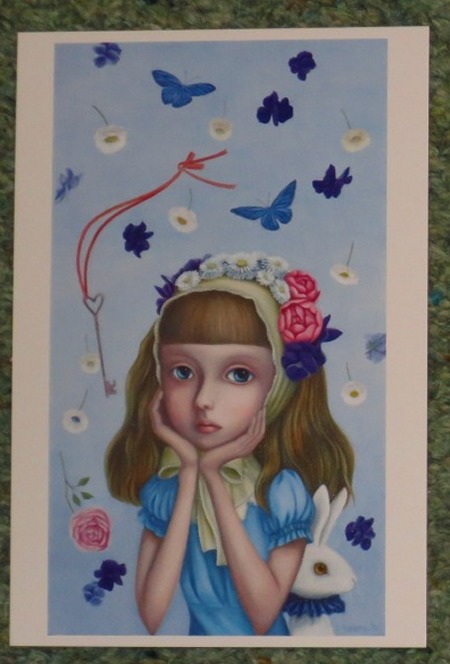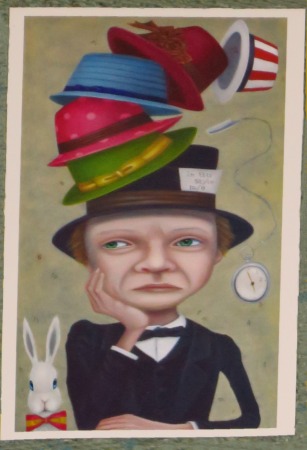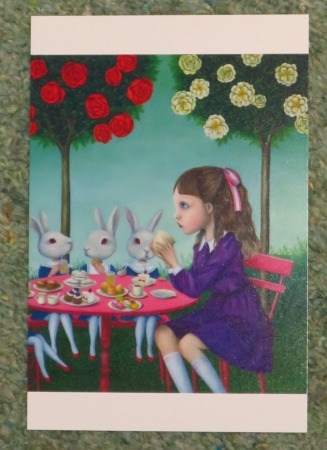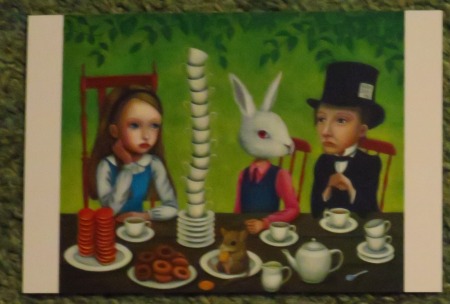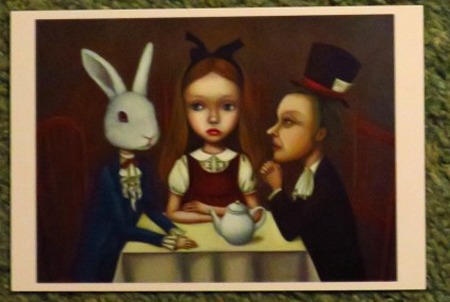 And Ms Hasegawa signed one of the postcards on the back with a White Rabbit. It seems to me that every character in "Alice" has a very distinct personality. My favourite is probably the surprising and elusive Cheshire Cat, and I think the White Rabbit is Yoshi's favourite - he didn't tell me why.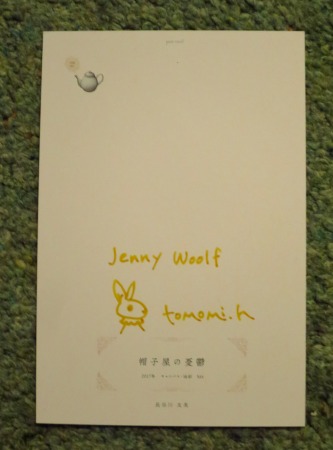 I wondered if she's done any more "Alice" pictures.
28 November 2018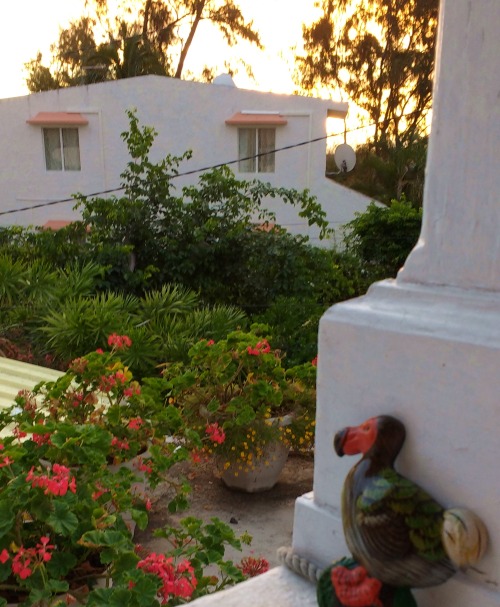 From now on, I'll be blogging from time to time about my new project - a book about Gerald Durrell and Mauritius. Yes, Mauritius - land of the Dodo!
I'll probably do a redesign of my website to reflect this new project, but right now I have so many interview recordings to transcribe, and many more interviews to do. Notes to write up, books to read - wow!
Needless to say, I'm still interested in Lewis Carroll, and if I find out new material on him, of course I'll keep you up to date.
23 October 2018
My friend Eiko found this amazing advert with an "Alice" theme. I don't know which brand it is, though - I don't recognise the logo. Do you know? :)



Thank you to Yoshi! :)

02 July 2018
As I've said before, Alice is very popular in Japan. If you're learning Japanese, "Alice in Kanji Land" has been recommended to me by a Japanese learner as very good resource. It takes an original and creative approach to the difficult business of learning the Chinese characters which in Japan are known as kanji .
But who is the author?
"Cure Dolly," a cartoon avatar,
is really - well, er who ....? or what? Hey, I don't know who "Cure Dolly" might be!
You decide :)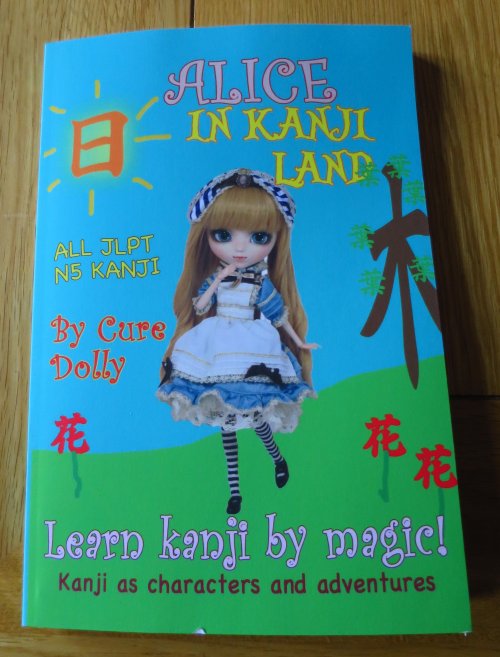 30 May 2018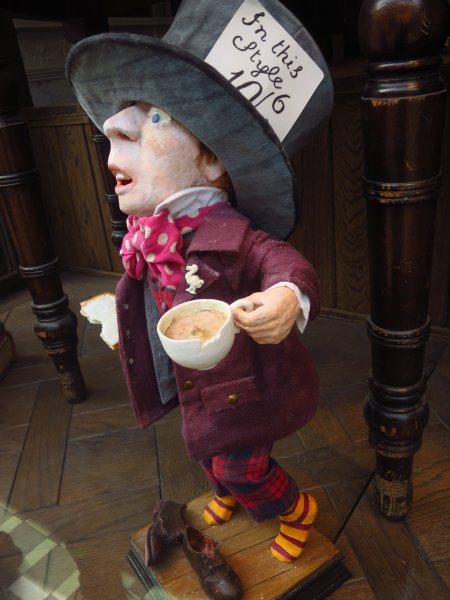 I was cycling down Lamb's Conduit St. near Holborn, in London, when I spotted a shop called
Connock and Lockie
at No. 33. They're old established bespoke tailors, and have been in their present premises since 2004. However, not having much need for gents' bespoke tailors, I hadn't noticed them before. It was hard, though, to ignore several splendid figures in their windows, all of them on the theme of Alice in Wonderland.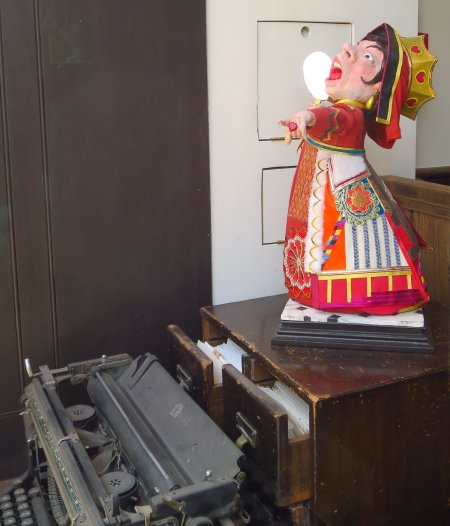 They're quite large, and very striking, and although there weren't that many pedestrians, a couple of people did stop and take photos while I was there so I wasn't the only one whose eye was caught.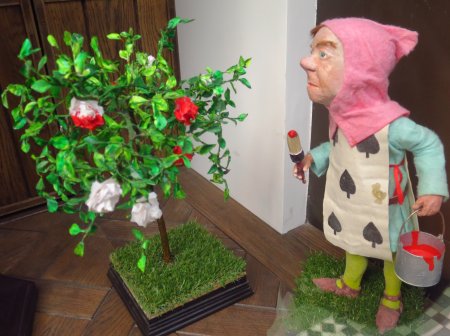 A notice by the White Rabbit's feet seems to suggest the models were made by what I thought must be a company, by the name of "Dodo's and Obelisk's" (punctuation as written). But an internet search doesn't find any business of that name.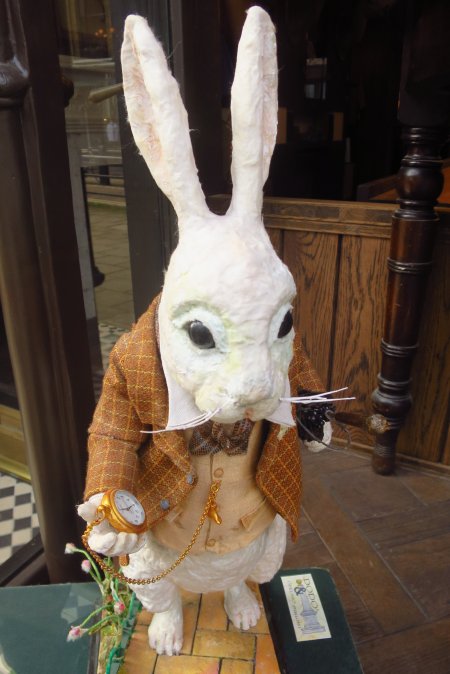 I suppose I should have asked Connor & Lockie why they had these Alice models in their window, but I suspect the answer might be just "because we liked them."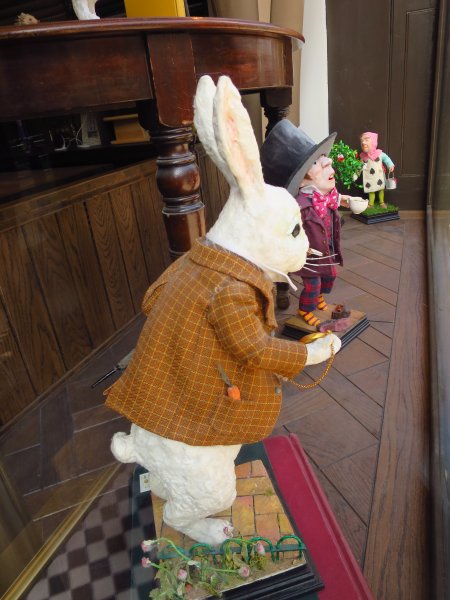 And I could find out about Dodo's and Obelisk's by calling the phone number on their card, I suppose, but I suspect they'd feel I was wasting their time, since I am sure I couldn't afford to get them to make anything for me!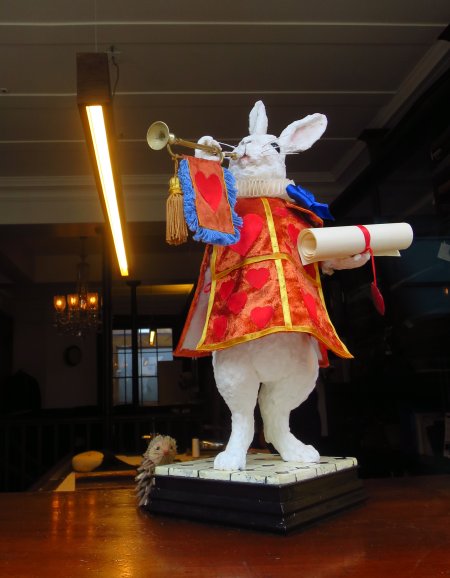 Let me know if you ever find out about them!
12 May 2018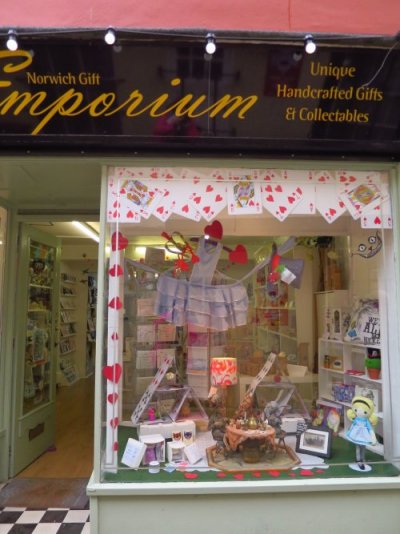 I'm just back from a trip to East Anglia. While I was there, I visited Norwich, and came across this little shop in 22 Lower Goat Lane, very near the market square. It is called
Norwich Gift Emporium
and its window had an Alice in Wonderland theme which caught my eye.
If you manage to visit before 18 May you can enter the contest - voting for your favourite art work.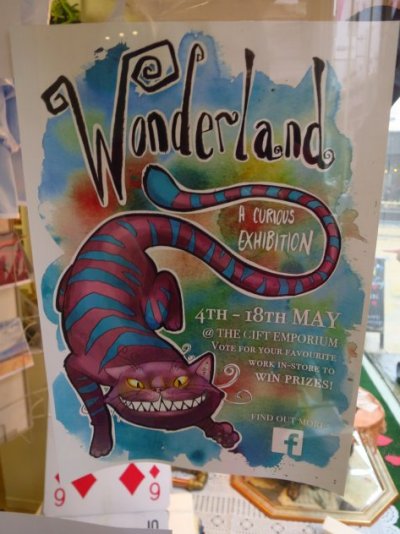 Personally I liked the flamingo lampshade! There is a lot to see in this part of Norwich - a very interesting and (I always think) rather underrated city with all kinds of things to see and nice places to eat in its winding medieval lanes.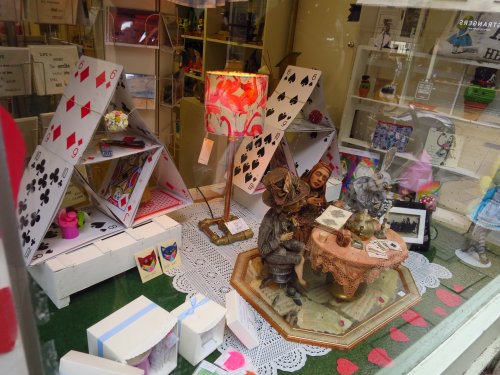 01 April 2018
I noticed that Primark's offering four different little purses with an Alice in Wonderland theme. Even though I don't have any use for small purses - I have a hard enough time keeping track of the big purses - I thought they were cute. M y favourite was "Drink me," but the purse was so small I didn't think it would hold enough coins to buy anything worth drinking, let alone something made of cherry-tart, custard, pine-apple, roast turkey, toffy, and hot buttered toast... BUT.....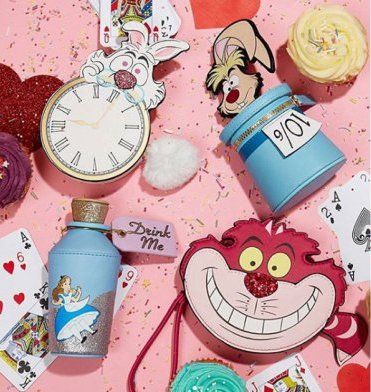 .... never mind,
here's
a recipe for your own Drink Me potion - minus the turkey, I'm glad to say. It actually looks pretty nice, so if you try making it, let me know!
07 February 2018
A good friend, Yoshi, visited us at the end of January for a few days, and during his stay we went to have an Alice afternoon tea. As I've mentioned in the past, Yoshi has taken us to a couple of charming Alice themed restaurants in Tokyo, but we hadn't found anything exactly similar here. This, though, was very a great find, and very interesting.
The Sanderson Hotel has an unusual decor featuring quirky and unusual furnishings in the public spaces, including an animated reception desk, a delightful twinkly bar serving Alice style cocktails, and a splendid elevator whose walls are clad in a three-dimensional depiction of outer space. Many years ago, the hotel was a giant showroom for the Sanderson furnishing fabric company, and I have dim memories of roaming through fascinating full sized room sets showing off the company's wares. Built in modernist style, it featured a spectacular and very large stained glass window which I was glad to find was still in existence.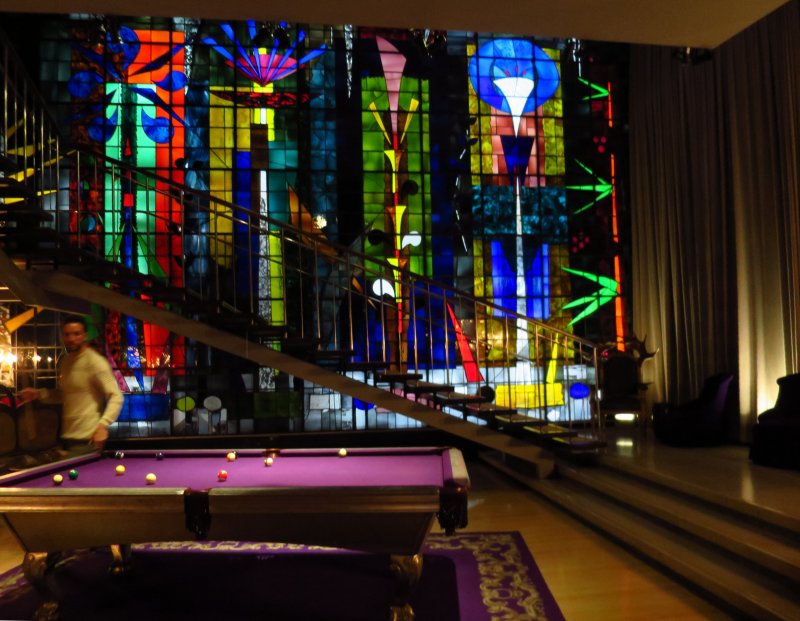 The tea was outside - although the heaters were very efficient and we were sheltered from the wind. We loved sitting amidst the trees and listening to the fountain. We were really impressed by the quality of the food, which included five delectable blends of tea. I would have bought a box of Cheshire Cat to take home, if it had been possible to buy one.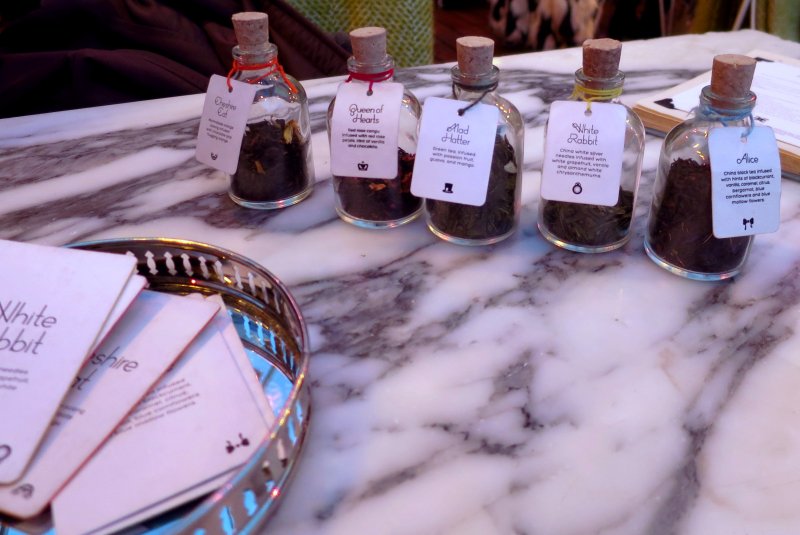 Here's the menu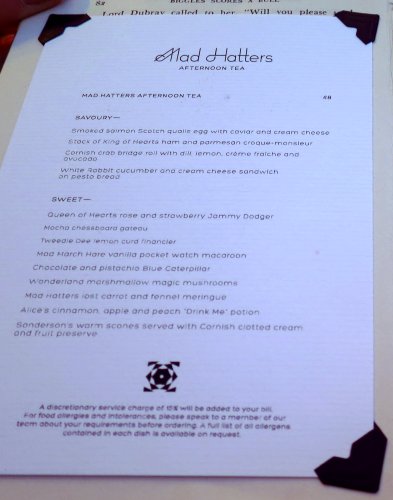 And here is how the tea was presented - with pretty green cucumber sandwiches, all types of cakes, scones and some eye catching mushrooms (complete with a blue chocolate Caterpillar.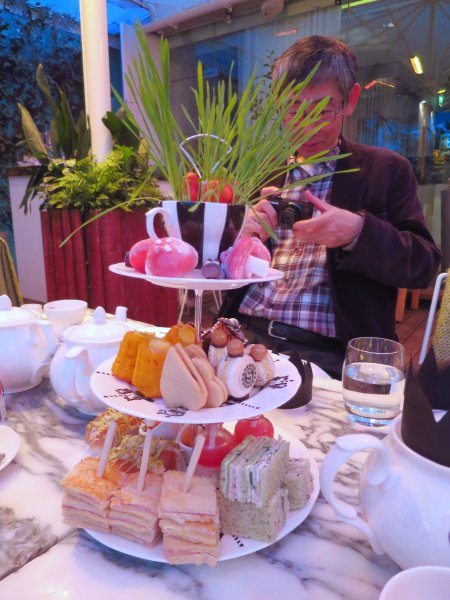 Here's a closer view of some of the cakes. My favourites were the tiny chessboards complete with silvered chocolate pawns, but I also liked the cartoonish pocket watch macaroon which was topped with a specially made Malteser "crown."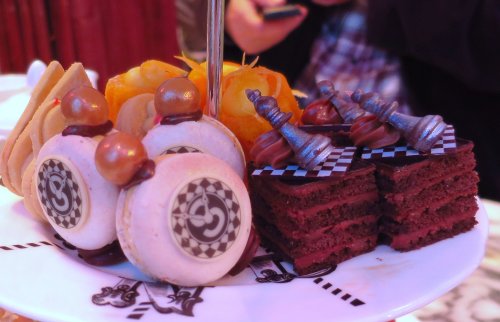 It is not cheap, but it was certainly charming, and would make a lovely birthday treat for an Alice fan. Go here for
more details