Archives
You are currently viewing archive for December 2015
19 December 2015
Really so excited to have heard an advance recording of a brand new version of Carroll's HUNTING OF THE SNARK - the best one I have encountered. It captures so much of the comical, sinister ambiguity of the original, and I'm so pleased the BBC can still commission stuff like this. It will air for the first time on Christmas Day 2015 at 2.15 PM. I hope you get the chance to listen to it on the day, but if not, then it'll be on iPlayer afterwards.
Here's the link
....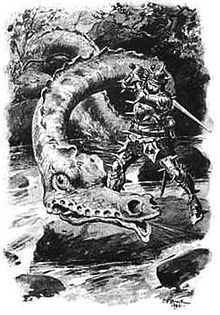 The picture at the top is one of Henry Holliday's illustrations, and the one at the bottom is the Lambton Worm, which is popularly supposed to be the model for the Jabberwock. I myself always think the Snark must have looked like that, though.
14 December 2015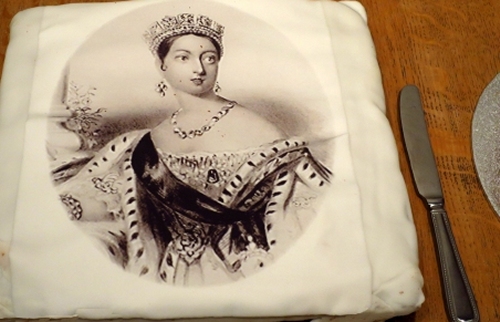 The Lewis Carroll Society has a party each year, and this year, 12th December was the night. It really was fun, and the atmosphere seemed particularly cheerful and friendly. Our new venue, upstairs in the Bloomsbury premises of the Art Worker's Guild, worked out so well. Previously, we've been downstairs in a rather dramatically decorated crimson-walled room, but it has always seemed rather too large and imposing for comfort. This time we had two interconnected period rooms, with cabinets displaying wonderful examples of Guild members' work. (Do click
here
if you want to find out more about the Art Workers' Guild).
This year we had a magician on the premises, too -
David Weeks
. He opened the proceedings by blowing up a balloon ...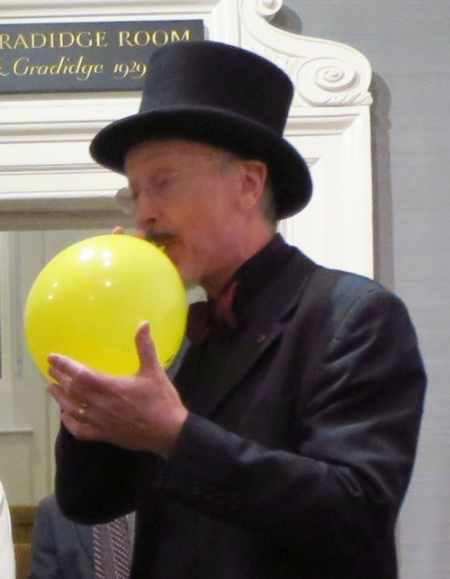 which then magically transformed itself into a bottle of wine - undoubtedly the right way round to do this trick.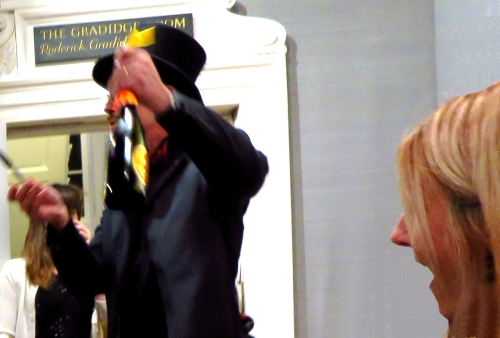 People have all kinds of different reasons for being interested in Lewis Carroll or Alice. Some members of the Society are collectors, others are artists, mathematicians, writers or academics. This year, many of the guests seemed to be involved in creative industries in one way or another.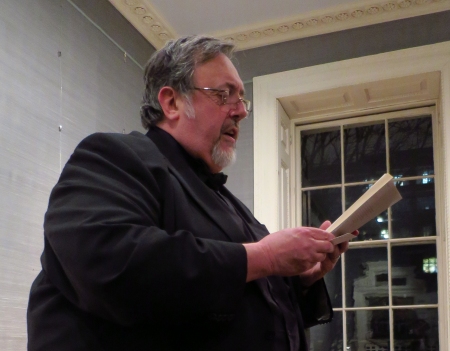 This is Brian Sibley
, the Society's president. He is a prolific writer and broadcaster who was was behind the recent Alice in Cartoonland show at the Cartoon Gallery and is involved in many aspects of literary and popular culture.
Performer
Kevin Moore
has a one man show about Lewis Carroll but despite this managed to win the prize for getting fewest correct answers in the Quiz - which he was perfectly delighted with - and it was a very nice little book called
WHAT WOULD ALICE DO?
a book of wise advice taken from Alice herself.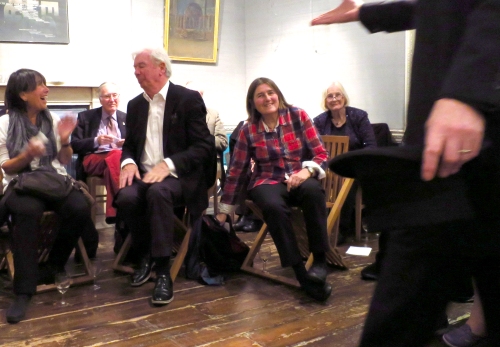 (As the author of the quiz, I was a bit discomfited that everyone found it so hard ...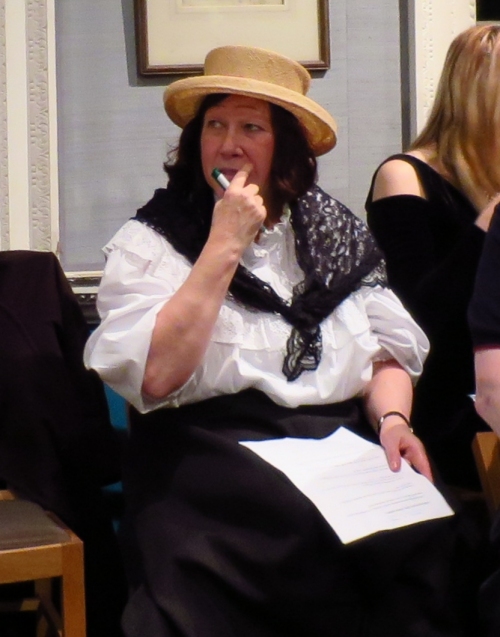 I think this puzzled lady costermonger, (who actually did quite well), would agree that I don't have much of a future as a pub quizmaster).
We also welcomed Vanessa Tait, who is a descendant of Alice Liddell. Vanessa read from her book
The Looking Glass House
and chatted with Brian about why and how she wrote it.
The extracts that Vanessa read were vividly imagined,and of course she has an almost unique perspective to the subject, since until 2001 many of the original relics of Alice in Wonderland were kept in her own home as part of the family history. She said that it was after these familiar relics were sold by her mother that she began to feel she wanted to write about the subject.
The picture at the top of this post shows a cake which was - almost - the star of the whole evening. The member who made it, Sarah Jardine Willoughby, is a librarian and has a great interest in the history of children's books - she's co-written a book on that subject, in fact
(here)
. But those in the Lewis Carroll Society associate her with marvellous food.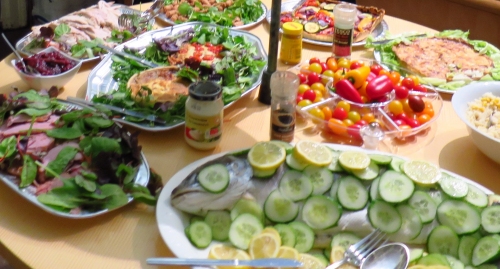 Queen Victoria was decorating a wonderful confection of chocolate and cranberries, the recipe for which Sarah had created herself. And Vanessa had the task of dividing the cake up.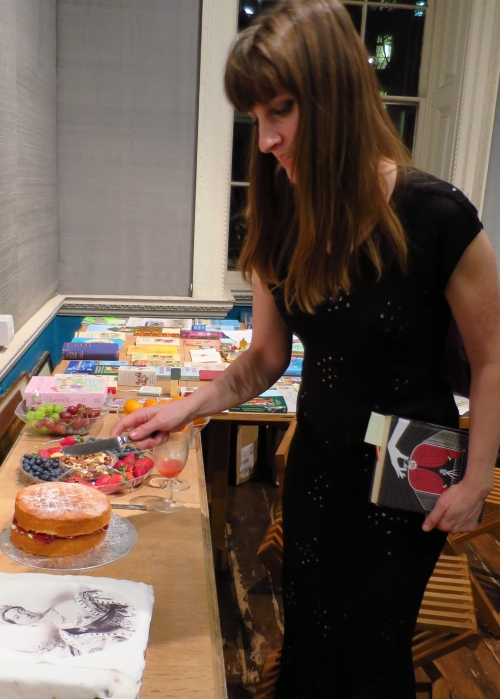 I sneaked a piece to take home, and wished I'd taken more....
If you're on Facebook, there are more pictures
here.
11 December 2015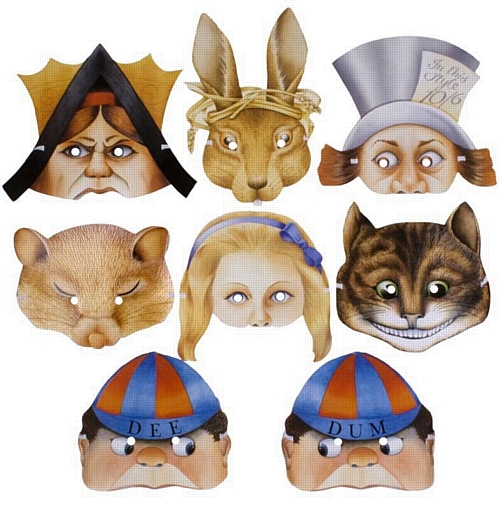 The Lewis Carroll Society party is tomorrow night, 12 December, at the Art Workers Guild Queen Square, London London WC1N 3AT, beginning at 6.30 PM. Nearest tube is Russell Square (Piccadilly line) or Holborn.
06 December 2015
This beautiful video has won second prize in the British Library Alice's Adventures off the Map 2015 competition, which was staged by the British Library in conjunction with GameCity. It's the third year of a contest for full time UK higher or FE students to create games, digital explorable environments, or interactive fiction based on digitised items from the Library's collection.
Since 2015 was a big year for Alice, there are, of course, some fantastic Alice entries. The first prize winner is "The Wondering Lands of Alice," created by Off Our Rockers from De Montfort University. I love it, but somehow Chris Lonsdale's explorable garden won my heart - it is so beautiful and atmospheric. Chris is also at De Montfort University. Third prize went to a group called Hare Trigger, also from - guess where? De Montfort University. A lesson here perhaps for anyone who wants a course which teaches them to develop games....
You can see all the entries on Youtube; just type in the names. And if you would like to read more about this interesting project, just click
this
link, or
this
one.
04 December 2015
The Fortean Society talk was so much fun. A large crowd and so many interesting questions, both at the meeting and in the pub afterwards. I was specially touched that Danielle had come from Venice with a copy of the original MYSTERY OF LEWIS CARROLL published by Haus (quite rare now) which I had signed for her in 2010. I was pleased to add another signature.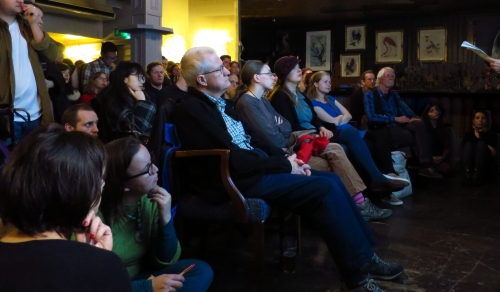 This caught my eye as a fun "special treat" before Christmas, in London. It's a
Mad Hatter's Tea Party and overnight stay offer
at the boutique St. James' Hotel, and the price for 1 night is from £99 per person. I am a bit of a sucker for tea parties but living in London I certainly don't need to spend from £200 a couple on an overnight stay, even if it is a super hotel. But if you decide on having a special treat and go on it, please let me know (via the
contact form)
and I'll put your review on the
"Mystery of Lewis Carroll" Facebook page
!
Sidebar