Archives
You are currently viewing archive for March 2015
30 March 2015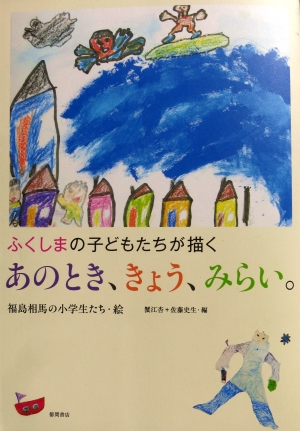 Here are promised are some of the images from "Apricot"'s book on responses to Fukushima from the children who lived there, a kind gift from my friend Katsuko in Abiko, Japan. I really hope this book will be translated into English one day - I am sure I would gain something by reading the words. "Apricot" must be an interesting woman, very geared towards the inner world of children.
It's hard to choose individual images, but I find this one particularly powerful, with its grotesquely towering wave - there is something monstrous about it, as if it is an animal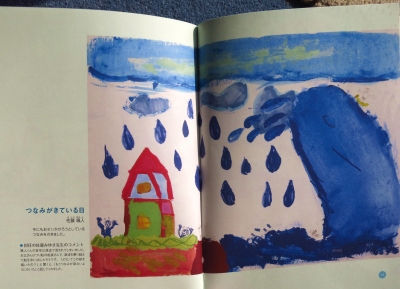 Here are details: the surfer, riding the wave of his life - is he happy?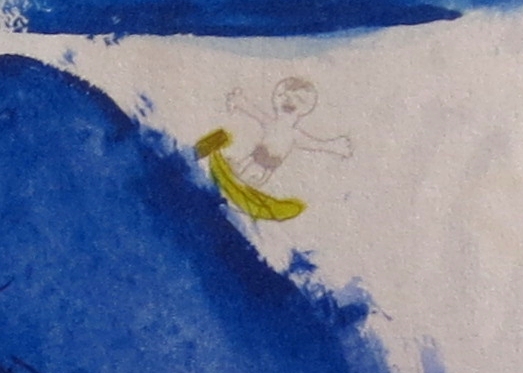 But these people are cowering in the wave's path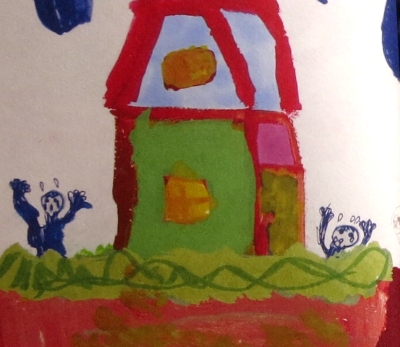 The violently coloured red tunnel in the next picture suggests fear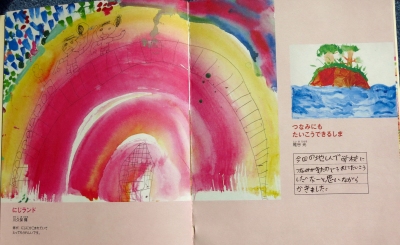 and this small picture seems to me a wonderful representation of the agitation of wind and waves, curiously beautiful.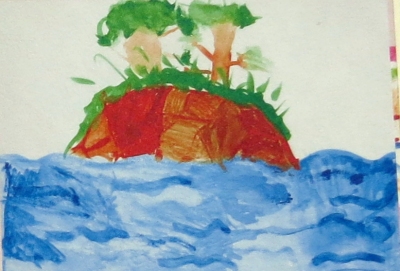 I hope it helped the children to portray their feelings in art. When something this big happens, art is often a way to deal with it. In fact, I'd suggest that creative self expression is one of the best ways of dealing with difficult issues in life - and that includes writing and music.
20 March 2015
I love this beautiful video which is part of artist David Delamere's Alice project. The book will be published this year. Here is the the
link
18 March 2015
Japanese portrayals of "Alice" have a characteristic style, often rather stylised and with teenage girls rather than the child that I always imagine Alice to be. Sometimes Alice looks sad or "dark" but I prefer to stick to a more childlike style when I am reading about a child. Do you?
These two colourful postcards by Seiko Kusuda make me feel relaxed and happy; they have a colourful and innocent air about them, and an intricacy that seems very "Japanese" to me.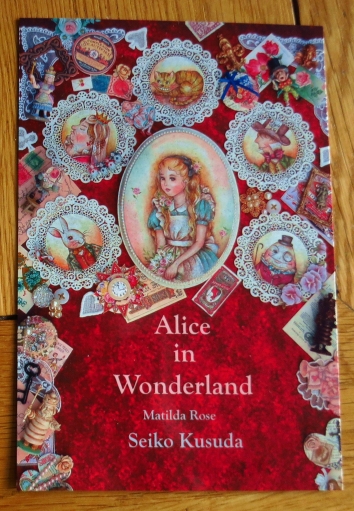 I also like this - although it's definitely more sophisticated and arty. All these postcards are a kind gift from my friend Yoshi in Tokyo.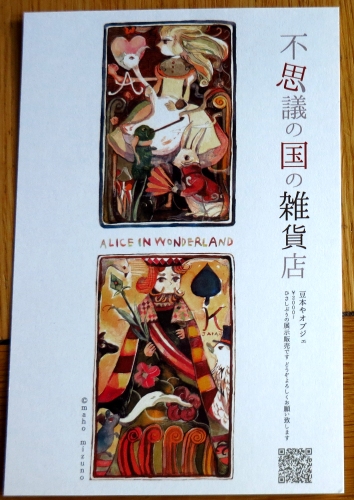 I never cease to marvel at the different ways in which Alice is portrayed.
Just to return to Apricot's book
(here
) I do think this pulls us into a child's world - and I have now received her Fukushima book, which I'm going to feature on
my other blog.
This contains the drawings of real children, depicting their experiences of the earthquake and tsunami.
13 March 2015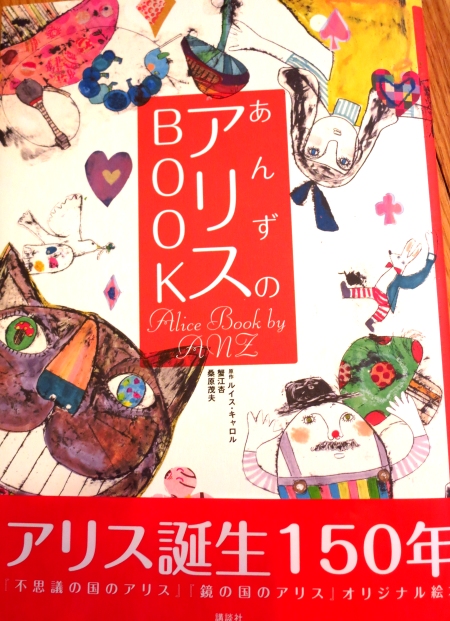 When my friend Eiko came over from Japan recently she gave me a copy of this book as a present. It contains both "Looking Glass" and "Wonderland" bound together in opposite directions. (So when you have finished "Wonderland" you turn the book around and read "Looking Glass."
I really like thsee bright, original, artistic illustrations. They are by an interesting artist known in Japan as "Apricot." ( haven't been able to find out why). Her real name is Anz Kanie, who trained in London as a woodblock artist. (here she is)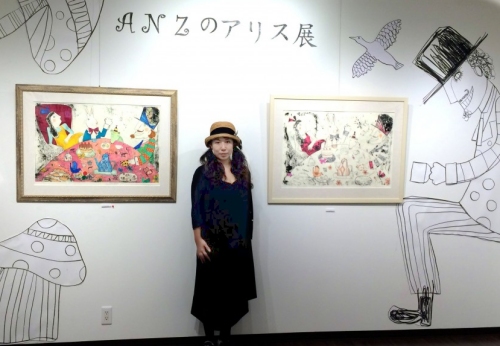 She has been involved in the aftermath of Fukushima and has set up something called 3.11 Children's Library and has curated an exhibition of paintings by children affected by the nuclear disaster at Fukushima. Another friend is getting a copy of the book for me in Japan and I'm looking forward to reading it. (Or rather, should I say, looking at the pictures).
Here are a couple more of the Alice images. Being a bit of a train fan I specially like this one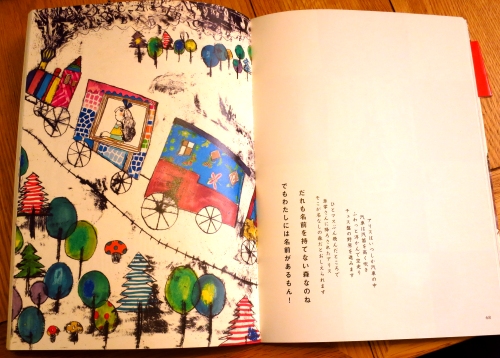 Although I liked the book from the start I found it interesting that I had to look at it for a while before I began to get the feeling of "Alice." Now, I think the pictures reflect the book very well. Strange how Alice seems to change as you read about her....I've always thought that.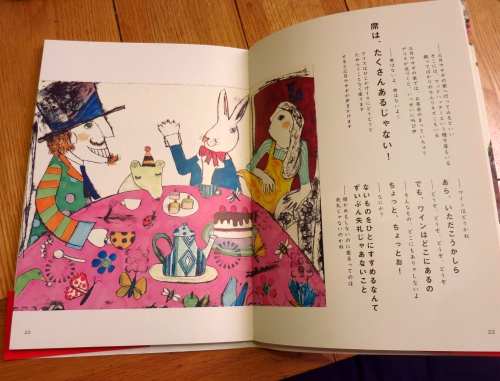 11 March 2015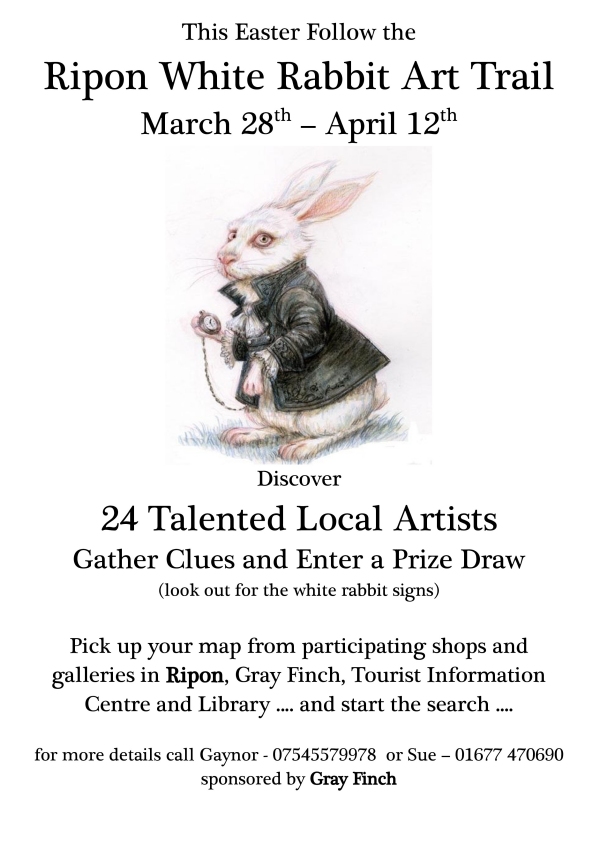 Lewis Carroll's father was Archdeacon of Ripon, Yorkshire, and he knew the town well. There will be a White Rabbit trail through the city at Easter, beginning on n 28 March, and running till 12 April. Multi media works will be presented from 27 artists in various parts of town - you can see some them
here
I think some of them are really great, specially the dodo. Trail maps and printed info from Ripon Library, Ripon Tourist Info Centre and Gray Finch, 13 Kirkgate, Ripon, HG4 1PA.
Ripon's a beautiful city with lots of things to do and see, with some quirky shops. We visited years ago when we were walking near Fountains Abbey nearby. We also visited the beautiful gardens at
Newby Hall
but didn't manage to see the Ripon Hornblower or the extraordinary Druid's Temple folly. I hope to get back there next year when I return to Yorkshire - though sadly I doubt there's time to get there before Easter.
Sidebar