Archives
You are currently viewing archive for May 2010
27 May 2010
Take a look at the
Alice in Wonderland Inspired Photography Movies and Art Facebook Page.
It's a great panorama of work inspired by the Alice books - really astonishing to see the variety and quality.
I wonder where this one is - it's obviously painted on the wall of a derelict building.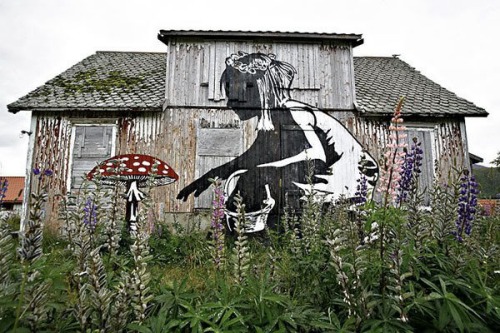 24 May 2010
Have had an offer from
Jumava,
a large publisher in Latvia, which wants to to publish the book there. I guess it would be translated into Latvian. Latvia is a place I'd like to visit - I'm told it has some amazing architecture (see below)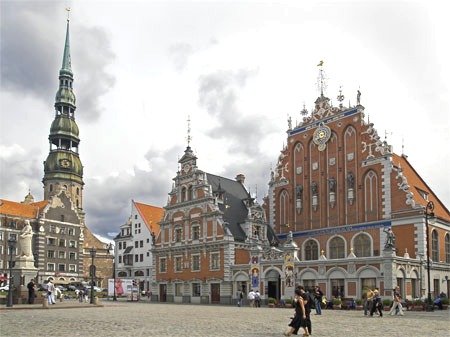 16 May 2010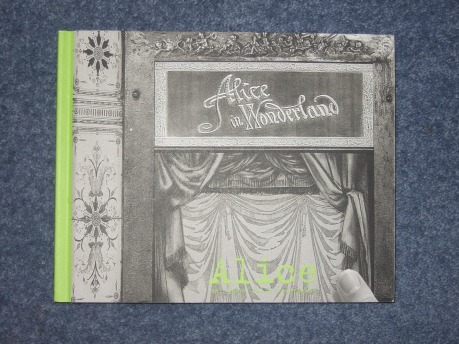 I had an Unbirthday on 14 May. My real birthday is 14 January, and unfortunately a relative had just died at that time (not to mention a whole lot of other horrible stuff) so I didn't feel like celebrating it.
I scheduled an Unbirthday 4 months later, and it was a lot of fun. One of my presents was this cool and unusual version of Alice, in a photo puppet theatre version. It is sold at
Pollocks Toy Theatres
one of the most fascinating museum shops in London, in Whitfield St, Fitzrovia. Dear Pollocks is in some ways almost unchanged since the Victorian era, and it's been a favourite of mine for many years - in fact, I'm hoping to do an event with them soon. I am certain that Lewis Carroll would have felt entirely at home there.
11 May 2010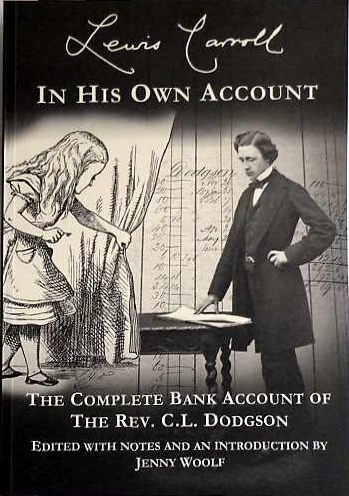 When we self published
LEWIS CARROLL IN HIS OWN ACCOUNT
we thought we'd be lucky to break even. After all, a bank account, even Lewis Carroll's, isn't exactly the kind of thing you'd take off to your weekend retreat with a box of chocs and a glass of wine.
Or perhaps it is. Because now it has sold out, and people still want to buy it. Our aim was to get the book into the public domain, so we told libraries about it and kept the price low (by academic book standards), and didn't even try to sell it in bookstores. Nevertheless there's been a steady trickle of people ordering it ever since, only to be disappointed when we have to tell them there are no more copies - unless you count one being sold at the exorbitant price of $150 on Amazon.com; strangely, no takers for that :)
So we've decided to get a few more copies printed. Although it wasn't originally a Print on Demand, we can apparently transfer the files to POD, and still sell it for £35 per copy, the original price for the limited edition. It will have a black and white cover rather than the rather beautiful vanilla cream we had before, but all the information will be there. And I suppose there may be a few collectors who would like to have the white version to add to their existing copies.
If you would like to find out about the Tartassus, or learn about the lawyers dealing with Mary Dodgson's settlement, or discover how much CLD gave his brother Wilfred for a wedding present, now is your chance. Just don't blame me if you can't get the hang of pounds shillings and pence. Copies are £35, or whatever the US equivalent converts to (
check it here
), and if you want to buy, please visit Arthur on the
Contact Form,
drop me a line and let me know your name and address (please DON'T put a comment here). Payment will be by Paypal or UK sterling cheque, and we will be reprinting in July. The number of requests will give us a rough idea of how many to reprint, holding some back in reserve for future buyers.
04 May 2010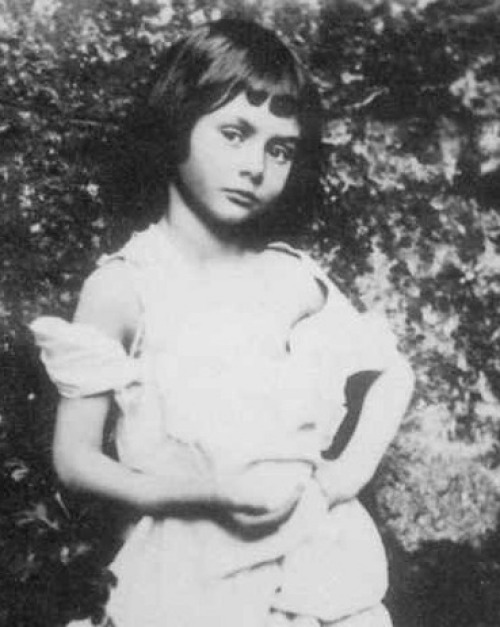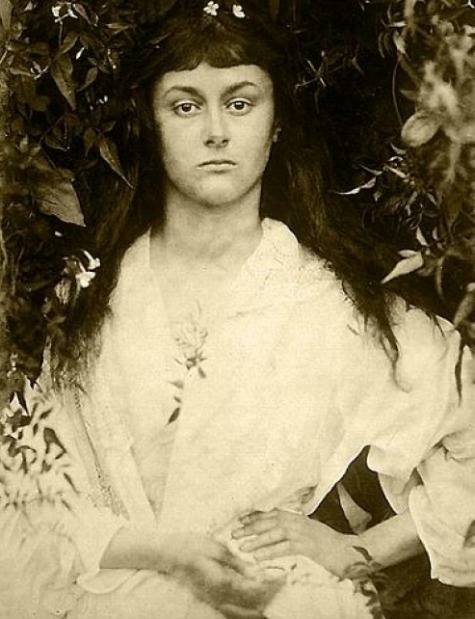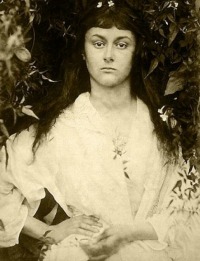 One point I've made often about Carroll, is that you learn a lot more about the events of his life by looking at everything in context and against a background of people living a real existence
Look at these two photos of Alice Liddell. One was taken by Carroll, and shows Alice as a child. The other is by Julia Margaret Cameron, and shows Alice as a young adult.
As you can see Mrs. Cameron got Alice to stand copying the "beggar girl" pose of Carroll's picture, with one hand on the hip and the other held in a cupped shape.
So someone - Alice? Alice's family? thought it a good idea to copy the pose in Carroll's photo. Carroll's picture must have seemed to be specially worth drawing attention to. I wonder why.
Then, isn't it striking how different in personality the two Alices seem? Emotionally, what do the pictures convey?
So many questions arise...
Sidebar