Archives
You are currently viewing archive for April 2010
29 April 2010
Gives me a thrill to see things like this, photographed a couple of days ago by Clarissa. I wish so much that I could see for myself the book featured in this major way in a major store! although this is nearly as good...
26 April 2010
I'll be giving a talk about "The Mystery of Lewis Carroll" at The Art Workers Guild, Queen Sq. Bloomsbury, next Friday at 7 pm. Tickets are free, but you need to book
here.
I've written before about how much I like this fascinating building, which must be one of the few in the square which has original interiors - or at least very old interiors. The main hall, where I'll be speaking, is painted a wonderful tomato-soup red and is full of delightful Arts & Crafts furniture. Here's my favourite chair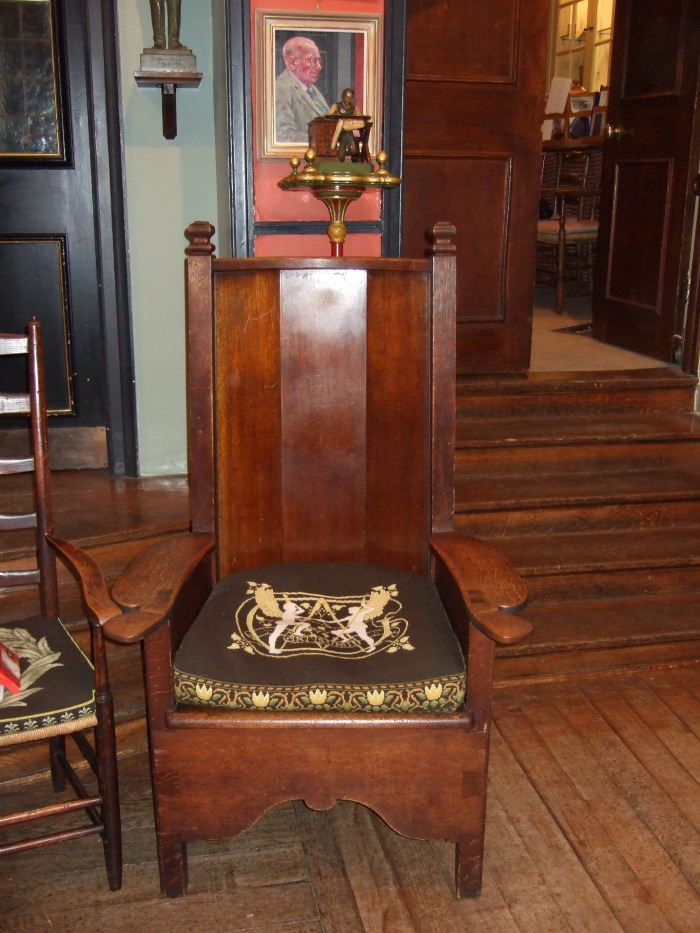 And here's a little model of an art worker
11 April 2010
Weird!!! This extraordinary Cheshire Cat is to be found on a blog written by
Ann Renee Lighter
She makes wonderful crafts and books, and is also an Alice fan. She created this image based on her cat Roy. There is something incredibly disconcerting in the combination of a human mouth and an animal face, but of course that's appropriate for a talking cat.
Here, Roy! Sit on my lap!
03 April 2010
I'm honoured to find that the book is featured on the world's first electronic book signing on Facebook - it's in the group
Alice in Wonderland Movies Photography and Art
This group has gone from zero to nearly 500 members in a few weeks, and is a must for any Alice collectors as well as anyone intrigued by the Alice phenomenon.
What happens at an electronic book signing? Well, the way it works is that anyone who has a copy of the book can contact me either by the
book's own Facebook page
, or via the
contact form of this
site. Then I write the dedication and email it back to the person. They can then print it out on the paper of their choice and either stick it in the book or insert it loosely into the book.
From the author's point of view it sure beats sitting in a bookshop hoping and praying that someone somewhere will stop and take a blind bit of notice of you and your pile of books - not that I have ever done it myself, but I've heard a few stories. I've had several enquiries already and it's really nice to feel that I'm making personal contact with readers who buy the book.
Thanks to Clarissa who sent this photo of a very pretty display in Haight St. San Francisco. I love the card backdrop and specially like the toadstool with the teapot on it, which you can just see at the right of the picture.
01 April 2010
There's an interesting
giveaway of THE MYSTERY OF LEWIS CARROLL
at wb32 You have to leave a comment on the photos from the book in order to win. It ends on 11 April, so check it out if you want to win a free copy.
Another EXTREMELY nice and perceptive review from
Clarion Friends of Pennsylvania
I am delighted that they have embraced the fact that there are bound to be mysteries in ambiguities in any biography, and appreciate that I have tried to stay away from glib conclusions.
And, to add to the good news, I have had some more wonderful gifts from Yoshi in Japan.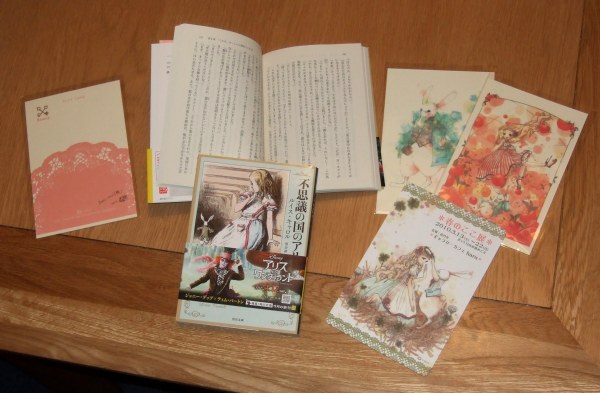 Here they are. You see there some copies of Alice in Japanese (complete with Tim Burton movie flash) I was surprised that the books are so small - smaller than our paperbacks. I wonder if written Japanese takes up less space than Western script, so they can have smaller books. Maybe some Japanese person can tell me :)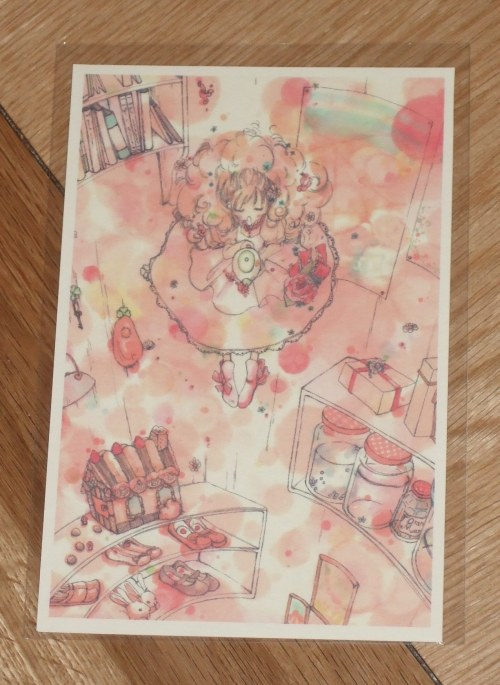 There is also as you see a collection of artistic modern postcards, one of which is inscribed to me. (It is the one on the far left, which I have shown the back of).
I am very pleased with this generous gift.
Sidebar