Archives
You are currently viewing archive for May 2009
31 May 2009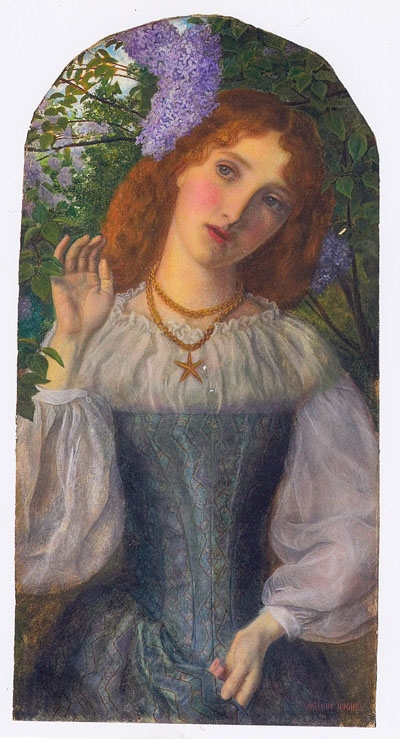 I am delighted to finally have a picture of The Lady of the Lilacs, by Arthur Hughes. This was one of Carroll's favourite pictures and his nephew remembers the pleasure with which Carroll showed it to him, pointing out the beautiful tints of colour in the hair and elsewhere.
The background to the painting is that Carroll's friend, the writer George MacDonald, had shown Carroll some drawings by Hughes, and Carroll had liked them very much. It may be that one of the drawings was of the Lady of the Lilacs because apparently MacDonald mentioned the matter to Hughes, and it seems from what Carroll said in his diary that Hughes painted it specially for him.
I think Carroll may have also been inspired by this image in at least one of the original pictures he drew for the manuscript of "Alice's Adventures Under Ground" - here's a
link to the BL's Turn the Pages:
check out page 36.
The picture was sent to me by Toronto-based Karen Bennet, a science fiction expert who loves that fun and fascinating city, and who is also interested in Carroll. (Science fiction fans will find Karen's site well worth checking out
so take a look here)
And why Toronto? Well, that is where the picture is - in the Art Gallery of Ontario. In the
bank account
there is a note about it, showing that on 27 October 1863 he paid Arthur Hughes £26.5s.0d in Victorian money. So the painting was quite pricey.
I think that the Lady of the Lilacs may be a Catholic saint. Carroll wasn't a Catholic but he would have liked the combination of spirituality and beauty. I also think that her formal gestures - the way her hand is raised as if in blessing, and the particular way she is holding her skirt - may have some significance. I wish I knew more about it.
28 May 2009
Ambient experimental musician Matt Chopin has been creating music based on the Alice books - interesting stuff. Matt was raised next to a cemetery and started off with classical music, went on to power metal and gothic.
This piece
is called Red Queen.
Here's a picture of what it reminds me of.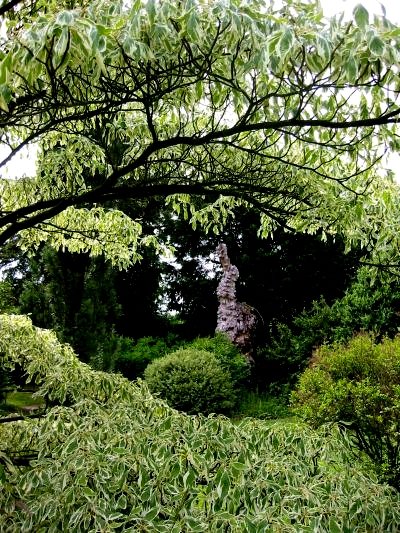 I took the photo in what I think are creepy gardens at Ickworth House, Suffolk. It's a white-ish queen rather than a red one, I suppose, but still a bit frightening - and not photoshopped
27 May 2009
Having sold the book to a US publisher there's now the nightmare of the IRS - the US tax system - to negotiate before I can get paid. It's the sort of situation that normally sends me screaming under the bedclothes, but my agent told me about
an article on his website that covers this very subject.
Thank the good Lord, and thank the wonderful Neil McKenna for writing it.
25 May 2009
One of the interesting things about writing the biography was in decoding information which the Victorians would have known but modern people probably don't.
I was looking at some information about Pegwell Bay in Kent, which features in Dyce's famous 1858 painting.
The people are collecting fossils, and the painting is often said to be a comment upon evolution. The idea that the world had NOT been created in 7 days, as stated in the Bible, was a great shock to many, but scientific evidence was marching on and the study of fossils was one of the ways in which people were coming to terms with the whole idea that the world had evolved.
What had escaped me is that Pegwell Bay was the site of the landing of St. Augustine in the 6th century, and he was generally thought to have brought Christianity to England.
So Dyce's picture was taking in both themes. The beginning and perhaps the beginning of the end of traditional Christian belief in the country.
Carroll probably saw the picture. I don't know what he made of it, nor what he might have made of the remains of the cross-channel Hoverport which is now also in Pegwell Bay.
13 May 2009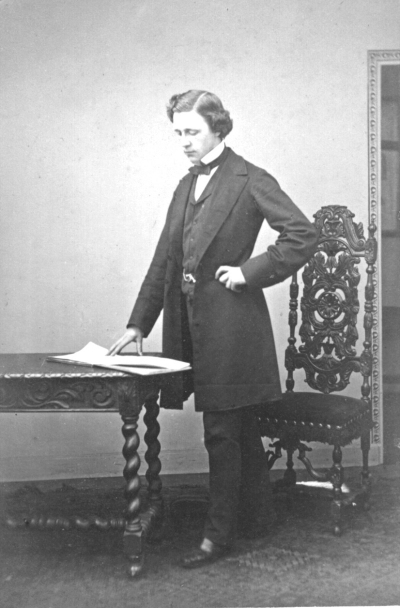 I've just finished a short extra chapter we decided was needed. It's a summing up. Well, the more you know about a person, the harder it gets to sum them up. But I ended up thinking that on the whole I had liked Carroll and would have wanted to know him.
One of the questions I'm most often asked about him, is whether I think he was a paedophile, or at least a closet paedophile. I do not think he was, even though some aspects of his life seem pretty strange to a modern person.
But he wasn't a modern person. He lived in a very, very different time from our own. In his own society, his love of little girls was seen by everyone (and by him) as a love of God's handiwork in a perfect and sinless form. The little girls also offered him support and the kind of childish love that he needed to feel okay.
If he had been raised in 21st century London or New York, every aspect of his life, not just this aspect of it, would have been different. For a start, he probably wouldn't have had the ten highly religious brothers and sisters who had such a profound influence on his life. He would not have lived in a society where women were confined by their husbands and brothers and not allowed to mix with men. He would have had the chance to read up about psychology - he was very interested in medical aspects of mind but lived too early for Freud. The institution of marriage would have been different. Attitudes towards nude photography would have been different. EVERYTHING would have been different.
Stuck in the 19th century, Carroll had things to deal with which modern people would consider extraordinarily cruel, for Victorian life could be just as emotionally stressful and damaging as modern life, but in a completely different way.
His contacts with children - some boys, but mostly girls - helped Lewis Carroll cope with some of the stressful aspects of his own life. They made him feel close to God and provided an escape back into his own happy childhood where he was the beloved entertainer of his three brothers and seven sisters. He thought they SEPARATED him from sin, and he was grateful for and felt privileged to have their company.
The girls who knew him as a friend spoke of how kind and protective he was, what fun to be with, and how much he treated them as people and respected them. The latter two things were rare indeed in the days when children were meant to be only "seen but not heard" and even grown up women were considered incompetent non-persons not fit to handle their own money.
To treat even a small child as if their feelings or opinions mattered was very unusual. To consider that a girl's thoughts were intelligent and worth hearing, was a unique experience to many. They remembered it with gratitude all their lives.
12 May 2009
I've just been directed by my good friend Marjorie to
Susan Sanford's great site.
Susan has an ongoing project of illustrating Alice with cut outs of Tenniel's illustrations against everyday backgrounds.
I think this sums up the feeling of the books really well. I don't know why. I always liked books which combined magic and everyday life.
Susan thinks that the Caterpillar looks like Mr. Punch. At first, I didn't think so. Now, I wonder.
10 May 2009
Well, I'm pleased! My little piece is on the front page of the British
Guild of Travel Writers website
It is nothing about Lewis Carroll but I hope you'll go and take a look anyway...
I'm slowing down the travel blog on Blogspot for a while. I'm going to use it mainly for posting reviews of things I have done in the UK. I had bigger plans for it but I'll be back when things quieten down and I have time to do more travelling. I have been wearing a path between our home and the nearby Waitrose (which is our "corner shop." OK, that doesn't really count as travelling, I know - not even when I make a detour to the Tube station to buy a newspaper.
05 May 2009
Sorry for being out of touch for a while. I feel like Alice racing along with her feet not touching the ground, and am quite surprised to find that I am still (almost) where I started.
Maybe things have moved on just round the corner, though - I hope so. There has been some movie interest in the book, and discussions are going on there. Some of my children's fiction has also been picked up by an editor, and discussions are going on
there.
And, most of all, Haus and St. Martins have started to move on my manuscript.
Been diverting myself by reading my agent's comments on
how NOT to write a query letter.
Sidebar