Archives
You are currently viewing archive for March 2009
27 March 2009
I've just stayed at the Old Vicarage bed-and-breakfast, Vowchurch, Herefordshire. This village's main claims to fame are that it is where Elinor Brent Dyer (of "Chalet School" fame) once worked, and Carroll's younger brother Skeffington was the vicar.
I can entirely recommend the bed and breakfast, which I've reviewed on my
travel writing blog
.
As for Skeffington: well, some of the eleven Dodgson siblings were a shade eccentric, and Skeffington definitely was. Carroll, with a touch of evil mischief, once gave him the gift of a flute and a flute tutor. Skeffington was not good at much, but he was very persevering. He never gave up trying unsuccessfully to learn the flute. I suspect that after a while his family wanted to break it over his head.
As Vowchurch was a very poor parish, its wonderful little church escaped extensive Vctorian restoration. Its old woodwork depicts what seem to be Adam and Eve, and there are some curious rustic 17th century plaques.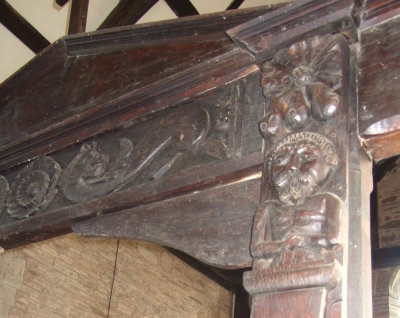 There's also a permanent display about Skeffington and the Carroll connection. This includes copies of some letters Carroll wrote to Skeffington. They are pretty sarky. It looks as if he probably teased Skeffington a lot - but then it sounds as if everyone did.
However, Skeffington was one of the very few Dodgson siblings to make a happy marriage, and was a most beloved father to his three daughters. He had pointedly not invited any of his family to his wedding, and Carroll only learned about it after it had happened.
Pity there is no record of the family tensions and dynamics hinted at in these letters.
23 March 2009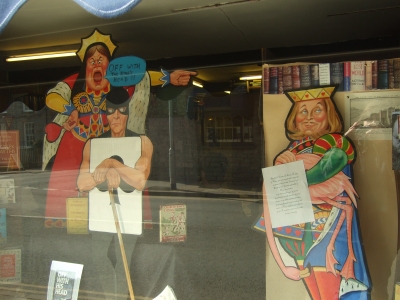 Some pictures snapped at Hay on Wye in the window of Boz's excellent bookshop. I believe the Queen of Hearts is being lined up to execute the King of Hay but I don't know the details of this chilling plan.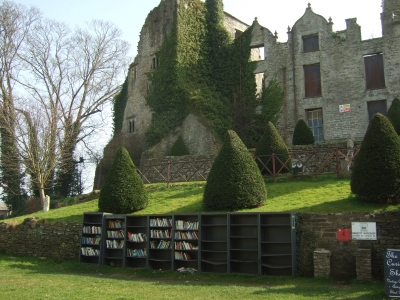 And here's the King of Hay's bookshop, in the garden of the Castle.
13 March 2009
A while ago I picked up a Victorian photo of a lady with an extraordinary hairstyle. When I was photographing Carroll's "Lady" articles I found the style she must have copied.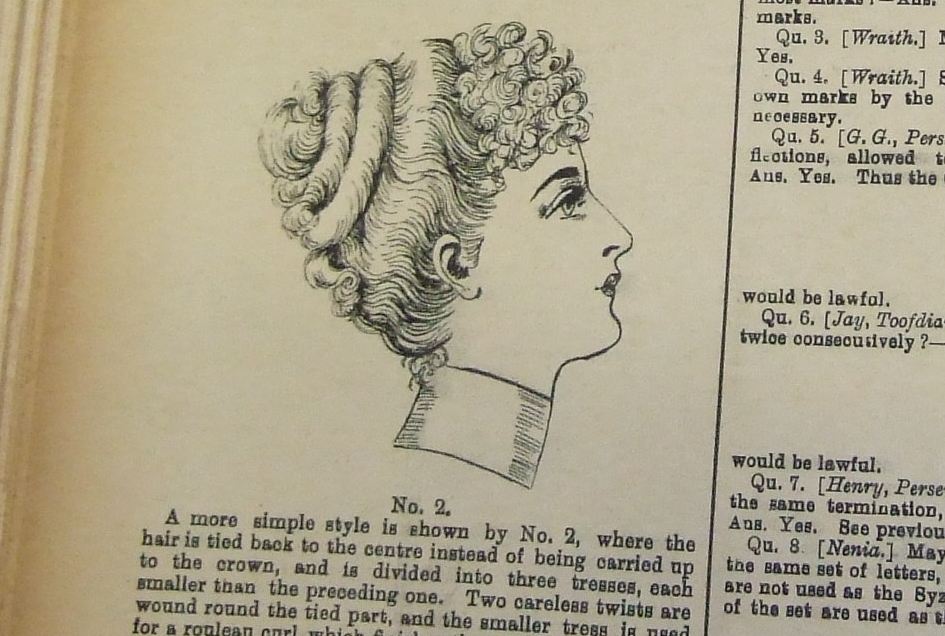 The style is described as "simple" - perhaps it was, by Victorian standards.
12 March 2009
So here's what Carroll said (rather ungrammatically, I thought) about syzygies in his first "Lady" article.
"The puzzle consists in linking together two given words by a change of words, called links, such that every two consecutive words may contain a syzygy, and the longer the syzygies are, the more marks do they obtain. Thus, supposing the two given words were door and window, the following would be a chain linking them together.
DOOR
(oor)
POOREST
(res)
RESOUND
(und)
UNDO
(ndo)
WINDOW
He then follows with a list of Rules, and the challenge to make a CONSERVATIVE into a LIBERAL and get a VERDICT from a JURY.
The prize for the best links was a guinea.
By the way, I found out that the name of this game is derived from the Latin for "conjunction" and it is often used in astrology in connection with discussing coordination or alignment.
The illustration is not of a syzygy, but of another bit out of "The Lady"s small-ads. Those stockings clearly had plenty of room for growth.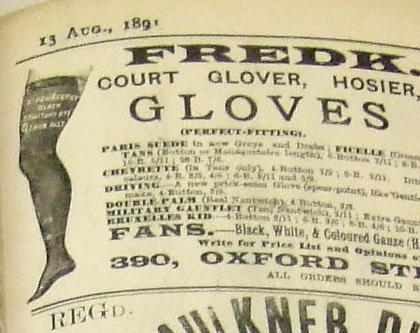 07 March 2009
For about a year in 1891-2, Lewis Carroll wrote a monthly puzzle column called "Syzygies" for THE LADY magazine. These have not been published since. Yesterday I got the chance to go into the magazine's archives, which are in a big rambling cellar beneath their building in Covent Garden.
Wearing protective gloves, I unwrapped the big bound volumes from their wrappings and photographed all Carroll's contributions. Haven't yet had the chance to read them but I did spot a few of his characteristically eccentric comments along the way. The trouble is that I was hopelessly sidetracked by some of the other quaint and curious items in the magazine.
Here's a picture illustrating an article about the Norfolk Broads. An intimidating sight for anyone minding their own business - even if they are not a fish.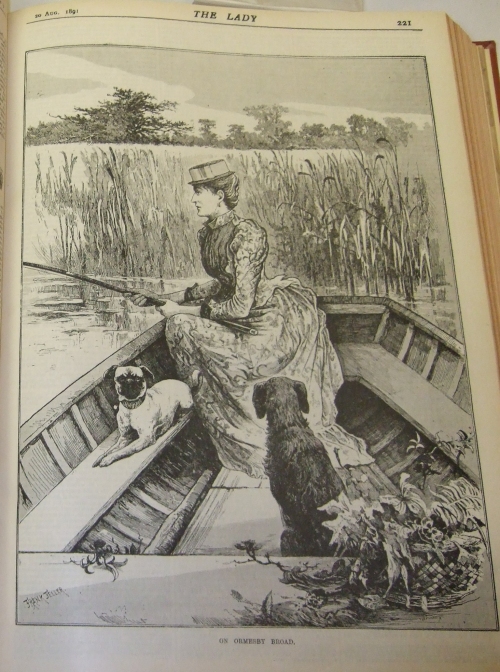 I'll write more about the Syzygies after I've managed to tear myself away from the adverts for such things as The New Instantaneous Water Waver which produces the "rippling hair which is now so fashionable."
Sadly, I don't think I can put the Syzygies into my book unless I find I need more material.
Sidebar