Archives
You are currently viewing archive for February 2007
20 February 2007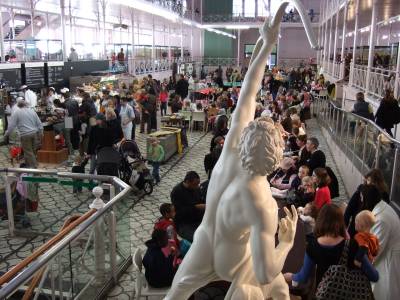 20 February 2007
The problem with writing a biography - or even an anti biography, like I am doing - is that it really is difficult to sum up anyone. In a strange way, the closer you get the harder they are to understand, and you end up unable even to see them clearly. I certainly couldn't write a biography of someone who was really close to me: objectivity would be impossible. So what makes biographers think they can really sum up someone else? It makes it even harder when that person is dead.

Still I had better not think too much along these lines or I will never do anything at alll....

I finally managed to download the photo of Bethnal Green museum's toy theatre, after some difficulty. This is a detail of just one of the toy theatres they possess. I will see if I can add an overview of the main hall, which is now a cafe and a shop, which gives an idea of how popular it is. What the picture doesn't show is the amazing fact that the museum can cope with all those people. I am not quite sure who the naked archer is in the foreground, but I suspect he was left over from the original Victorian contents. Possibly he sat down after a hard day's hunting in that chair made of stag's antlers (see last entry)

20 February 2007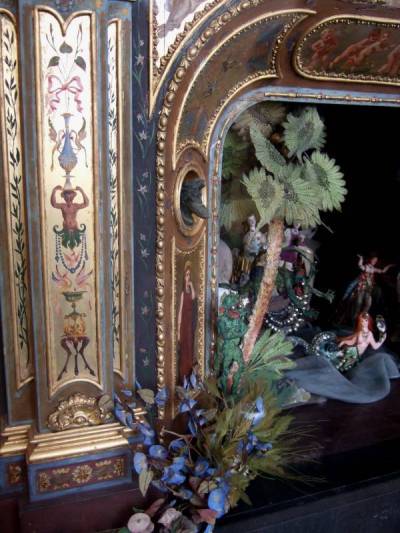 20 February 2007
We cycled across London to Bethnal Green in the East End, where the toy museum has had a refurbishment. It is a branch of the V&A - I think it may be the original museum building of the 1860s rebuilt in the East End. It used to be a bit of a forgotten outpost, although very nice - with loads of dolls houses and historical costumes, not to mention rather odd Victorian furniture they couldn't find room for anywhere else, such as a chair made entirely of stag's antlers. Our older daughter adored the old style museum, and spent hours if not days gloating over the cases and cases of costumes and wax dolls, etc. We were afraid it might have been ruined in the way museums often are in a mistaken effort to make them "accessible" - which so often just makes them seem trivial and boring for adults and children alike once the knobs and buttons have been twisted and thumped. Bethnal Green has avoided that mistake, though. It has just the right balance of objects to look at, objects to play with and objects to marvel over. There are still lots of costumes, dolls, toys etc. from all ages and cultures, arranged in themes, and they've kept the Victorian cases crammed with items. There are absolutely stunning things like a life sized Georgian puppet theatre and a pink aeroplane you can ride in - I am not sure if it actually flies ;-) Anyone within reach of London who likes toys and childhood ought to visit - and as it was half term it was packed - but the museum absorbed them all. The central space is now a very good and reasonably priced cafe. We took loads of pictures and I could fill the space with them but I'll just put one - of an object Lewis Carroll would have loved - a large Victorian toy theatre most beautifully designed and detailed for one family. I have just pictured one corner of the stage and proscenium arch. Some of the characters are shown - a bejewelled mermaid, various animals, a soldier. I think the production is called "The Yellow Dwarf"

14 February 2007
I'm supposed to be going to Estonia on Monday to write an article, but I cancelled that. I'm going to wait a couple of months before travelling, so I'll be going in mid April instead now. A pity because I was really looking forward to tramping around in all that snow. Not that I don't like Spring, but I REALLY wanted to see Tallinn in the heavy snow.

After the medical incident a couple of weeks ago I have discovered that as soon as you have the slightest thing wrong with you, travel insurers refuse to cover you for it, however slight the risk. Having been very healthy till now I have never even thought about this before, and it came as an unpleasant shock.

Luckily I'm a member of the British Guild of Travel Writers, and sent an email round to members asking for comments. They are very nice and highly practical people and I've now received several useful suggestions, so I'm working my way through them. When I've researched them all, I'll write a little article about them for the guild newsletter, in the hope it will help others. It's a slight problem not being able to get travel insurance if you do travel writing, of course!

One of my plans has been to retrace Carroll's trip to Russia, or at least some of it. I daresay things have changed rather a lot since the mid 19th century and it would make a good article. So, if I can just find some suitable travel insurance....




12 February 2007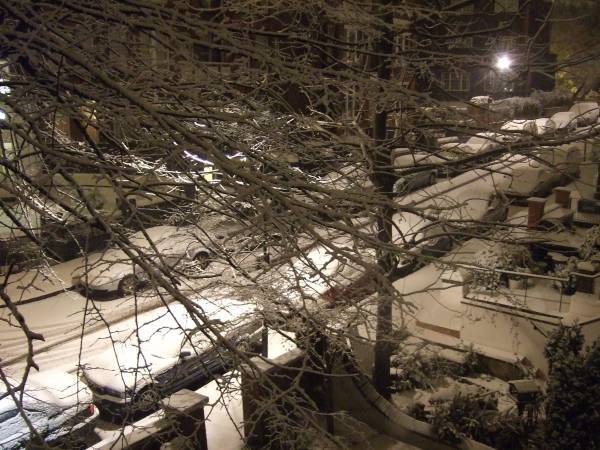 We had some snow recently and I took this picture in the middle of the night. I love snowy scenes, always reminds me of the start of "The Lion the Witch and the Wardrobe" - one of the best bits of scene setting ever for a children's book. You really do feel that magical things can happen when the world is transformed by snow - even boring old South Hampstead! As far as my book proposal goes, I was taken ill about 10 days ago, very alarming, and the doc says I ought to slow down for a bit even though I feel better now. Easier said than done but I am quite glad to feel there is a bit more time to think about what I am going to be writing.
08 February 2007
Just come across
Jessie Bond's autobiography
online. She was a Victorian singer and actress who made a special name for herself in Gilbert & Sullivan. Her story is quite a fascinating one. It's written in a conversational style, without any intellectual pretentions.
LIfe in the Victorian theatre was hard work but much more fun for a woman than most things that they were allowed to do. Needless to say it was regarded as "not quite nice" and Jessie observes that she was a bit worried about making the transition from singing classical music to acting because of the potential damage to her reputation.
It must have been great to be an actress, though, if you had any talent, because it was one of the few more-or-less respectable professions where a woman could earn her own money and be independent. Of course, however independent they were when single, if they got married they were still subjected to the will of their husbands.. Even the great Ellen Terry, one of the most famous stage actresses ever, was forced to give up acting when she married for the first time (in fact, her middle aged husband actually sent her to school as she was only 16!) Jessie claims she was pretty well abducted and forced to marry - and work. In those days, of course, all her earnings had to go to her husband since women had no right to keep their own money.
I don't like reading long documents on the computer so I looked for a copy of her book in online bookstores. Rip off! They cost hundreds of pounds! I suppose I'll have to print it out from the website, and read it on bits of paper.
I was of course hoping that she had known Carroll, and indeed he HAD seen her, although doesn't seem to have talked to her. In August 1891, he wrote "Went to town, to meet, at Paddington, Ethel Hatch, who is coming as my guest. In the evening we went to the Devonshire Park Theatre, and saw the "duologue" entertainment by Miss Jessie Bond and Mr. Rutland Barrington. It consists of three pieces, a Fancy Ball incident, a sham (mesmeric) Professor, and a scene between, a butler and ladies' maid, in which they recite the balcony-scene from Romeo and Juliet. It was very clever."
Ethel Hatch, by the way, had been one of Carroll's nude photographic models when she was about five years old. She had remained very fond of him and they were good friends - by this time, she was in her mid twenties and on this occasion she was accompanying him for a few days' holiday in a guest house at Eastbourne. Carroll's fondness for having young women as social partners sometimes gave rise to gossip, as it wasn't quite the done thing to do this in Victoriain days. Even though he was supposed to be such a respectable clerical type, he attended literally hundreds of plays in his life and was totally obsessed with them and besotted with the theatrical life.
02 February 2007
There isn't half a lot of work writing a book proposal. I didn't realise it has to be so precisely targeted and so exactly right. I had always assumed that publishers would spot an idea they liked the look of and then be prepared to work with the author to get it right. I suppose this must mean that I had some idea of publishers as middleaged men and women in tweedy suits sitting in panelled offices, hoping for talented authors to turn up. Goodness knows why I thought this: I must have been mad. Anyway it is of course very big business with a lot of money at stake, and there are so many people desperate to get into print.

Even publishing our own short run small edition book was surprisingly expensive, and we did all the work ourselves: to be honest, I am not sure how anyone makes money out of this business but luckily I don't have to carry that responsibility - I only have to write the stuff.

I have been offered a couple of engagements on the strength of the radio programme - it's nice to know that people are interested.


Sidebar